How The 'Childrens Hospital' Emmy Boosts The 'Incestuous' Short-Form Comedy World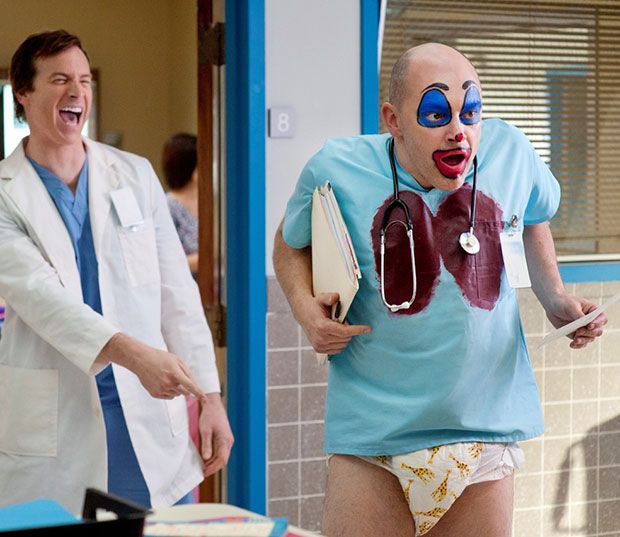 Did you hear that? It was the sound of another doorway opening just a little wider. Short-form sitcom Childrens Hospital (Adult Swim) won an Emmy over the weekend, and suddenly, it seems like the mainstream comedy world's scope has widened. This was the first year a series like Childrens had its own place at the Emmys, in a category that looks like it was practically created for the purpose of rewarding Rob Corddry's hilarious darling: "Outstanding Special Class: Short-Format Live-Action Entertainment Programs."
Alright, so that category name is only a notch above gobbeldygook and the non-Childrens nominees in this category are mostly Web versions of wildly successful half-hour comedy series. But the point is, the opportunity now exists for a series like Childrens — a 15-minute sitcom known for its absurd, rapid-fire plotlines — and its many short-form companions to be rewarded for excellence alongside the other mainstream comedy greats. Just ask Corddry, who made time to chat with Hollywood.com just before the winners were announced. "I'm almost as excited for introduction of this category as I am for getting nominated," he says.
The way he sees it, this is validation for a group of people who simply enjoy comedy outside the constraints of genre and budget. "We started off doing it because it was something we loved and we were bored. And we hate money," he laughs. And now, the Emmy recognition is taking the short-form world to the next level. "It is the establishment-industry-advertiser people recognizing the fact that there's a new family emerging and that this is where we made our chops and where we continue to live," Corddry says.
But why now? What's happening in comedy that's allowing these shorter episodes and webisodes to grab the attention of a nominating body like the Academy of Television Arts and Sciences? Well, it might have something to do with the way in which the comedy world is growing. "[Short-form] is definitely is a better, more populist opportunity," he says. "And it breeds a really cool atmosphere – people like each other and they like working with each other." 
In fact, Corddry says he's seeing a shift in the way comedians work together to make audiences laugh. "That's kind of unheard of in comedy," he says. "I think the future of comedy is going to be more driven by that: this sort of congenial, incestuous atmosphere." 
And clearly, that's part of it. If we could create a map of all the hilarious people who are connected through Corddry's massively impressive "family of comedy" connections (seriously, this guy knows everybody), we'd probably get a little dizzy. And one of his closest connections, Ken Marino, is another comedian at the forefront of the short-form wave. Marino, who stars on Childrens Hospital and in his own Yahoo webseries parodying The Bachelor called Burning Love, says it's easier to make comedy these days thanks to the Internet landscape fostering the creation of what he calls "dollops of comedy." "With technology, you can quickly churn out stuff that has more of a singular voice. When you do stuff like that, you can throw it online," he says. That online format allows for freedom that the general half-hour sitcom, outside of Louis C.K.'s untouchable comedy bubble on FX, can't really reach.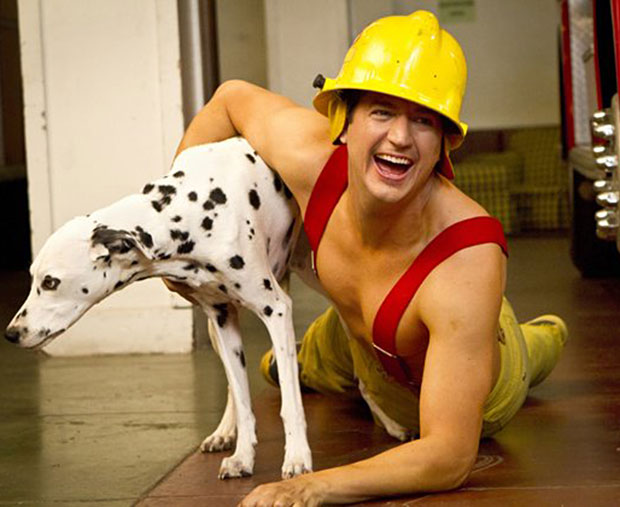 Upright Citizens Brigade Theater co-founder (along with Matt Besser and Amy Poehler) Matt Walsh agrees the lack of constraints are a major asset for short-form comedy. "I guess there's not a burden of wrapping up a certain moral or lesson, in a way," he says. "Even though, obviously, Seinfeld broke that a while ago, but I feel like in short-form you can be more absurd, you can play with reality. It's a little more post-modern-friendly."
While the "post-modern-friendly" genre is very attractive to Corddry and his comedy family, including Marino and fellow Adult Swim personality NTSF: SD: SUV creator Paul Scheer, Corddry recognizes that it's only part of the larger landscape. He says UCB has created this "family" of comedians who've "been taught the ways to get to the funniest joke in the shortest amount of time and to support your partners. And a lot of what goes along with that is the understanding that you don't need 20-23 minutes to do it." It's all about opening up the perspective. Some jokes deserve the storyline and the heart, but some just need a few good minutes. "Know the way that your story should be told, and don't tell it any other way," Corddry says.
And the Academy aren't the only fans in the industry of the movement. While Corddry says he's happy putting his show on at Adult Swim — "the only place on television for absurdity" — he also notes that Yahoo outbid networks to air Burning Love, making the Web a financially viable and interesting home for short-form comedy. Add to that FX's penchant for taking chances in the genre — audiences get a peek at short-form via Louie's back-to-back vignettes — and we've got a sizeable landscape on which this "populist" comedy format can thrive.
Of course, now we have the pleasure of watching this new comedy strain develop. Today, a hospital run by a man in clown make-up and a Bachelor choosing from a pool of crazy people and a homeless lady. Tomorrow, the moon. (Or something even more absurd.)