'It's Always Sunny in Philadelphia': Everything Old Is Ewww Again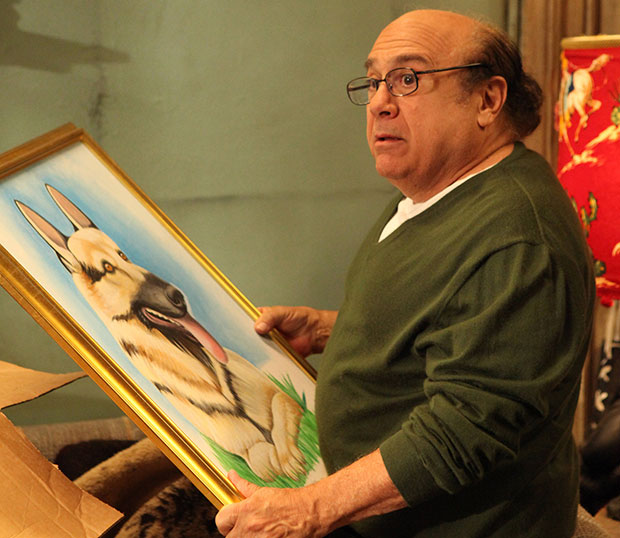 When a TV show has been on the air as long as It's Always Sunny in Philadelphia has, it inevitably hits a crossroad with fans. Either viewers jump ship when the show they once fell in love with has become an unrecognizable shell of its former self (Weeds and The Office certainly spring to mind) or fans stay put even if the show hasn't necessarily changed it's M.O., because they've made it this far and just want to see how it all wraps up in spite of themselves. (How did you make it that long Entourage watchers?)
Sunny, on the other hand, has pulled off the rarest hat trick of all for a long-running series. The hilarious, offensive FX comedy hasn't evolved its characters (if anything, these people are getting more deplorable as the seasons go) and it keeps in the same simple vein that turned it into a cult hit in the first place. 
Sure, there are recurring jokes (Charlie's illiteracy, mentions of Fat Mac) and characters (Rickety Cricket!) — a few of which made appearances in last night's Season 8 Premiere "Pop-Pop: The Final Solution" — but there's no major plot or direction. And why would there be? The gang is on a road to nowhere and we're just along for the sick, twisted car crash. 
"Pop-Pop: The Final Solution" followed the gang as Dee and Dennis (
Kaitlin Olson
and
Glenn Howerton
) grappled with pulling the plug on their Nazi grandfather, who has been decaying away in a hospital room filled with old soup, because Frank (
Danny DeVito, 
who repeatedly proves he is up for 
anything
 on this warped show) has been stalling time to look for his "Nazi treasures."Not offended yet? Keep going! 
No-Longer-Fat Mac (
Rob McElhenney
) and Charlie (
Charlie Day
) get wrapped up in this madness when they realized the "treasure" was a portrait of a German Shepard that was painted by none other than Adolf Hitler. The gang spent the rest of the episode coming up with Holocaust conspiracy theories (Hitler
really
just missed his dog), and contemplating whether or not they should kill their grandfather and/or dogs at the pound.
In other words, it was like an amalgamation of every Sunny episode ever: Mac and Charlie were up to their usual stupid shenanigans (complete with time travel scripts and duster jackets), Frank stopped at nothing to get what he wanted (in this case, he literally got wedged into a window and a chest "like a weeble wobble"), while Dee and Dennis uncovered they are more terrible than they initially thought (an old home movie revealed they were Nazi youths). 
Sunny
is a lot like
South Park
in its later years in that the consistent quality of episodes has petered off, but there's still occasionally a really great episode that crops up and reminds you that the show is still really f**king hilarious. Even in a mediocre episode like "Pop-Pop: The Final Solution," there were some gut-busters like Charlie's
misreading of yet another door
(this time, "Brett de lawyer: a Denial Corporation") and Mac's fascination with wanting to be played by
Ryan Gosling
(come on man, you know it's gotta be
Haley Joel Osment
).
Sunny
remains its same old reliable, shamelessly deranged self. Welcome back. 
What did you think of last night's Season 8 premiere of It's Always Sunny in Philadelphia? Were you disgusted, delighted, or a little bit of both? Was Charlie's declaration, "You see free soup, you make a decision to eat it" the smartest thing he's ever said? Share in the comments section
[Photo credit: FX] 
More: 
It's Always Sunny in Philadelphia Returns For Season 8! Meeeee-ow!