Jon Stewart and Bill O'Reilly to Debate in D.C.: Bring. It. On.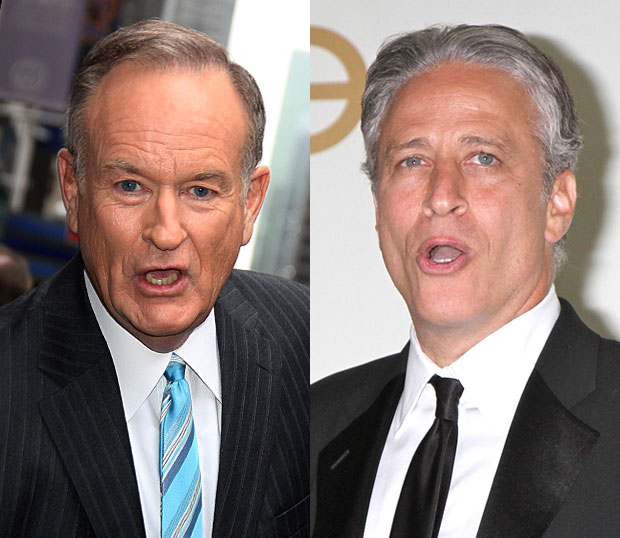 Whenever Jon Stewart and Bill O'Reilly get together, something magical happens. Well, something magical in the sense that thought-provoking, intense, funny, and oft jaw-dropping conversations between two media figures with wildly opposing viewpoints will unfold. (Exhibit A, B, and C). 
In which case, "The Rumble in the Air Conditioned Auditorium" should be one hell of a magic show. Watch as Stewart makes logical rhetoric appear as if from thin air! Marvel as O'Reilly pulls facts out of… well, that's for you to decide. 
The Emmy-winning host of
The Daily Show
and the best-selling author/Fox News commentator will
do it live
on Saturday, Oct. 6 at 8PM ET from Lisner Auditorium at George Washington University. Tickets for the 90-minute debate are available on the official website, but for those who can't attend the event in person, don't fret, the whole thing will be live-streamed for a low fee and will be available for a short time after on demand. It is, as the website rightfully boasts, "why
Al Gore
invented the Internet." 
If you're a fan of Stewart or Stephen Colbert's dear ol' "Papa Bear" O'Reilly, you already likely have your allegiance firmly in place and the debate likely won't make anyone cross to the other side, but it will do what most political face-offs rarely accomplish: a healthy mix of actual listening, the acknowledgment that both sides have something to say and "Oooh, ya burnt!"-style smack downs. Plus, maybe Stewart will talk to a chair just to mess with O'Reilly. 
Check out the video messages from both men, starting with Stewart's promise that the inevitably heated politically charged argument will be like "the worst Thanksgiving anyone's ever been to" and then O'Reilly's reassurance that it will be a "train wreck." Bring it on, indeed. 
With the Stewart/O'Reilly debate taking place just weeks before the Presidential election, it will be fascinating to see how much of an impact their talk makes in conjunction with the actual political debates. Neither the left nor the right take Stewart and O'Reilly's words lightly and the "winner" of this debate may actually cause some waves before voters head to the booths. Or, at the very least, will be infinitely more entertaining. 
Will you be tuning in for the Jon Stewart and Bill O'Reilly Rumble 2012? Do you have a side? Will this debate make an impact on the Presidential election or just create soundbites for both their respective programs? Sound off in the comments section. 
[Photo credit: WENN.com] 
More: Jon Stewart Confronts Bill O'Reilly on 'The O'Reilly Factor'