Julia Louis-Dreyfus One-Ups Larry David, Offends Nation of Israel with Commercial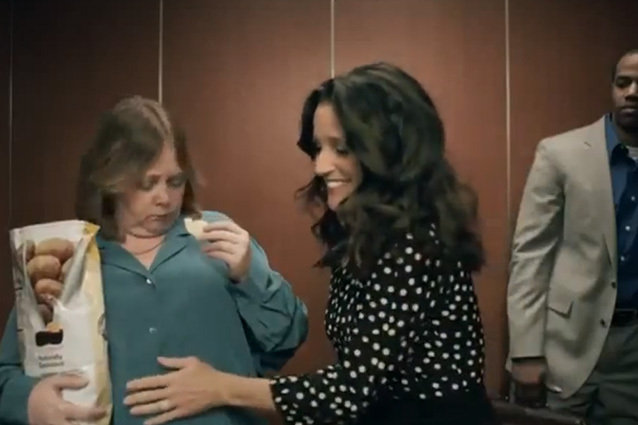 She ruined a concert pianist's recital with her abrasive laughter. She thrust a conservative virgin into panic with persistent conversation about her diaphragm. She contributed to the death of her elderly dinner party hostess by openly decimating the merit in pony ownership. Seinfeld star Julia Louis-Dreyfus is no stranger to making enemies, to awkward situations turned uproarious calamity. And now, she seems to be following in the vein of her alter ego Elaine Benes — one-upping her, even — as the actress has managed to offend the entire country of Israel with a YES Network commercial.
RELATED: 'Seinfeld' Stars Jason Alexander and Michael Richards Get New Sitcoms
The ad features the Emmy-winning actress in an office setting, inadvertently insulting an overweight coworker by mistaking her for pregnant (and subsequently adding to the problem by remaking that said woman "obviously … hasn't dated anyone in forever"). The Hollywood Reporter reports that the Yedid Association for Community Empowerment filed a formal complaint with the sports network, calling the ad highly offensive to Israel's overweight population. Watch the ad here:
The complaint referred to Louis-Dreyfus' commercial as "evident and unjustified insult to a substantial majority of the people." The Yedid Association continues: "There are a lot of weight-challenged individuals in Israel who are treated in an irreverent and hurtful manner. There is no justification to illustrate a stigma which suggests a larger woman is either pregnant or simply too fat for anyone to consider going out with.
RELATED: Michael Richards Opens Up to Jerry Seinfeld About Infamous Tirade
The YES commercial has been hurtful to a portion of the public, despite the inherent freedom of speech in advertising media. Should there be a new request to air the spot, the authority will need to re-examine the material and deliberate then."
So, on top of breaking up with a guy just after he suffered a mountain climbing accident (and another just after a stroke), stealing her cousin's heirloom napkins, kidnapping a neighbor's yappy dog, stopping to get Jujyfruits on her wait to visit a boyfriend in the hospital, referring to a friend's baby as ugly, and going batty over the timorous usage of exclamation points, Louis-Dreyfus can now add this whole debacle to her resume. But at least she's not a re-gifter.
Follow Michael Arbeiter on Twitter @MichaelArbeiter.
[Photo Credit: YouTube]
---
From Our Partners:


25 Forgotten Celebrity Crushes of the '90s (Vh1)


30 Stars Who Have Gone Topless (Celebuzz)