Kelsey Grammer Says His Republican Politics Cost Him an Emmy Nomination. Sorry, No.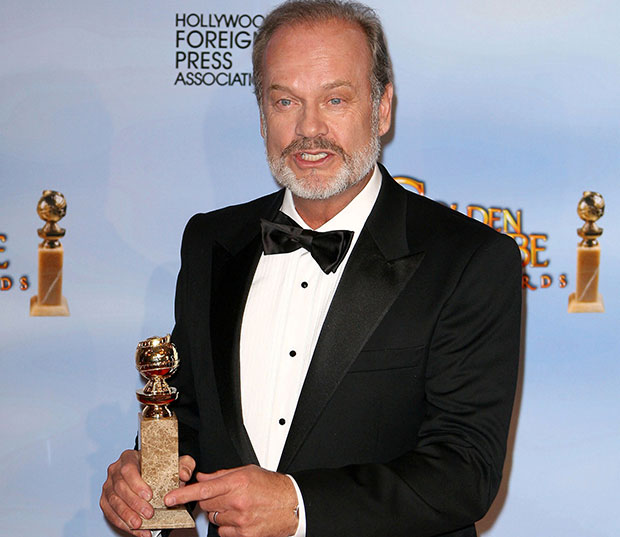 Just when you think that the GOP doesn't stand for "Grouchy Old People," someone like Kelsey Grammer has to pop out of the woodwork and remind us how true that is. Grammer, one of the few politically conservative actors in Hollywood, has always been outspoken about his political beliefs, and that is fine, but when he starts saying the reason he didn't get nominated for an award has to do with being a Republican then he's just being crazy. Politics has nothing to do with it.
Last night on The Tonight Show, host Jay Leno (who no one is going to confuse for Rachel Maddow anytime soon) asked Kelsey why he won a Golden Globe for his work on the Starz! series Boss but wasn't nominated for an Emmy for the same role. "Yeah, it's hard to figure. It may have to do with several things, honestly, but I think it's possible. I mean, I'm a declared out-of-the-closet Republican in Hollywood," he said. Um, say what?
Let's look at this objectively. First of all, Kelsey Grammer has been nominated for 14 Emmy awards over his long career. He has won five. Five! This man has five Emmy awards. That is about five more than most actors on television, no matter what their political beliefs happen to be. I would also assume that his politics have been the same (or similar) through all of those wins. So what dramatic shift has there been in the Academy that suddenly they no longer want to nominate him or give him awards? And what about other Republicans? Patricia Heaton, another outspoken member of the right-leaning party, has been nominated for seven and won two. What kind of bias is that?
Yes, Grammer is right, there are few Republicans in Tinsel Town so finding more evidence is difficult, but their combined wins make me think that there might be something else going on that is keeping Kelsey from getting nominated (for the fifteenth time). The Globes have a history of rewarding cable shows that have a small viewership (and Boss averaged about 300,000 viewers a week). The Emmys do not (just ask The Wire). The Golden Globes are chosen by a small cabal of foreign journalists. The Emmys are chosen by a huge pool of television professionals. It was a banner year for television actors in the drama role (I even came up with a formula to see who might get nominated) so maybe that had something to do with it.
I am not an Emmy voter (oh, if only!) but considering Grammer's past record, it seems like what he has to say outside of the television would be the furthest thing from people's minds. But now that he's publicly griping about it, that might be something to keep his name off my ballot in the future. That has nothing to do with which campaigns he gives money to or which presidential candidate he casts a ballot for, it has to do with being ungrateful for the awards he's already been given and whining about the potential to win even more. Honestly, I think this is a bigger gaffe than falling off the stage and is just one more reason that I've grown to love his ex-wife, Real Housewife of Beverly Hills Camille, more than I do Dr. Frasier Crane.
Follow Brian Moylan on Twitter @BrianJMoylan
[Photo Credit: Wenn.com]
More:
Kelsey Grammer's Ridiculous Tattoo for Wife: Celebrities' Most Regrettable Ink
Kelsey Grammer Promises His 'Boss' Character Isn't Rahm Emanuel
A Mathematical Prediction of This Year's Best Actor Emmy Nominees