Kenan Thompson Thinks Lady Gaga Is a Lamp in New 'Saturday Night Live' Promos
In this week's dose of Saturday Night Live promos, Kenan Thompson ate a meat-watch and couldn't tell the difference between a lamp and Lady Gaga. Boy, are we all in for quite the trip this Saturday night.
While the singer — who will be hosting and performing as musical guest on the late-night variety show — is known for her bizarre outfits (and antics), it looks like she might be looking to tone down her usual demeanor. In a suprising turn of events, Lady Gaga plays the straight man to Thompson's crazy shtick in the promos. (Yes, we understand that we're defining Lady Gaga as "toned down" while she's wearing a sequined black dress, elbow-length gloves, and a tiara with a gigantic feather sticking out of it.)
Check out the video to see for yourself. (And bonus points to anyone who can figure out the level of difficulty Lady Gaga must be having breathing due to the tightness of her dress around her waist.)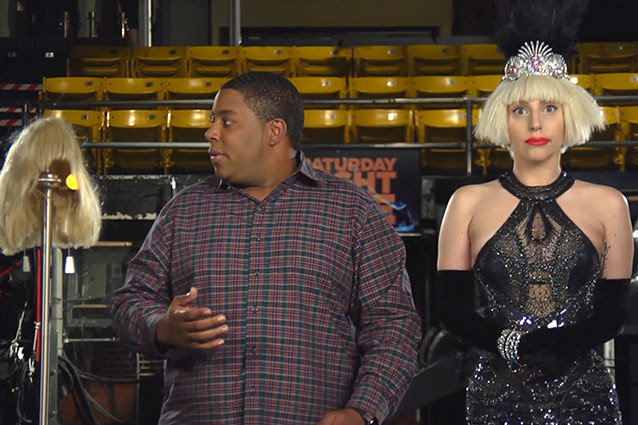 NBC/YouTube
Watch Lady Gaga perfom on SNL on Nov. 16 on NBC.