Late Night Last Night: All Jimmy Fallon Wants for Christmas Is Mariah Carey — VIDEO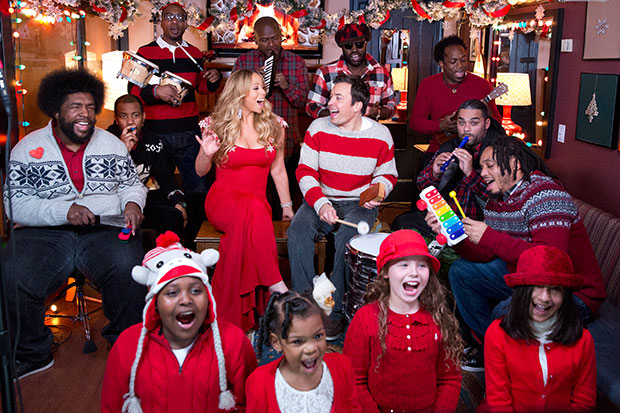 Spike your eggnog with some Appleton Spiced Rum and pull up a chair. It's time for you to receive the best pop culture Christmas present of the year. Ready for this? Think Mariah Carey, dressed in a slinky red dress with star bullets over the nipple areas, singing "All I Want for Christmas" in a tacky video with her eyes shut through most of it. But it gets better. Late night host Jimmy Fallon in all his grownup boyish glory, dressed in a goofy grandma, striped Holiday sweater joins Carey tapping on the drums. In the background, a jolly dressed bunch sing backup vocals and jam on tambourines in front of a burning fire. Well, this really did happen Tuesday night on Late Night with Jimmy Fallon!
Besides Carey, Fallon, and the band, a group of kids literally pop up sporadically throughout the performance to add their sounds to the refrains. They are just too cute.
Check out the video below and get into the holiday spirit!
Follow Lindsey on Twitter @LDiMat.
[Photo Credit: Lloyd Bishop/NBC]
More:
Randy Jackson, 'American Idol' Is Nothing Like Picasso
Crackcidents, Toddlers, and Terrorists: The Superlative Moments from 2012
11 Holiday Songs We Hate to Admit We Like

Harry Styles Spotted Outside Taylor Swift's Hotel Room The Morning After Their Date Night (PHOTOS)

Fall Bikini Bodies: The Good, The Great, The OMG (GALLERY)