Late Night Last Night: Chelsea Handler Nearly Makes Jennifer Aniston Cry — VIDEO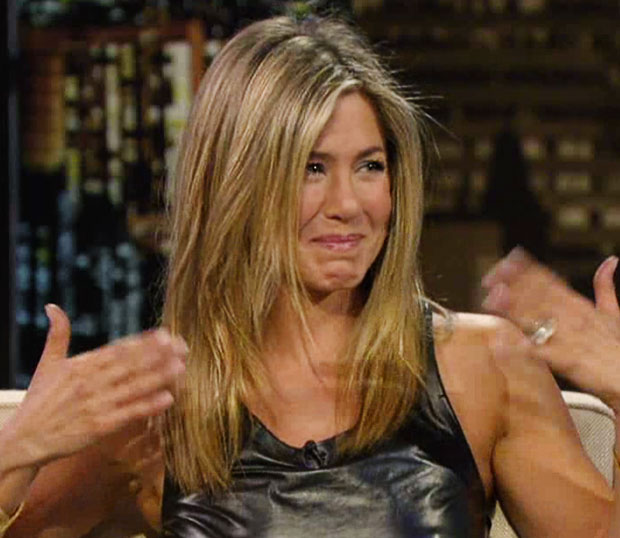 Justin Theroux proposed to Jennifer Aniston back in August, but we're just now hearing the actress' reaction to her almost-newlywed status. Appearing on Chelsea Lately Monday night, Aniston unleashed an array of emotions from tears to extreme delight when speaking about her fiancé. What range! Here's what happened on Lately, and the rest of late night last night:
Chelsea Lately
During her first post-engagement interview with friend Chelsea Handler, a teary-eyed Aniston confirmed to Handler that "yes" she is engaged (just in case you spent the past few months in a mystical place where tabloids don't exist). "I just got verklempt," she said. But Handler didn't let Aniston's emotional state keep her from ragging on best friend. "I know you didn't want to tell me that you're engaged because you think that I follow everything you do and rip you off," Handler joked. And she was right. "You do," Aniston replied. "I just saw my sports doctor backstage for the first time. I haven't been able to get an appointment with him. And then I haven't seen my yoga teacher since we went to Cabo two years ago." Aniston, like a good Friend, ended the clip by trying to auction off Handler's hand-in-marriage. "Any takers?" Aniston asked the crowd.
Jimmy Kimmel LIVE!
G'day (or night?), mate! Parks and Recreation star Aziz Ansari spoke to Kimmel about his recent travels to Australia (needless to say, his accent needs a bit of work) and Chick-fil-A's stance on gay marriage. "I used to miss Chick-fil-A, but then they started this controversy [and] put me in quite a conundrum because look, I'm very pro gay marriage," Ansari said. "But I'm also very pro delicious chicken sandwich. So what do you do? At this point, why is anyone against gay marriage? You know you're going to lose." Ansari drove his point in with a history lesson. "What was the last thing they were opposed to?" he asked. "Interracial relationships? Guess what, I'm f***ing white girls. There's nothing you can do about it. Every time I'm having sex with a white girl, I think about those people for a few pumps because it's amazing. Nothing feels better than orgasming while thinking about all the progress we've made in civil rights in this country." And Ansari no longer eats Chick-fil-A — but his gay friend still does.
Part 1

Part 2

Part 3

Conan
Nature Calls star Patton Oswalt pretended to give Mitt Romney some advice for Tuesday's presidential debate — but it just turned into a Conan O'Brien and Andy Richter bashing session. Oswalt's stance? O'Brien smells like "wet, rotting leaves." 
Follow Lindsey on Twitter @LDiMat.
[Photo Credit: E!]
More:
Late Night Last Night: Tina Fey Fears for Tracy Morgan
Late Night Last Night: Politics and Babies on the Brain — VIDEOS