Late Night Last Night: Matthew Fox Tries on Mitt Romney's Pants — VIDEO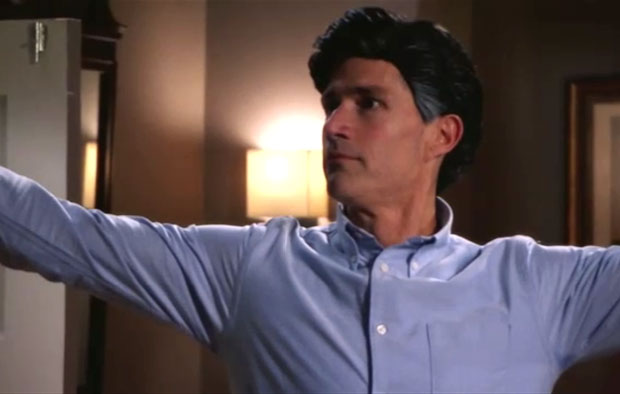 While Jimmy Fallon, Jay Leno, and David Letterman continued on the reruns campaign, Jimmy Kimmel, Conan O'Brien, and Chelsea Handler kept it fresh Thursday night with some new interviews. But while Handler put on a costume peep-show for Christina Aguilera and O'Brien talked to Jeff Goldblum about birthday plans, Kimmel won the award for most exciting guest of the night. Last night, Kimmel and his guest Matthew Fox revealed a hilarious parody video of Fox pretending to be Republican presidential candidate Mitt Romney. And let's just say, the pants fit quite well.
Here's what you missed last night on late night TV:
Jimmy Kimmel LIVE!
Kimmel and Matthew Fox had some fun at Republican presidential candidate Mitt Romney's expense. The title of Fox's new work? Mitt Romney and the Dockers of Destiny. They even presented watchers with a mock trailer of Fox trying on khaki pants and feeling inspired to take on the world. Fox also opened up about dieting for his role in his new movie, Alex Cross. "It was pretty much 1,200 to 1,500 calories a day, and I love to eat," he said. "I've got an Italian mother and Italian wife, so one of the hardest parts about preparing for the role was sacrificing." To put Fox's diet into perspective, the American Heart Association (via LiveStrong.com) says that generally inactive males should consume about 2,400 calories a day, moderately active males should take in 2,600 to 2,800 calories, and very active males require 3,000 calories a day. Poor boy must have been starving!
Mitt Romney Biopic

Part 1

Part 2
Part 3
Conan
Jeff Goldblum is getting ready for a very important birthday this year: He turns the big 6-0 on Oct. 22. And to celebrate, Goldblum's 29-year-old model girlfriend, Emilie Livingston, is throwing him a party. Unfortunately, Conan O'Brien had yet to receive an invitation, so he decided to invite himself to the celebration in the middle of his interview with Goldblum. "I'm a lot of fun at a party," he said. "I do insist we watch tapes of my show. I'd bring a lot of DVDs." That sounds… NOT FUN!
Chelsea Lately
Since Chelsea Handler likes to make fun of Christina Aguilera for not wearing underwear on The Voice, the only way Aguilera would agree to do Chelsea Lately was if she could get revenge. And she did just that. On Thursday night, Aguilera made Handler step out in front of the cameras in leather butt-shorts that seemed to fit more like an undergarment. "Stepping into my world. Don't you feel free?" Aguilera asked as Handler approached the hot seat.  "Well, I feel like if I move in the wrong direction, something will pop out," Handler replied. "[But,] I'm happy you came on the show and made me wear this because this is good for me. It is empowering." Handler said the "empowering" line as she spread her legs wide open. Well, if Lately ever fails, at least Handler now knows how to dress to get a job hooking on the Las Vegas Strip. Mission accomplished.
Follow Lindsey on Twitter @LDiMat.
[Photo Credit: ABC]
More:
Late Night Last Night: Miley Cyrus Gets Her Own BIG Honey Boo Boo — VIDEO
Late Night Last Night: Kevin Nealon Thinks President Obama Needs a New 'Do
Late Night Last Night: Chelsea Handler Nearly Makes Jennifer Aniston Cry — VIDEO
From Our Partners:

Justin Timberlake and Jessica Biel Celebrate Wedding Weekend in Italy — PHOTOS
(Celebuzz)

'Hunger Games' Stars Jennifer Lawrence, Josh Hutcherson Pose With Fans at Atlanta Movie Theater — PHOTOS
(Celebuzz)