Late Night Last Night: 'Star Trek' Sneak Peek and Jimmy Fallon's Man Crush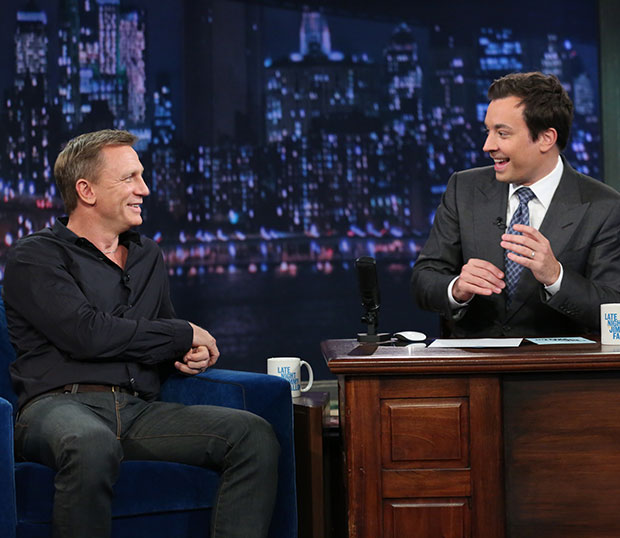 Didn't get enough TV Thursday night after catching Snooki's latest antics on Jersey Shore or watching Amy Poehler get half of a perm on Parks and Recreation? Hopefully you stayed up to watch one of the fabulous late night TV talk shows like Jimmy Kimmel LIVE! or Conan. But if you were too sleepy to keep you're drooping lids open a minute longer, here's the round-up of what you missed last night.
Late Night with Jimmy Fallon
Daniel Craig stopped by to promote the much-anticipated James Bond follow-up, Skyfall, and couldn't help but boast about Adele's theme song. "When Adele's name came up, I just jumped at it," he said. "I just thought that she has the voice, she's got exactly the tone we wanted." Also, watch to see Fallon's developing man crush on Craig. But can we blame him? It's Bond! James Bond!
Jimmy Kimmel LIVE!
Zac Efron stopped by to talk about his travels to the Philippines. (Are you eating? No? Good. Then read on.) He also shared a video of himself trying balut (duck embryo that is boiled and eaten from the shell) for the first time. "It's kind of a weird thing," he said. "Basically what they do is they fertilize a duck egg and it sort of matures inside the egg." Enjoy your lunch!
Part 1
Part 2
The Tonight Show with Jay Leno
Jennifer Garner may have been complaining to Conan O'Brien Wednesday about the pains of raising kids, but her husband Ben Affleck loves having parental bragging rights. He couldn't stop talking about the couple's 6-month-old son Samuel on Leno Thursday night. "First boy, he came out, he's six months old, now he kind of looks like a 1930s prize fighter," Affleck said. "Get him set up in the MMA [Mixed Martial Arts]." Affleck also made it a point to clarify what he thought Garner really should have been ranting about when she told Ellen DeGeneres that he has "wonder sperm." "Actually, she was misquoted," he said. "What she meant was wonder member, the wonder piece." 
Part 1
Part 2
Conan
J.J. Abrams shared a special preview of Star Trek Into Darkness, which is currently in editing. And the clip is… literally a split-of-a-second shot (only three frames). YES!
Follow Lindsey on Twitter @LDiMat.
[Photo Credit: Lloyd Bishop/NBC]
More:
Adele's 'Skyfall' Released in Full: That's Not a Bond Theme, THIS Is a Bond Theme
Late Night Last Night: Politics and Babies on the Brain — VIDEOS