Late Night Last Night: Zachary Quinto's Eyebrows Make Him Look Like a Serial Killer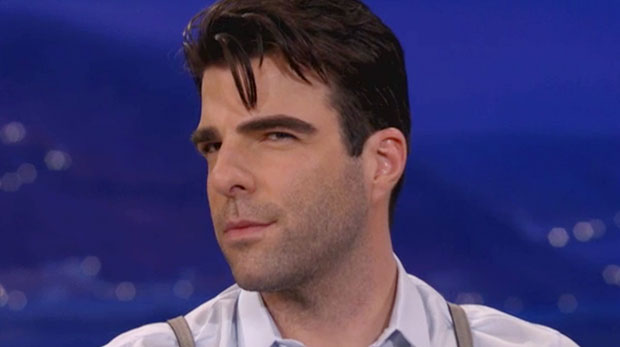 Anthony Hopkins isn't the only iconic serial killer-playing actor in Hollywood anymore. Recently, Zachary Quinto's American Horror Story: Asylum character, Dr. Oliver Thredson, was revealed to be a serial killer — and, well, this makes it the second time that Quinto has played a mass murderer. Remember his epic role as mutant Sylar in Heroes? Well, Monday night on Conan, Quinto revealed what he thinks makes him such such a clear cut serial killer (pun intended) — and it's all in his brows!
"I have been talking to my therapist about [what makes me a serial killer] for the last six years," the 35-year-old actor told Conan O'Brien. "My strong brow? It really is the downward position of the head with the upward glance." He then went on to demonstrate his ferocious killer face.
But Quinto isn't the only one with an eerie look. "I have creepy pervert [eyes]," O'Brien said. "That's what I have."
"There's value in that too, especially in this town," Quinto replied to O'Brien.
Watch the clip below.
Follow Lindsey on Twitter @LDiMat.
[Photo Credit: TBS]
More:
'Star Trek Into Darkness' Benedict Cumberbatch Is Starfleet's Reckoning — POSTER
Trek Fans, Fill in the Blanks: 'Star Trek Into Darkness' Synopsis Revealed
'American Horror Story': Zachary Quinto Gets [SPOILER ALERT]!

Inside 'Bachelorette' Stars Ashley Hebert and J.P. Rosenbaum's Wedding — EXCLUSIVE DETAILS

Mario Lopez, Courtney Mazza's Wedding Pictures Revealed!