Lindsay Lohan Romancing Charlie Sheen on TV is a Terrible Idea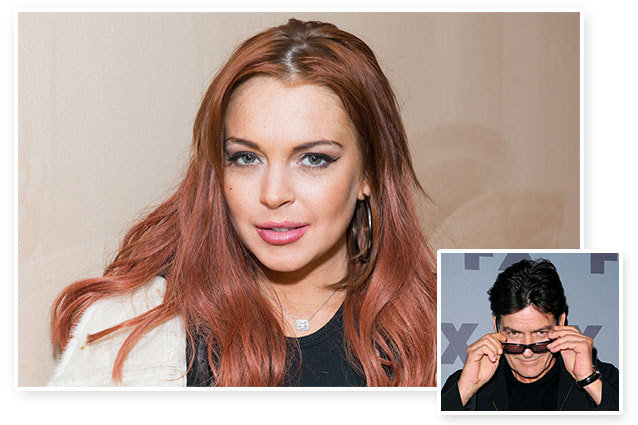 Lindsay Lohan's formerly tragic — but now just annoying — fall from grace is a story that just won't die. Long gone are the days when her courtroom drama was actually shocking, and our interest in her strange at-home antics has been largely replaced by the amusing wackiness of fellow fallen child star Amanda Bynes. The New York Times piece on the mess that is Lohan's "comeback" film The Canyons briefly re-sparked some interest in the trainwreck that keeps burning, but in a not all press is good press sort of way. In short, we're pretty much over Lindsay Lohan.
RELATED: All the Insane Things Lindsay Lohan Did on the Set of 'The Canyons'
However, there is one piece of the Lohan puzzle that is actually quite puzzling — her growing friendship with 47-year-old fellow tabloid-star Charlie Sheen, who will now be her romantic interest on an upcoming episode of his sitcom Anger Management. Sheen has been luckier than Lohan in that, either due to some stroke of brilliant luck or the fact that men have a wider margin for error in Hollywood, he seems to have recovered from his highly-publicized meltdown. Anger Management received an impressive 90-episode order, and when he's not interacting with Lohan, his formerly explosive exploits are now absent from the tabloids. So why is he jumping right back in by palling around with this deeply troubled young woman? Is he crazy? (Yes.)
RELATED: What are Lindsay Lohan and Charlie Sheen Saying in this Pic?
Maybe it's his post-meltdown success that has inspired the actor to basically take 26-year-old Lohan under his wing. The two shot a brief cameo together in the upcoming Scary Movie 5 (hey, speaking of things that won't die), then made headlines when Sheen reportedly offered up a hefty sum to help pay Lohan's taxes. Now, mere days after reports surfaced that Lohan ruined an expensive gown that Sheen set her up with, FX has confirmed that Lohan will play herself on an upcoming episode of Sheen's sitcom. Wait — what? Is this now the standard payment for screwing someone over?
To make things even ickier, this will mark the second time that the two have been romantically entwined onscreen this year. They wind up in bed together (as themselves) in SM5, and now Lohan will have a relationship with Sheen's character (who is based on the actor himself) after she becomes his therapy patient.
RELATED: Lindsay Lohan Ruins Dress With Impromptu Tailoring
Tell us this, universe: why are you (or, err, publicists) trying to make Lohan and Sheen, the couple, a thing? We sort of understand why one formerly struggling actor would want to help another, but the 21-year age difference makes the whole romantic piece of the equation very disturbing (especially given Sheen's extensive history with both domestic abuse and young girls, some of them porn stars). Also, why would Sheen keep banking on Lohan (she must be getting a decent sum for appearing on the show) after she's burned him twice in the last year, and proven herself to be an awful coworker on so, so many occasions?
If Sheen wants to help out Lohan financially — privately — fine. Weird, but fine. It's their own business, and maybe he can somehow help her learn from his own mistakes before she ends up six feet under (sorry, it's true). But putting these two together as some publicity-driven modern day f***ed up odd couple is a strange and terrible idea, that doesn't seem to be very beneficial for either star. If you want to clean up your image, don't keep bad company and become involved in a strange friendship/pseudo-relationship with a fellow addict who is 21 years older than you. If you're trying to become fodder for a future Lifetime movie, you're "winning" (sorry). If you're still trying to stage an actual, respectable comeback, this just isn't the way.
Follow Shaunna on Twitter @HWShaunna
[PHOTO CREDIT: Michael Stewart/Getty Images; Ivan Nikolov/Wenn]
---
From Our Partners:


25 Most Scandalous Celeb Twitpics (Vh1)


33 Child Stars: Where Are They Now? (Celebuzz)