Manti Te'o Comes Clean About Girlfriend Hoax on 'Katie' — VIDEO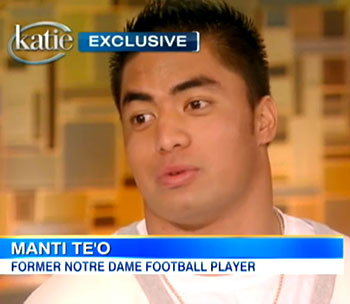 Manti Te'o finally comes clean about his fake Internet girlfriend on the Thursday, Jan. 24 installment of Katie. In preview clips of the episode, the former Notre Dame football star admits to Katie Couric that he did, in fact, lie to the public about Lennay Kekua — but only briefly, and after he'd mourned her death.
Dressed in khakis and a light striped cardigan, Te'o tells Couric that he was a victim of the hoax, allegedly perpetuated by Ronaiah Tuiasosopo, and that he found out about the deception on Dec. 6. But he mentioned Kekua again in the press on Dec. 8, when he was a finalist for the Heisman Trophy.
"Katie, put yourself in my situation. I, my whole world told me that she died on Sept. 12. Everybody knew that. This girl, who I committed myself to, died on Sept. 12," Te'o tells Couric in an excerpt of the interview released to ABC News (clip below). "Now I get a phone call on Dec. 6, saying that she's alive and then I'm going be put on national TV two days later. And to ask me about the same question. You know, what would you do?"
In a different clip, Te'o's father defends his son. "People can speculate about what they think he is. I have known him 21 years of his life, and he's not a liar. He's a kid."
The whole interview will air on Couric's syndicated talk show, Katie, on Jan. 24. What do you think of Te'o's confession?
Follow Jean on Twitter @hijean
[PHOTO CREDIT: ABC]
More:
Katie Couric Beats Out Oprah for First Manti Te'o On-Camera Interview
Manti Te'o Claims He Didn't Lie…Except About This One Thing
The Manti Te'o Catfishing Story is the Best, Most Bizarre Sports Story. Ever.

Child Stars: Where Are They Now? (Celebuzz)