Meet the Sexy New Judges on 'America's Next Top Model'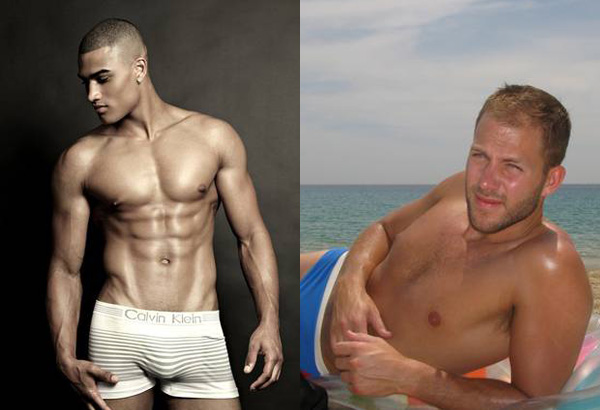 Where did Tyra Banks find the new judges for her show? Did she do a model casting or something, because the two new guys joining her on America's Next Top Model are hotter than one of the girl's weaves after sitting under studio lights all day. The CW confirmed today that male model Rob Evans will join Tyra's judging panel and that Johnny Wujek will be the girls "mentor," serving the roles of both Mr. and Ms. Jay. Fashion PR maven (and two time reality show veteran) Kelly Cutrone, who joined the panel this year to replace Vogue laureate Andre Leon Talley, will stay on again for next year.
So, what do we know about these guys? Well, Wujeck is a stylist to the stars most notable for being Katy Perry's style guru. Yes, he is the one behind the candy-colored hair and the insanely hydraulic outfits. He's a former male model (duh) who may or may not have dated Zachary Quinto though he's definitely gay. He met Perry at a fashion party before she got huge and the two have been working together ever since. Look for him to bring a fun and zany energy to the proceedings much like his predecessors.
Evans, who has an impossible-to-Google name, has been a very successful model over the past few years working for just about every publication you can think of and walking in shows like Givenchy and others we're not cool enough to know about. He was one of the hotties in heels in Madonna's "Girl Gone Wild" video and certainly knows how to throw a punch like he does in this shirtless video editorial (oh, remember when Tyra was obsessed with those?). Rob is from England, so if you thought he was sexy before, just wait until you hear that accent. He may not be a noted fashion photographer, but being bald, British, and beautiful, he's certainly a good stand in.
The CW announced the new judges today at their upfront presentation, showing a picture of the two boys and Kelly, but didn't bother giving any details or tell the crowd of entertainment journalists and ad execs their names. The lack of network excitement and a move from Wednesday to Friday could spell the end of America's Next Top Model. But God knows I'll keep watching, even if it's just to look at these two.
Follow Brian Moylan on Twitter @BrianJMoylan
[Additional reporting by Kelsea Stahler]