Miley Cyrus Drops in on Ashton Kutcher on 'Two and a Half Men' — PHOTOS 

Move over Charlie and Lindsay, there's a new media frenzy darling on-screen odd couple in town. And it's on Sheen's old stomping grounds, no less. Miley Cyrus is guest starring on Two and a Half Men, thus causing the unfathomably popular mainstream entertainment space-time continuum to collapse on itself, and now there's photographic evidence of it.
Miley (and her haircut) will reportedly play a character named Missi (with an 'i', because of course!), a daughter of Ashton Kutcher's friend, who drops in for a visit. Judging from the pictures of the pop star's cameo (which also features one of her sitting in bed with Kutcher, so really take that Charlie and Lindsay!) Kutcher's Walden seems surprised to see her at the door, and Angus T. Jones' Jake just looks plain smitten. Lucky for him, since Missi is being touted as a potential love interest for Jake. 
Oh yeah, and there's Miley Cyrus in a bikini with Ashton Kutcher putting suntan lotion on her back while she glances back seductively. Nope, nothing unnerving to see here.
Check out the photos below: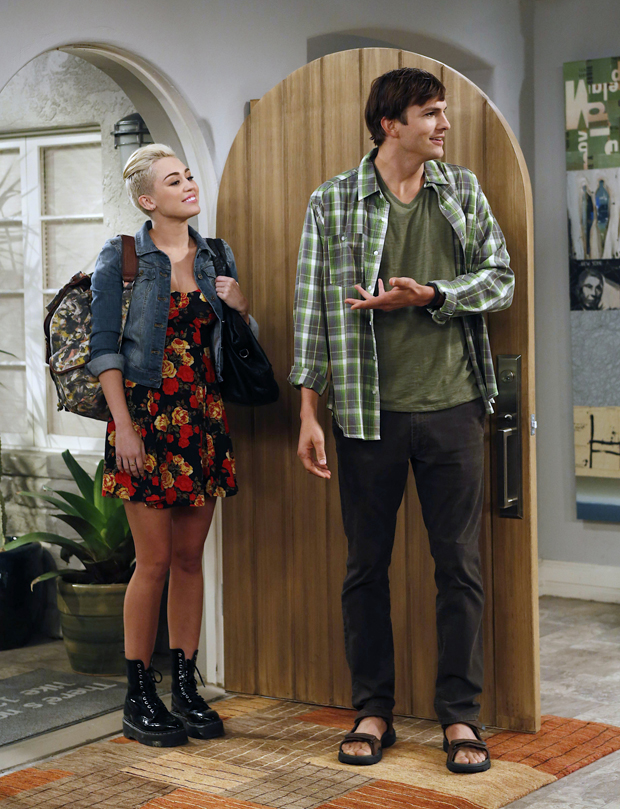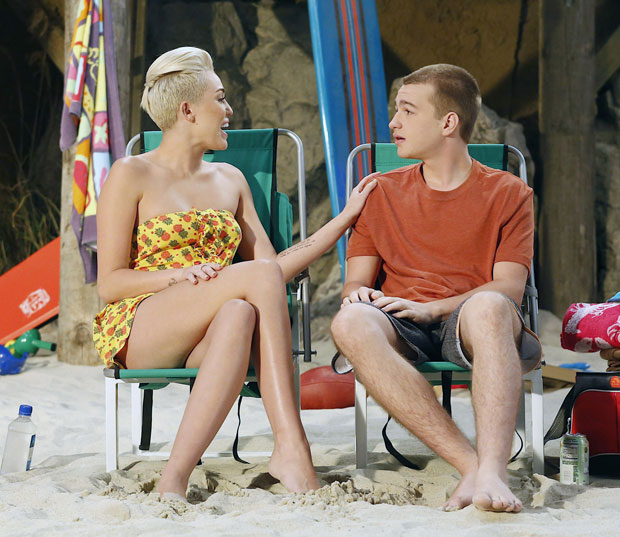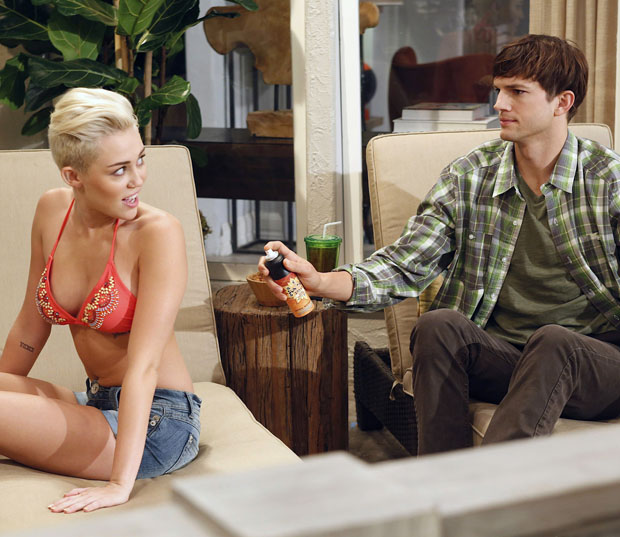 Pretty cool or not so much? You can decide when Miley Cyrus begins her two episode stint on Two and a Half Men on Thursday, October 17 at 8 PM ET on CBS.
[Photo Credit: CBS]
More:
TV Tidbits: Miley Cyrus Gets Half A Man, Abby Elliott is Crazy on 'HIMYM'
Miley Cyrus Reported for Battery, Says LAPD