'Modern Family' Cast Reach Salary Agreement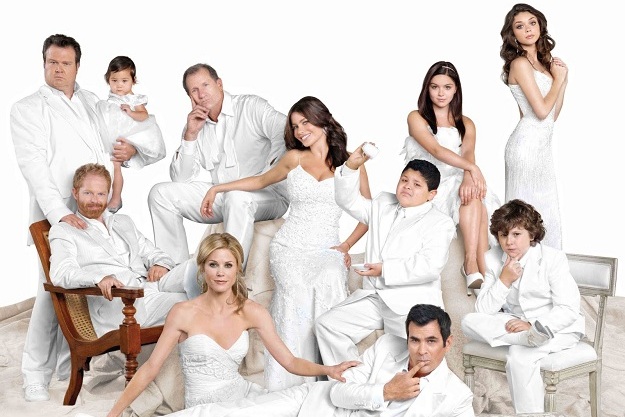 Looks like we won't be the only ones returning to work on Monday. The cast of ABC's Modern Family has finally reached an agreement on their new salaries.
According to The Hollywood Reporter, the lawsuit initially brought on by the six leads — Ty Burrell, Sofia Vergara, Jesse Tyler Ferguson, Eric Stonestreet, Julie Bowen and Ed O'Neill (who had a separate contract, but joined in on the lawsuit as a way to show his cast mates support) — was dropped after months of negotiations.
On Friday, Century Fox TV finally agreed to increase the actor's salaries from $65,000 an episode to a figure ranging in the $170,000-180,000 range. The quintet was initially requesting $200,000, and the ongoing dispute caused the first table read of the season to be postponed. But now that the negotiations have ended and the lawsuit dropped, filming on season four will resume on Monday.
We're just hoping that the new season has more surprises than the settled suit. Everyone involved knew that ABC was never going to watch on as the Family broke up. Especially after five of the six actors — Stonestreet excluded — were just nominated for an Emmy in the Best Supporting Actor/Actress in a Comedy Series category.
A series that critics love and audiences adore is about as rare as a $1 million comic book.
More:
Casting Roundup: 'Modern Family' Brings in an Apatow Favorite
'Modern Family' Recap: Clown Funerals, Spy Pens—Did Luke Write This One?
'Modern Family' Baby Lily Coves Adele — A 'Too Cute' VIDEO
Photo Credit: ABC