'Modern Family' Recap: Downton Disney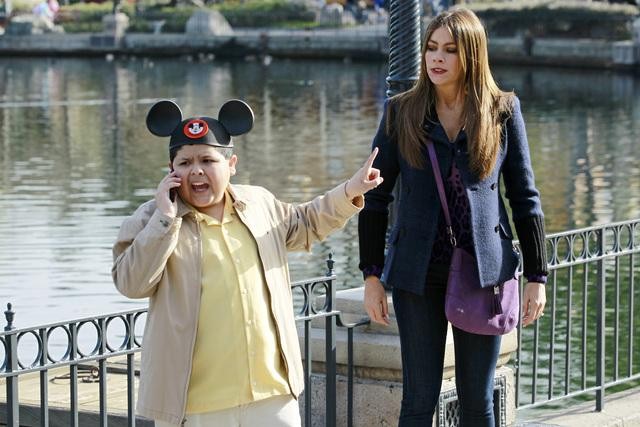 After last week's separate family plotlines, it was a nice treat last night to see the whole gang back together. Bonus: It was a family trip to Disneyland that had everyone (except for Manny) completely thrilled. Funny — I thought everyone was too old for Disney besides Lily, but apparently I'm just a party pooper (old soul?) because even high school senior Haley found something to smile about.
Of course, her grin probably had less to do with Dumbo the elephant and more to do with her very own Dumbo — ex-boyfriend Dylan was back! Viewers will remember that last she saw her cute and dim boyfriend was over the family dude ranch vacay that opened the season. He proposed to Haley, she turned him down, and he decided to stay at the ranch working to experience life. She had no idea he was back in town. Claire was preemptively pimping out her daughter to a cute college-bound friend of the family, Ethan. Mitchell makes a Downton Abbey reference at Disney, so I feel totally justified in bringing up that Haley and Alex competing for Ethan's attention was soooooo Lady Mary and Lady Edith fighting over Matthew. (And about a zillion other shows. But I digress.)
While with her mom, Haley discovered Dylan didn't just arrive in town — he'd been there for a while, working as part of a barbershop quartet, singing a cappella on a bike. As teenagers do. Dylan should be proud — he showed a marked improvement since the last time he tried to serenade Haley. Dylan tried to explain to her (while in costume) that he was trying to make something of himself. It didn't hurt that Ethan turned out to be a bit of a jerk, shoving Dylan to the ground and leading Haley to happily announce, "We're back together!" Modern Family fans, I'm guessing you don't have to worry about the series without a college-bound Haley next season — her relationship with Dylan is bound to keep her in the, no? Glad to have you back, Dylan.
Jay was especially excited for Disney, explaining that he and his ex-wife had planned to take Mitch and Claire when they were kids. Instead, they got into a big, pointless fight before they were about to go and Jay took them by himself. Throughout the episode, he talked in bits and pieces about going to the Robot Lincoln "ride" with them, and at the end of the episode, he explained that he had planned on leaving his wife that day, but hearing Lincoln talk about "being a man" and "responsibility" changed his mind. He decided to stick with a not-so-great marriage for his kids; to be around for them. He then made a joke about the universe rewarding him with Gloria, which was kind of crass, but I think the show does a good job of showing that he does love her for reasons beyond her trophy-wife-ness, so I'll let a crude comment or two slide. Point is, we got more backstory into Jay's life before Manny and Gloria. I'll take it.
NEXT: The night's best lines!
In other news, Phil "King of the Roller Coasters" Dunphy and a just-made-the-height-limit Luke planned on hitting all the major rides. But Phil was getting winded pretty quickly, and came face-to-face with his own mortality. But nothing could get Phil down for long. He's a cool dad who knows all the dances to High School Musical, after all. Thank goodness he learned he wasn't getting old, he just had the flu. (Sharing an orange juice jug with a bunch of sick guys at your office will do that.) Never fear! You can't stop that enthusiasm level.
Top Lines:
How did I not mention? Lily is a runner! Which means she was on a leash for most of the episode, until Mitch couldn't handle the judgment from sock-and-sandal parents anymore. Jay had the perfect solution: He bought her a pair of heels so she couldn't run. Between this and getting Gloria fun slippers so she could run, Jay was the regular Prince Charming of Disney, providing appropriate, if not life-changing, shoes for every occasion. Approve!
"Claire's biggest fear was running into the evil queen. Mine was that I married her." —Jay
"It's Toontown, not Toonton. You've been watching too much PBS." — Mitchell
"We have a runner." — Cameron
"It's a child safety tether." "It's a leash." — Cameron and Mitchell
"I know I can't run Haley's life for her, but if she would let me, I would be so good at it!" — Claire
"You date her, that's the club you're joining." — Alex to Ethan about Haley
"So I stuck it out until they were grown [Gloria announces she's going into the hot tub] — and the universe rewarded me." — Jay
Did Modern Family's Disney episode contribute to your Wednesday happily ever after?
[Image Credit: ABC]
More:
Modern Family Recap: (Not) Leaving on a (Tiny) Jet Plane
Modern Family Recap: Guess Who's Coming to Dinner?