'Mom' Star Sadie Calvano Talks Anna Faris and Teen Pregnancy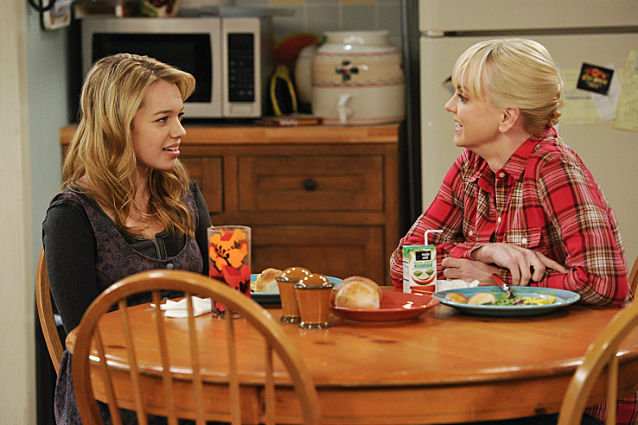 CBS
Sadie Calvano, the 16-year-old actress who plays Anna Faris' pregnant teenaged daughter in the CBS sitcom Mom has come a long way in a short amount of time. With only a handful of credits on her resume — most notably playing the title character's niece in J. Edgar — Calvano finds herself not just on a hit television show, but with a plotline that has spurred a strong reaction. In the March 3 episode of the show it was revealed that her character Violet, intends to give her baby up for adoption.
With the series recently picked up for a second season, the actress reflects on getting to work with her famous costars and playing a teenager struggling with some big life decisions.
It seems like an ideal situation for a young actress to get to work with Allison Janney and Anna Faris. What has the experience been like for you?
I've gotten so lucky to work with such an amazing cast and crew, and to be with these women in Anna and Allison that are such amazing artists but still such amazing people. It's something that I don't feel really happens that often. So getting to be a piece of that puzzle is such a gift.
You've also had some big name guest stars as well, with the next episode focusing on Octavia Spencer's recurring character, Regina, heading off to jail.
Octavia Spencer… what?! She is one of my biggest role models. I think all of her work is so brilliant. When she first made an appearance on the show, it took every fiber of my being not to go all fan-girl over her. She's so lovely and strong and brilliant. Working with her is such a lesson in being humble and grounded. It shows what a great artist is capable of and she's a wonderful woman as well.
What's the reaction been like since fans found out that Violet is giving her baby up for adoption?
I think it's been good. Obviously, adoption is a touchy subject but I think that Mom is becoming known as being a comedy that doesn't hesitate to get into heavy subjects. I think that this really shows Violet's strength in a lot of ways because adoption isn't an easy decision for anyone, but hopefully it will create better lives for everyone involved.
Have you gotten much feedback  from teens that really are, or have been, pregnant?
Not me personally, but I'm sure that it's out there. The great thing about our show is that it enables teens and parents to start a dialogue about these topics and get a conversation flowing. These are real things going on in the world right now and hopefully it brings a little bit of awareness, even if it's in a comedic format.
Anna Faris also played a woman giving her baby up for adoption on Friends. Has she given you any tips on how to play pregnant?
Anna is so wonderful and she's so good about answering any questions that I have. So, she's been not just an amazing coworker, but such a friend and such an influence. It's hard without a doubt [to play someone that's pregnant] because you're expected to convey so many feelings that you are just incapable of knowing about right now. But it's also been really fun in a weird way, because it feels like I've gotten to have a little secret. Obviously, everyone know that [the character] is pregnant, but pregnancy is such an intimate thing that it's taken a lot of digging and discovery. So, it's been super fun as well.
CBS just announced that Mom is coming back for a second season. How did it feel getting the news on the renewal?
I could not stop smiling. I had the biggest smile on my face all day. It was the most wonderful news I could ever imagine. To find out now and not have to wait — knowing that you get to come back to this amazing project — it's just… amazing.
Any hints about what's in store for Violet?
I have no idea, the writers are very good at being tricky. In the last couple of episodes, you've really been exposed to the strength that Violet has. She's made some undeniable mistakes, but she's a very intelligent girl. So, I'm hoping that you get to see the strength not just of Violet, but of the family that she's now enabling to thrive.