Is 'Mr. Selfridge' the New 'Downton Abbey'?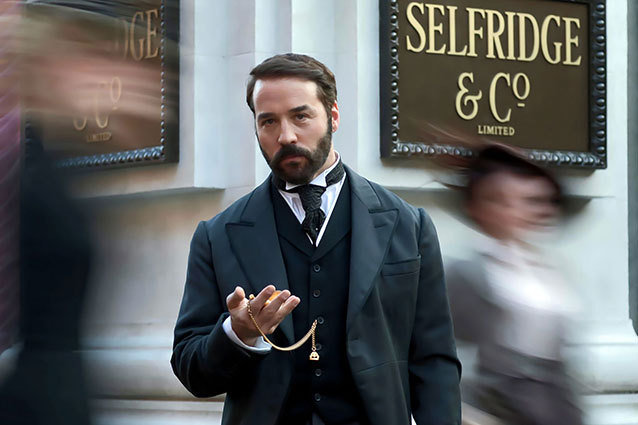 The funny thing about Downton Abbey is that it seems to be like every other one of PBS' British imports: a stodgy costume drama that hews closely to a formula that hasn't changed since Charles Dickens was in short pants. While that may be true, there is something magical about the drama that has captivated audiences in the UK and made it PBS' only hit in, well, decades. But can they replicate the magic again? Their certainly hoping to, and this time the Brits' eyes seem set on America. Welcome to Mr. Selfridge. 
The newest bet to keep themselves off of government handouts and keep their audience sending away checks to get quality programming and an endless supply of tote bags is this Jeremy Piven drama based on an actual historical figure. Just like Downton, it is imported from ITV. Unlike the previous show, this one seems configured to take the colonies by storm. First of all it stars an America, Jeremy Piven, the sushi-sick actor who we still have to claim as our own no matter how much we want to disavow him (and all those Emmys he won for Entourage), and he's playing an America. Next, it follows the Downton formula so closely that it could be a conjoined twin. Or maybe an America cousin. 
RELATED: 'Downton Abbey' Season Finale Recap: Everything You Need to Know
The comparisons start off right from the beginning, with the title sequence, a plinkety, catchy and immediately recognizable theme song plays over the actors names as we see flashes of life in London in 1909. The title character is a huckster from Chicago who comes across the sea to create the greatest department store in the world. Not only do we deal with him, his family, and the high-class London set that he runs with hoping to cultivate investors and customers from the upper echelons, we also get the stories of the shop girls, clerks (which the British still pronounce with a long A), and other functionaries in the store. It's the same upstairs/downstairs effect as another show of which we've grown very fond and has a penchant for killing off its nobles. This one was written by Andrew Davies, who masterminded the critically adored and popular adaptations of Pride and Prejudice, Vanity Fair, and House of Cards for British TV. 
So, does it live up to its older brother? Well, yes and no. It only has about 7 million viewers in its home country, which is less than the 10.7 million who watched the Season 3 finale of the show and the 11.5 million people that PBS says watched Season 3 of Downton on our shores. Still even half that would be quite a feat for the little channel to pull off. 
RELATED: 'Downton Abbey' Season 3 Breaks Ratings Records
As for the quality, it just doesn't quite have the same spark. Jeremy Piven is, well, Jeremy Piven, a nimble actor who is nearly impossible to like. As a snake oil salesman with a noble clientele, he has a bit of charm, but there is nothing behind the character. We have no motivation for why he wants to succeed or what the stakes are if he doesn't, other than the obvious. (Also knowing the real Selfridge ended up peniless on the street doesn't bode well for his character.) The female characters are more well drawn and interesting, especially accessories salesgirl Miss Towler (Aisling Loftus), ingenue and spokesmodel Ellen Love (Zoe Tapper), and sultry noblewoman Lady Mae (Katherine Kelley, who has already said she won't be back for Season 2, which ITV has already ordered). Sure the show (and the store) may be named after the man they're all chasing, but they're the ones who are shoplifting it. 
Still the American aspect of the show is what is the most interesting. Here is the man who turned shopping from a drudgery into entertainment, and of course it took someone from the good old U.S. of A. to create conspicuous consumption. But is this what our countrymen want to watch necessarily? Well the ones who are already fans of PBS and costume dramas will surely be amused, but for the rest of it, the show is a bit like one of Selfridge's blustering speeches: lots of flash with little sentiment behind it. 
Mr. Selfridge debuts with a two-hour episode on PBS on Sunday, March 31. Check your local listings or PBS.org.
Follow Brian Moylan on Twitter @BrianJMoylan
[Photo Credit: PBS]
---
You Might Also Like:


Topanga's Revealing Lingerie Shoot: Hello '90s!


13 Most WTF Fan Tributes