NBC Announces Returns Dates of 'Smash,' 'Biggest Loser,' 'The Voice,' and More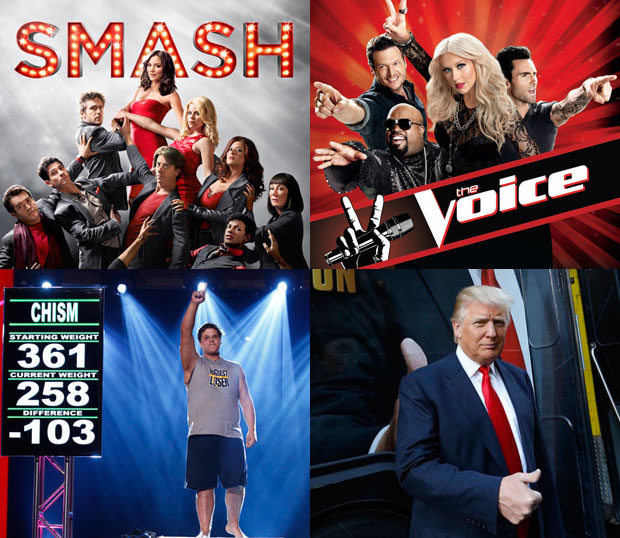 With the holidays almost here, it's time to start thinking about what truly matters in life: Family, friends and new TV shows. (Come on you know it's true!) NBC has just announced their mid-season premiere dates and we've details on when all your favorites will return, plus a few new shows that have yet to grace your TV screens.
–The Biggest Loser: Fitness queen Jillian Michaels returns to the hit reality-competition show for a two-night premiere on Sunday, Jan. 6 (9-11 PM) and Monday, Jan. 7 (8-10 PM)
–Deception: The new drama debuts Monday, Jan. 7 (10-11 PM) and centers around a dark family murder mystery.
-Betty White's Off Their Rockers: The Golden Girl's reality comedy will return Tuesday, Jan. 8 (8 PM).
–1600 Penn: NBC's newest comedy will be joining the peacock line-up on the highly competitive Thursday nights beginning Jan. 10 (9:30 PM). The half-hour show features a dysfunctional family that just to happens to live in the White House.
–Smash: The Broadway-based drama is moving to Tuesdays and will kick off its sophomore season with a special two-hour premiere Feb. 5 (10 PM) and welcomes singing-sensation Jennifer Hudson to the stage.
–Community: The beloved comedy will finally return for it's fourth season and it set to replace 30 Rock on Thursday, Feb. 7 (8 PM)
–The Celebrity Apprentice: Donald Trump's hair and reality series will return for Sunday, March 3 (8 PM) and will feature 2-hour episodes for the first four weeks.
–Revolution: NBCs freshman drama will return from its winter hiatus Monday, March 25.
–The Voice: The singing competition will spin back into the NBC lineup for it's fourth cycle for a two-night premiere on Monday March 25 and Tuesday March 26. The season will shake things with Usher and Shakira coming on to replace Chrisitna Aguilera and Cee Lo Green as coaches.
–Ready for Love: This new relationship/reality series is brought to you by the lovely mind of Eva Longoria and will premiere Sunday, March 31 (8 PM).
Which NBC show are you most excited to see again? Tell us you thoughts in the comments below!
Follow Leanne on Twitter @LeanneAguilera
[Photo Credit: NBC]
MORE:
'Community' To Return in February, Back on Thursday Nights
NBC Cancels 'Animal Practice,' to the Chagrin of Annie's Boobs
Leanne's Spoiler List: 'Smash' Will Shake Things Up, 'Vampire Diaries' Gets Intense
From Our Partners:

Exclusive New 'Twilight: Breaking Dawn' Trailer!
(Moviefone)

(Moviefone)