NBC Boss Optimistic About the Future of 'Community'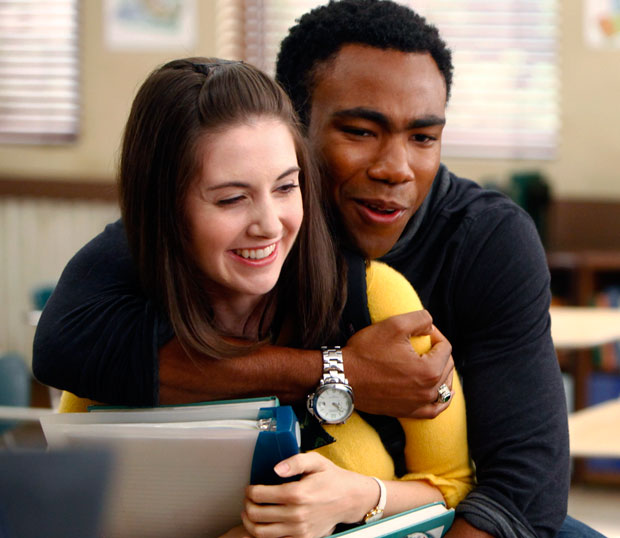 Six season and a movie? Well, the chant heard 'round the world by fans of the NBC cult comedy Community, may not be so distant of a dream. According to Bob Greenblatt, NBC's Entertainment chairman, the modestly-rated series could "absolutely" get a fifth season and that it's something the network would love to see. Greenblatt explained his thought process at Sunday's TCAs as such: "We're always hopeful for a show to continue … and we co-own it. I'd love nothing more than to see it continue."
The news comes as a relief to fans, who were fearful of the show's fate after a series of setbacks leading into the upcoming fourth season. Previous showrunner Dan Harmon notably exited the series last year, and co-star Chevy Chase has one foot out the door after announcing his own exit in November. (Though Chase will appear in nearly the whole season—save but two episodes.) And if that didn't make fans nervous, its up-in-the-air return date (pushed from October 19 to a question mark, to February 7) certainly didn't quell fears that the network was less-than-thrilled to stand by the students of Greendale Community College, either.
But it seems much of that fear may have been for naught. "I don't know that I'm the Community expert," Greenblatt said, "but I think you're going to see relatively the same show … there is a little bit more heart built in to it, but we didn't fundamentally change it."
What do you think about Community's future? Are you picking up what Greenblatt's putting down? Sound off in the comments!
[Photo Credit: Trae Patton/NBC]
Follow Alicia on Twitter @alicialutes
More:
Cast of 'Community' Hold Adorable Kittens Because: Internet — VIDEO
'Community' Without Chevy Chase: Could It (and Should It) Work?
'Community' Season 4: The Year of Lasers and Unicorn Men! (So, Toning It Down?) — PICS

20 Hottest Bikini Bodies of 2012: Katy Perry, Miley and More!