NBC Isn't Bluffing With D.L. Hughley Game Show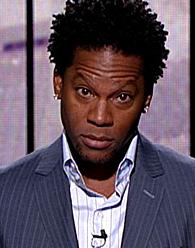 As one of The Original Kings of Comedy, D.L. Hughley is no stranger to the entertainment world, but he can hardly be called a mainstay. He's appeared in just a handful of films and, apart from his sitcom The Hughley's (which ran for four impressive seasons), his television career has been marked by programs that don't make it past their inaugural season.
NBC hopes to change that track record by endorsing the 47-year-old entertainer's new game show, titled Who's Bluffing Who? In the show, contestants try to bluff their way into winning a half-million dollars. The project is created and executive produced by Jeff Apploff, who executive produced Don't Forget the Lyrics. For each episode, seven contestants will use their knowledge and deceptive talents — and even steal one another's money — to advance in the game as they are gradually reduced to a single winner.
ITV Studios (Hell's Kitchen, Celebrity Fit Club) and NBC will co-produce the pilot, which is one of a couple of truth-spotting game shows in the works. As a fan of Hughley's work both on television and stand-up, I'm happy to see him get another shot at primetime stardom. His brand of comedy combines urban humor with worldly knowledge and snarky delivery, all of which set him apart from the other Kings of Comedy and made him infinitely funnier in my opinion. Still, this new program will sink or swim solely on luck, as the game show format is a true hit or miss practice. I know I'll be watching, if only to see Hughley rank on the conniving contestants.
Source: The Hollywood Reporter