'New Girl' Gone Wild: A Behind The Scenes Look At Tonight's Episode At The Zoo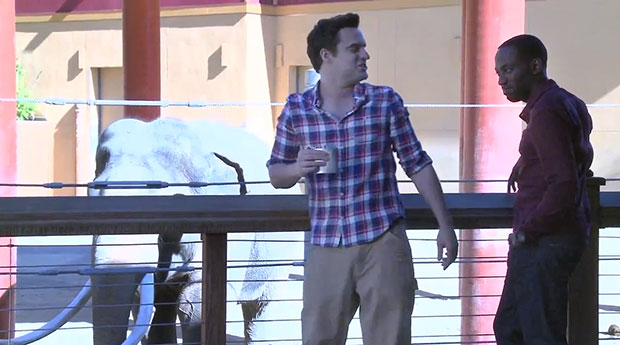 The New Girl gang bought a zoo! Okay, fine, they really just visit one during tonight's brand new episode, but a fan can dream, can't they? The episode, titled "Eggs" finds the crew engaging with some pretty magnificent beasts, like rhinos and bears and gorillas. Oh my. 
Now there's an old adage in Hollywood that one should never work with children or animals, but from the behind the scenes sneak peek we got, it seems like the cast had no issues with the latter. In fact, this season's MVP, actor
Jake Johnson
got to come face-to-face with his own spirit animal: the elephant. "I have a lot of respect for elephants," Johnson says in the clip. "If you go back and listen to my interviews…one in three interviews I talk about my respect for elephants. I kind of have a love-hate [relationship], we battle a little bit. But, at the end of the day, we love each other." Hmm, a stubborn love-hate relationship with something he respects deep down? Maybe the elephant is Nick's spirit animal, too. 
While Johnson promises there will be "some weirdness with a gorilla" for Nick in the episode, it seems like his co-star
Lamorne Morris
is heading into Schmidt territory: the danger zone. The actor jokes that he would love to get a pet lion to intrigue women. "I could put it on a leash and walk around and totally get chicks that way." Schmidt, consider yourself warned. It's a jungle/zoo out there. 
Watch the first look at tonight's brand new episode here:
New Girl airs at 9 PM ET on Fox. Be sure to check back in tomorrow morning for my full recap of the episode!
[Photo credit: Fox]
More: 
The New Girl Thanksgiving Episode: A Tradition Worth Keeping?