'New Girl' Recap: A Bro-niversary and An Unexpected Engagement Party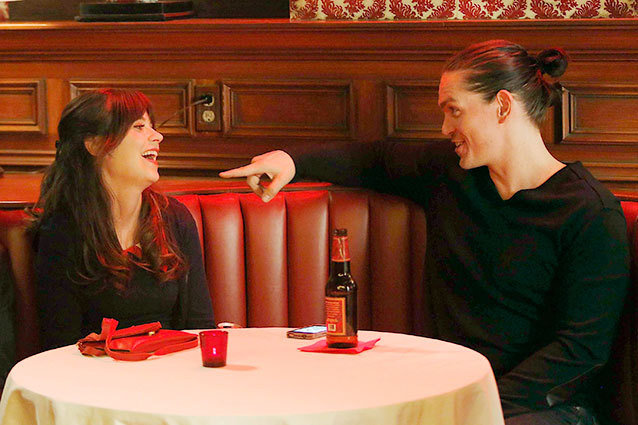 It takes a special kind of comic actor who can find the perfect balance of being out-of-this-world funny and down-to-Earth vulnerable and real. So it makes perfect sense that Jake Johnson and Emmy nominee Max Greenfield, two comic actors who fit that bill, have such incredible chemistry on New Girl. It makes perfect sense that their characters Nick and Schmidt have been the best of buds for a decade, because these stars have such a natural rapport with each other, you wouldn't be surprised if you found out they have been friends that long in real life. 
While the continually building chemistry between Nick and Jess is still on the lips and minds of New Girl fans (fittingly enough, Nick and Jess' lips were on each other's minds last night) last night's episode, "TinFinity" was really about the true New Girl odd couple, Nick and Schmidt. 
RELATED: 'New Girl' Recap: Parking Wars
The two pals had reached a momentous milestone in their friendship: they were celebrating their ten year anniversary as roommates. While their wood and paper anniversaries were disasters, Schmidt was undeterred to let their tin anniversary go uncelebrated and were going ahead with their tin celebration. Well, at least Schmidt was going forward with planning an elaborate garden party and bequeathed the reasonably simple duties of balloons and porta potties onto Nick, full well knowing he would screw them up. (He was correct, he got a hot air balloon with no propane and bought a discarded piece porta potty). "I'm having an anxiety attack!" Nick cried, who has a history of upsetting Schmidt with his poor party planning skills, when given his simple assignment. Johnson has easily created one of the most charming slackers in television history and Greenfield the most lovable douchebag. 
As Nick dealt with that terrifying reality, Jess had one of her own: that she couldn't get Nick's smoochin' lips off her brain. (I mean, can you blame her? That kiss was a knee-buckler). She decided it was time to meet a new guy to move on and — wouldn't you know it?! — Winston brought a new fella into the group as if on cue. Hey, Winston needed something to do this week! 
That fella was a guy named Jax (played by Something Borrowed's Steve Howey), who just so happened to be a very handsome and very sensitive professional football player that Winston met at work and desperately wanted to befriend. I repeat, Jax was very sensitive. Poor Jess found that out the hard way at Nick and Schmidt's TinFinity extravaganza, when he not only cried after admitting that liked her, but making a declaration of love in front of all of her friends. Mind you, this was literally hours after they met. He's all yours, Winston!
Love seemed to be thick in the air at Nick and Schmidt's TinFinity party, as Cece's boyfriend of literally three episodes, the nice-enough Shivrang (Satya Bhabha) asked her to do this thing. And by this thing, I mean get engaged. Now, I know what you're thinking, this isn't what Cece really wants, she still wants Schmidt, and come on, she barely knows this guy. You're right, and much like Nick and Jess, the New Girl writers will likely dangle the hope of Schmidt and Cece in front of us for a while as well. 
RELATED: 'New Girl' Recap: Nick and Jess' Post-Kiss Awkwardness
Speaking of…poor Schmidt! It's bad enough he had to watch the love of his life get engaged at his own party (where Cece's other ex Robby inexplicably popped up for a minute) but he'd had a pretty serious spat with Nick. After Nick got annoyed that Schmidt had no faith in him for the party (he wrote his own speech for him), he snapped at him for no longer treating him like an equal, despite the fact that he was a grown man throwing a party for still living with his college roommate.
Nick and Schmidt are the two biggest kidders on the show (perhaps because they are just two big kids) but these two really put their hearts out there during this spat. It was honest and raw and both aired their long-gestating grievances with each other. And Jess thinks Nick has no feelings! Pshaw, I say! (Jess may have run away from him at the end of the ep to avoid his mouth, but that's no different than when Nick moonwalked away from her. These two just want to run towards each other). 
Of course, when Nick saw how crestfallen Schmidt was at seeing Cece get engaged, he patched things up with him, had a heart-to-heart about life's disappointments, and got drunk in a grounded hot air balloon. After all, he is the Burt to his Ernie, the Iceman to his Iceman, and that's just the kind of thing that best friends do. Jake Johnson and Max Greenfield, you are equals: comedy equals. 
RELATED: 'New Girl' Star Max Greenfield on the Future of Schmidt and Cece
The best moments and lines from last night's episode of New Girl "TinFinity": 
– The re-emergence of Fat Schmidt. Is it just me, or is Fat Schmidt essentially Fat Monica from Friends? A formerly heavy loser who turns into a svelte clean freak? These two would have made an amazing couple. Additionally, hippie Nick would have gotten along swimmingly with hippie Ted from How I Met Your Mother in college. 
– "Does he think you're Omar Epps?" – Schmidt to Winston, after he brought Jax to the bar. 
– "I wanna fall asleep in them like Thumbelina" – Nick, discussing Jax's big, strong hands. 
– "If you dig a hole in a dirt field, I'm gonna kill you!" – Schmidt's threat to Nick. (In the end, that may have been a better alternative). 
– "That's what the nursing home said about my mattress!" – Nick rationalizing buying actual garbage/becoming a "small business owner". 
– "Ten Years. Two Hearts. One Home. Loyalty and great conversation." – The theme of Schmidt and Nick's Tin-niversary. 
– The various collages, cut-outs and photos of Nick and Schmidt scattered throughout their party. 
– Jess' rightfully freaked-out reaction to Jax's pre-proposal. ("I'm innocent, I was framed!")
– Nick describing his lifelong friendship with Schmidt as "upsetting, but kinda great." Nope, just great.
[Photo credit: Greg Gayne/FOX]
---
From Our Partners:


25 Most Scandalous Celeb Twitpics (Vh1)


33 Child Stars: Where Are They Now? (Celebuzz)