New Show, Same Network: James Gandolfini Returns to HBO with 'Criminal Justice'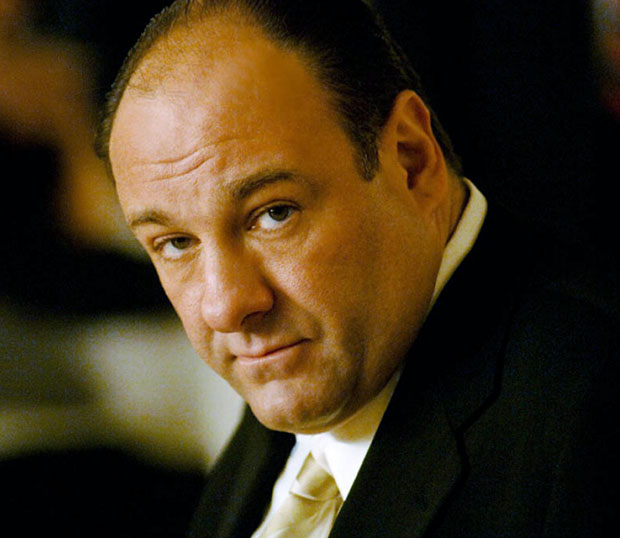 You can't go home again. It's a maxim whose institution in our culture has spanned from Thomas Wolfe's eponymous novel to that first season episode of Battlestar Galactica, but is it a tried and true phrase to live by or a tired cliché rung up by the real estate industry? In the realm of television, many a star has attempted to revitalize past glory on the old stomping grounds, return to the network that launched his or her career in the first place. James Gandolfini, for instance, is returning to HBO (the old home of his historical series The Sopranos) with a new drama pilot titled Criminal Justice.
The Hollywood Reporter reveals that Gandolfini will headline the project, an adaptation of a BBC series that aired in 2008. The story follows the trial of a Pakistani-American murder suspect (Rizwan Ahmed) from inception to conclusion, with Gandolfini playing his second-rate defense attorney Jack Stone. Screenwriter Steven Zaillian (Schindler's List, Gangs of New York, The Girl with the Dragon Tattoo) will direct and co-write the pilot with The Wire writer Richard Price.
Although it's not unheard of for a star to find success with a second series on the network responsible for his or her renown, there are definitely motivations to branch out to other venues. Generally speaking, television actors looking for work following a hit series opt to showcase their versatility, rather than promote the idea that they can't do anything we haven't seen from them so far. Famously, the stars of Seinfeld have endured difficulty illustrating what they can do beyond the confines of what NBC's hit sitcom displayed. Both Michael Richards and Julia Louis-Dreyfus sought post-Seinfeld work on NBC, to little success: Richards' detective series The Michael Richards Show only ran for eight episodes in the year 2000, while Louis-Dreyfus' sitcom Watching Ellie only made it to 16 before ratings-provoked cancellation. It should be noted that Louis-Dreyfus has found much greater success on other networks; her CBS sitcom The New Adventures of Old Christine lasted five seasons, in addition to earning the actress an Emmy — a victory that her new HBO comedy Veep might well match.
Coming off of another NBC powerhouse, Friends, actor Matthew Perry has sought work on the network twice since putting Chandler Bing to rest. In 2006, he starred in the Aaron Sorkin drama Studio 60 on the Sunset Strip, which earned critical acclaim but only ran for one season. His new sitcom Go On premiered on the network this season, and has been a contributing factor in NBC's number one ratings status.
A greater certainty in star-network reunions existed in the past — at least on CBS. Responsible for hits like The Dick Van Dyke Show, The Many Loves of Dobie Gillis, and The Bob Newhart Show, CBS granted these series' featured actors Mary Tyler Moore, Bob Denver, and Bob Newhart followup shows The Mary Tyler Moore Show, Gilligan's Island, and Newhart — each of which were monumental success stories.
But with today's "less forgiving" television audiences, always looking for reasons to reject an actor's efforts to explore the new, the adherence to a network is riskier. The pattern suggested above is that when you see a star return to his or her network, you want to see that star doing the thing that instituted the fame. On The Michael Richards Show and Studio 60, the actors in question were too far gone from their Seinfeld and Friends characters. But Go On and the sitcoms of CBS yore reproduced the things we loved about Perry, Moore, Denver, and Newhart. The same can be said for Tony Danza, whose success on ABC's Taxi was transmitted to the network's later sitcom Who's the Boss?. If we're tuning into the same place to watch the same people, we want to see the same thing.
So how will Gandolfini fare on Criminal Justice? Is a jailhouse lawyer close enough to a mafioso to keep audiences engaged in the actor, or will people miss Tony Soprano an opt away from the new series? If viewers are willing to accept Gandolfini as anything other than Tony in the first place, the actor might have a hit on his hands. More than any pattern of which we might take note is the issue of quality. If Criminal Justice is well-written and accessible, then it could well be a hit. With the creative team of Zaillian and Price, and an actor like Gandolfini, quality is indeed promised. Now if only they could find a less generic title…
[Photo Credit: HBO]
More:
Today in Nostalgic Reunions: 'The West Wing,' Backstreet Boys Are Back, Alright!
Netflix Picks Up Ricky Gervais Comedy, Further Confuses Us About What a "Netflix Show" Is
How The 'Childrens Hospital' Emmy Boosts The 'Incestuous' Short-Form Comedy World
From Our Partners:

'Teen Mom': Catelynn Lowell and Tyler Baltierra are Filming Spin-Off — EXCLUSIVE
(Celebuzz)

(Celebuzz)