Brand New NBC Anchor's First Words on Air: 'F**king S**t'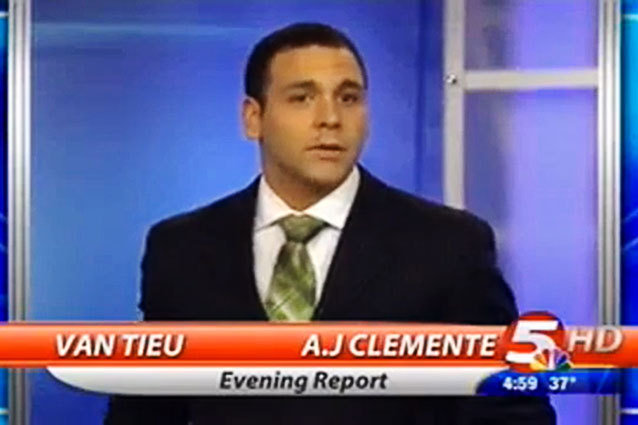 Perhaps the wisest words to anyone starting a new job, as bequeathed unto the world by one Arthur Miller, are as follows: "Don't whistle on the elevator." But Willie Loman lived in a simpler time. A time when the execution of a stream of air through one's lips could be deemed the most outrageous offense on the first day of employment. Luckily for that harried workaholic, he didn't live to see the modern era: when brand new television anchors are wont to kick off their on-air positions with a barrage of expletives.
A.J. Clemente started and possibly ended his turn a local news anchor for NBC's Bismarck, N.D. outlet KFYR, on Sunday night, launching his very first segment with a string of absent-minded curse words. When the camera cut to Clemente and his co-anchor Van Tieu, viewers heard the newbie uttering obscenties like "F**king s**t," followed by a few other hostile-sounding murmurs.
You can watch the NSFW video over at Deadspin, if you're prepared to feel wistful for the good old days of Walter Cronkite…
Follow Michael Arbeiter on Twitter @MichaelArbeiter
More:
Twitter Accounts of '60 Minutes' and '48 Hours' Hacked
Kris Jenner's New Talk Show: She Has Won, We Have Lost
Ann Curry's Last Months at 'Today' Were a Nightmare
---
From Our Partners


Jessica Alba Bikinis in St. Barts (Celebuzz)


Pics of The Rock Making Things Look Small (Vulture)