Olympics Round-Up: Missy Franklin Nabs First Gold, Britain Gets Bronzed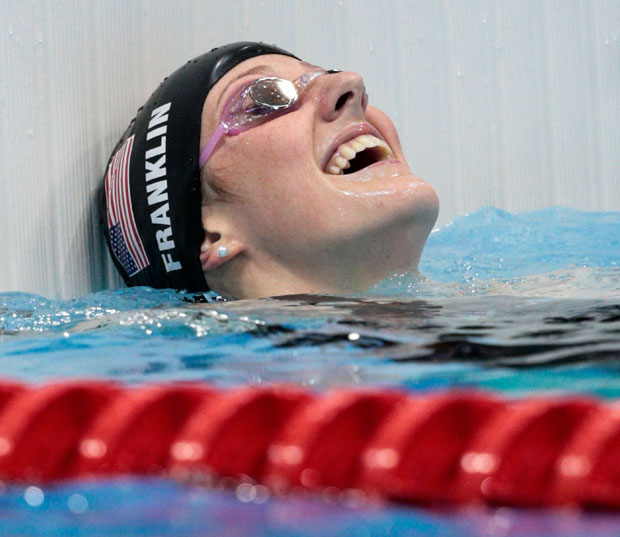 Day three has come and gone in this year's Olympics, and things are looking good for the Americans in the bunch! (USA! USA! USA! etc.) Medals were swooped up left and right, and stories of athletic prowess dominated the news. It makes even the most un-athletic and un-sporty of us (Exhibit A: your writer) get into the spirit of rooting for the big triumphs that can only happen when those Olympic rings are showing.
Swimming's Golden Girl: 17-year-old Olympian Missy Franklin took home her very first gold medal today for the 100m backstroke today in an American record time of 58.33 seconds. Not too shabby, considering she also medaled earlier in the day at the 4×100 freestyle relay. A bronze and a gold? Homegirl just needs a silver to get herself a nice little set of souvenirs, huh? Collect 'em all!
Bronzed Boys of Britain: No, unfortunately that is not the name of a calendar that I would most certainly hang in my bedroom (yet!), but for the first time in over a century, the British men's gymnastics team medals in the floor competitions, setting of quite the celebrations at the O2 Arena. Word on the street is that even Princes William and Harry (anyone else hear that song "Two Princes" whenever they're brought up? No? Just me? OK, moving on…) got into the raucous mood. And how!
Flawless?: So says the (very modest) Chinese male gymnastics team! The boys took home the gold today, and explained how they did it thusly: "We don't have any faults. That's our secret to beat the Japanese and to beat everyone," according to Zhang Chenglong. Oh, that's all? Just perfection? Seems easy enough!
Just Keep Swimming, Just Keep Swimming: More swimming medals included another gold for France's Yannick Agnel in the 200m freestyle. Ryan Lochte was also swimming that race, but came in fourth. Possibly because he only speaks in cliches like "sometimes you win, sometimes you lose" and "I gave it 110 percent," and "you live and learn." All three of those were in just two sentences he sputtered off to the Associated Press earlier today. Womp womp! American Matt Grevers finished with the gold in the 100m backstroke, which is a lovely little companion item to Missy's gold in the same competition on the ladies' side.
[Image Credit: Getty Images]
Follow Alicia on Twitter @alicialutes
More:
Olympics Spoiler Alert: The Thrill is Gone?
Olympics Round-Up: World Record for Dana Vollmer, Hugs for Michelle Obama
Olympics Round-Up: Lochte Beats Phelps, Archers Take Aim at Silver