'Grey's Anatomy': Sarah Drew Promises Meredith's Baby's Gender Will Be Revealed Tonight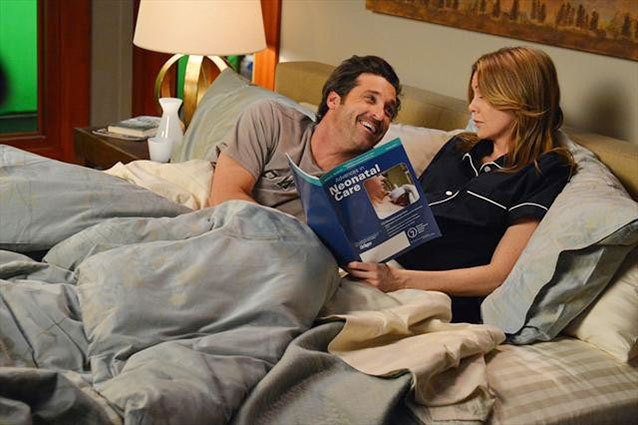 Now that the doctors officially own the hospital on Grey's Anatomy, it's time to reopen the ER under its new name, Grey Sloan Memorial Hospital. And while the doctors on the board are concerned with the new struggles that come with owning a hospital, all Dr. April Kepner's (Sarah Drew) mind is elsewhere.
"She's just so relieved that the ER is back and up and running," Drew tells Hollywood.com. "[Tonight], we have the reveal of the new ER with all the Grey Sloan Memorial Hospital logos and we have a bunch of bright, shiny, new toys. So she's super psyched about all the new stuff that this new regime has enabled to happen."
Drew says April is lucky — she doesn't have to worry about the business side of the hospital, unlike its new owners, who face some struggles opening Grey Sloan Memorial. "They are all very passionate people and particularly excited about their projects that they're working on," Drew says. "They're not as interested in the bureaucratic nonsense, like trying to push for funding and making the administrative decisions that need to be made. We'll see them struggling with wanting to be who they feel they're striving to be but also fill this role of hospital owners, which just makes everything more complex."
It's especially hard for Jackson Avery (Jesse Williams), who was appointed as head of the board by his own mother, much to the chagrin of the other, more experienced doctors. "It continues to be a difficult line for him to walk because he's the youngest of the bunch and the newest of the bunch to the hospital," Drew says. "He spars a lot with Callie in particular over the next few episodes. But we'll see him beginning to come into his own, take the reigns, and try to do the best he can possibly do given the circumstances."
RELATED: 'Grey's Anatomy': April Kepner's New Boyfriend Is 'Practically Perfect'
So how does his new leadership role affect April's complicated relationship with Jackson? "They'll always have some kind of magnetic draw to one another, but I don't think April has ever been truly able to articulate how she feels about Jackson," Drew says. "She's never actually told him how she feels about him. In her head, she thinks that he's not the right fit for her. He doesn't see the world the same way she does. But in her heart, she feels the opposite. She doesn't know how to make her head and her heart communicate with each other. It's hard."
And now that born-again virgin April is getting serious with her new EMT boyfriend Matthew (Justin Bruening) — who she says is "just perfect in every way" — expect her past with Jackson to complicate her present. "April is in total distress after lying to Matthew [about being a virgin], plus she's realizing that she really does miss sex. Quite a lot, actually," Drew teases. "She wants to have sex with Matthew but feels guilty for even wanting it, and doesn't want to lose him. She's in a whole new tizzy about that."
Her confusion leads her to seek advice from an interesting source. "She goes to Meredith for advice which is a sort of ridiculous person to go to about that," Drew says. "Meredith is on the polar opposite spectrum about feeling guilty about sex, so that's a pretty hilarious interchange." 
It's also bad timing for Meredith (Ellen Pompeo), since tonight's episode, "Idle Hands," focuses on her anxieties about her pregnancy. "She's dark and twisty as she's been for nine seasons, so she's imagining that everything that could potentially go wrong will go wrong," Drew says. "Like, 'What happens if my kid comes out with 10 legs and four hearts? What if my kid is an alien?' She's dealing with a lot of fear."
But tonight, Meredith and Derek (Patrick Dempsey) will have something to celebrate: "They do reveal the gender of the baby," Drew says. "But I can't tell you what it is!"
Grey's Anatomy airs Thursdays at 9 PM ET/PT on ABC.
Follow Sydney on Twitter: @SydneyBucksbaum
[Photo Credit: Eric McCandles/ABC]
---
You Might Also Like:


Topanga's Revealing Lingerie Shoot: Hello '90s!


25 Stars Before They Were Famous