'Pretty Little Liars' Boss Spills Finale Secrets: A New Murder, Toby's Fate, and Who Killed Ali?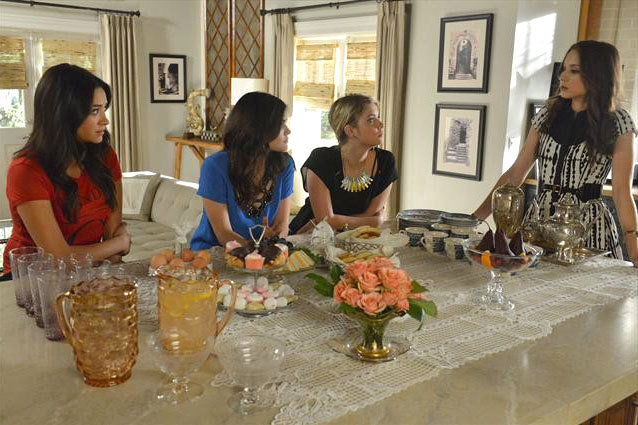 You are cordially invited to join the Hastings Family tonight for an evening of dinner, dancing, and danger. Dress Code: Black hoodies optional.
Tonight is the Season 3 finale of Pretty Little Liars, and we've got scoop on all of the heart-racing, mind-blowing events coming up in "A Dangerous Game." Hollywood.com chatted with Pretty Little Liars executive producer Oliver Goldstick and gathered details on everything from Toby's fate, to red coat's identity to Spencer's involvement with the A-Team.
RELATED: 'Pretty Little Liars' Recap: Mona Gets A Surprising Ally
"There's going to be another death — that's something that really launches us into season four." Golstick says. "I'm not going to say who or when or where, but the population will be one less, once again, in Rosewood." You read that right little liars, be prepared for another murder to raise suspicions and chaos in this small town.
In tonight's finale, Spencer is released from Radley Sanitarium and is trying to do her best to persuade her family and friends that everything is back-to normal — so what better way to show that than with a delightful Hastings family dinner party? The producer explains that Spencer's willingness to take part in the dinner is due to ulterior motives. "It might be worth her time to present a very put-together package for her family and the rest of Rosewood, so she could pursue her extracurricular pursuits — like being on the A Team," he says.
Although the liars will find out tonight that Spencer is a black-hoodie wearing member of the A Team, Goldstick promises the reveal is not immediate. "It's not that quickly," he says. "The idea is that [when] she kidnapped Malcolm last week, it was some kind of rite she had to perform to be anointed into the club. She had to do something that was nefarious and would actually hurt her friends to prove that she could actually betray someone that she was close to."
RELATED: 'Pretty Little Liars' Recap: Church Hymns, Crazy Pills, And A Creepy Detective
However, kidnapping Malcolm was not the only devious act that Spencer has been tasked with. Be prepared to see Spencer fully embrace the dark side tonight. "She'll be doing something [bad] this week too," Goldstick says. "The stakes might get higher. The thing that's interesting about Spencer is she's suffered so much herself over the last couple years as a target, and she may be temped to go, 'Maybe it's easier to live on this side than the other.'"
And speaking of suffering, over the past few weeks many fans — ourselves included — have been holding onto the teeny tiny shred of hope that Toby might still be alive. Unfortunately, the distinct tattoo found on the body is pretty solid evidence that Toby is indeed dead. "He might be [dead]," Goldstick says. "It pains to say [it] but he might be."
But don't worry too much, little liars — Goldstick says that after tonight's episode, we'll definitely know whether Toby is alive or dead. "It will be definitive by the end of the episode," he says.
RELATED: The Stars Of 'Pretty Little Liars' Talk 'explosive' Flashbacks — Video
Many Spoby lovers are still having a hard time believing that Toby never actually loved Spencer — and so are we! When asked if Spencer will ever find out Toby's true feelings, Goldstick was very quick to explain that even when people are gone from Rosewood, they still find a way to leave their answers behind. "People write a lot and say a lot of things after they're gone on this show, don't they?" Goldstick says. 'There's a very good chance Spencer will find out the truth, and she'll know how he really felt about her."
Goldstick also promises that the reveal of who is wearing the red coat is something that is "highly possible" in tonight's episode. "The girls will have a very clear idea about who they're up against and who might be conspiring against them," he says. In true Pretty Little Liars fashion, many answers will be revealed in tonight's finale, while even more questions are planted into the ground to replace them. "I think [fans] will be asking questions about Mona," Goldstick says. "There are some big revelations about Mona tonight."
And of course we can't forget about the biggest question of them all: Who killed Alison Dilaurentis? Goldstick says, "Yes, that question will be very prominent by the end of tonight's show."
Tune into the Season 3 finale of Pretty Little Liars tonight at 8 PM ABC Family.
What are you most excited to see in "A Dangerous Game"? Is there still hope for Toby? Who do you think is hiding under the red coat? Shout out your specualtions in the comments below!
Follow Leanne on Twitter @LeanneAguilera
[Photo Credit: ABC Family]
---
You Might Also Like:


Topanga's Revealing Lingerie Shoot: Hello '90s!


25 Stars Before They Were Famous