'Pretty Little Liars Recap': Unmasking the Truth (Season 4, Episode 3)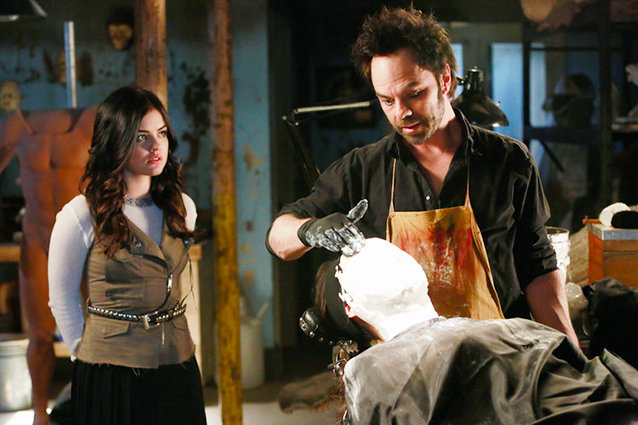 This week on Pretty Little Liars, our ladies discovered the truth to those oh-so creepy Ali masks we've been seeing for the past two years and new secrets were unveiled surrounding the night of Detective Wilden's death. And our honorary liar, Mona, may have been MIA from this episode but Melissa and Caleb made a triumphant return to Rosewood. Read on for all the details you may have missed and more from "Cat's Cradle"
WARNING: The following recap contains each and every spoiler from this episode of Pretty Little Liars (because, duh, it's a recap). Friends share secrets, that's what keeps us close.
The Montgomery Girls Get Some Lovin': Aria watches her mother get her flirt on with her barista boyfriend and she ponders if it's weird to be jealous of her mother's love life. (Side-Note: Um yes it is. You just got out of a relationship with a freakishly handsome fella and now you've got a sexy karate master lusting after you. You're doing just fine Aria, so stop being so jelly.) Hot coffee boyfriend wants to take Ella to Vienna and after some pushing and prodding from Aria, she agrees to be whisked away on her oversees romance that will last "less than a year." As for sexy karate master? He and Aria are doing just fine and after a movie date and some ice coffee flirtations we're sensing that this couple could be getting steamy.
Nancy Drew to the Rescue: Surprise! Melissa is back in town and these sisters have truly mastered the art of passive aggressive conversation. Spencer shakes off her sister's preppy threats and focuses on her man and how she can help him find out the truth behind his mother's death. Dressed as super stylish spies, Spoby breaks into an oddly empty Radley Sanitarium to visit to scene of the "suicide," but from the looks of that window, it would be a pretty hard angle to dive to your death. Perhaps Toby's mom didn't jump — maybe she was pushed?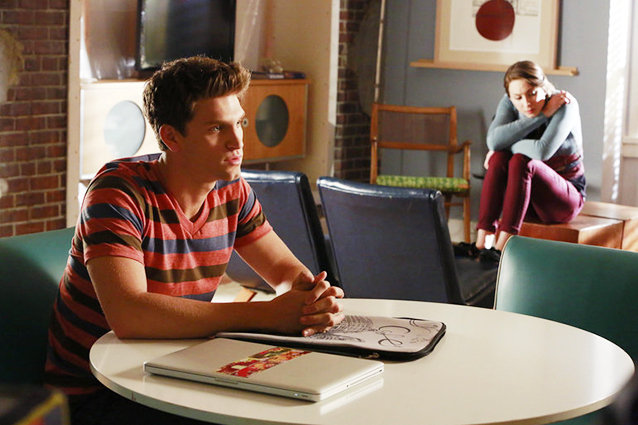 Hanna's Mama Drama: The good news? Caleb and his luscious locks are back! The bad news? Hanna's mom is acting more and more paranoid, suspicious and straight up obnoxious. (Side-Note: I personally can't stand Ashley Marin. I think that every time she's in a scene she only has two expressions: Bitchy resting face. And overly panicked yet trying to be subtle, freak-out face.) So while Hanna is trying to figure out if her mom was really in NYC on the night of Wilden's murder, Caleb visits Hanna's father in hopes of mending the strained family ties. In a shocking twist we learn that not only are Hanna's mom and dad on speaking terms, but they were together the night Wilden was murdered and Tom's gun is now missing. Ruh-roh!
Unmasking the Truth: So A's newest scheme is to try and prove that Emily's mother is an unfit parent, but I feel like all the parents on this show are horrible in their own way so let's just skip over that part shall we? Emily was pretty dull this week and the only action she had was when the liars (minus Spencer) visited the creepy man who made all of those infamous Ali masks. You know, the ones that the A team just loves to freak us out with? Yeah those. It turns out that Ali had them made so that all her friends could look like her — "That's immortality, my darlings." (Side-Note: Ali was so strange. Beautiful, but strange.)
So while Emily let the socially awkward make take an imprint of her face, Hanna snooped in the back and found a mold of one unexpected yet familiar face: Melissa Hastings. We're not sure if or not Ali and Melissa went on this conceited lady date together, or if Melissa was just trying to copy Ali's crazy hobbies — but we do know one thing for sure: the fact that Melissa is always so calm is absolutely terrifying.
Biggest Jaw-Dropper: Finding out that Melissa is even more tangled in this wicked web than we originally thought.
Most Heart-Warming Moment: Seeing Caleb back in Rosewood. We only have a few more precious episodes with this fella before he's whisked away to Ravenswood.
Most Heart-Breaking Moment: Watching the pain in Toby's eyes as he stood in the window where his mom supposedly killed herself. Chilling.
Follow Leanne on Twitter @LeanneAguilera| Follow Hollywood.com on Twitter @hollywood_com
More:
'Pretty Little Liars' Scoop: Find Out Which 'bones' Hottie Is Moving To Rosewood
'Pretty Little Liars' Recap: To Kill Ali's Mockingbird
Pretty Little Liars' Premiere Recap: Squeals, Reveals, And A New Death In Rosewood
---
From Our Partners:


What Happened to 33 Child Stars (Celebuzz)


40 Most Revealing See-Through Red Carpet Looks (Vh1)