Did People Love Or Hate The Opening Of The MTV VMAs?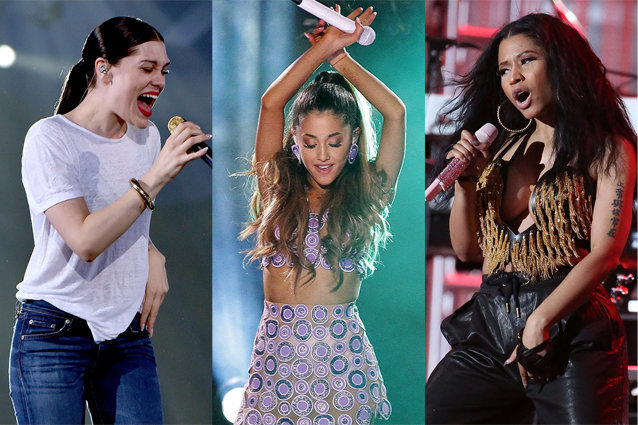 Getty Images/Getty Images/Getty Images
When we heard that Nicki Minaj, Jessie J, and Ariana Grande were set to open the 2014 MTV VMAs with "Bang Bang," we were pretty damn excited. It's a fun song. Jessie J kills it on the track.  Ariana Grande has been slaying everything this summer.  And, just this Wednesday, Nicki Minaj pretty much hypnotized everyone with her ass.
As always, fans and viewers were quick to use Twitter to express their feelings on the performance.
The girls did it! BANG BANG:
Nicki Minaj, Ariana Grande & Jessie J performing 'Bang Bang' at the Video Music Awards 2014 — (1) pic.twitter.com/mUC4B9Nqfg

— Nicki Minaj News (@NickiReigns) August 25, 2014
Ariana opened, and people wanted to remind you of her age:
Reminder: Ariana Grande is six years old. #VMAs

— Adam Davis (@amdhit) August 25, 2014
People thought the girls KILLED it:
They sound amazing singing Bang Bang! #VMAs

— Joseann Offerman (@ItsJoseann) August 25, 2014
OMG ARIANA, NICKI & JESSIE J WERE AMAZING!!! #VMAs

— 1D UPDATES ☆ (@1DInfectionArg_) August 25, 2014
Jessie J got some serious love:
Jessie's opening just slayed two whole performances #vmas

— Shikeith (@shikeithism) August 25, 2014
Jessie J's voice. UN.REAL. #VMAs

— Tiffany Houghton (@TiffanyHoughton) August 25, 2014
jessie j is so underrated

— catherine (@bieberfate) August 25, 2014
People called out something happening to Nicki's dress:
Why is Nicki holdin the middle of her outfit? She gonna pull a Janet and flash us? PLease!!! #vmas

— Daffy Rhod (@CGWacko) August 25, 2014
Uh oh, Nicki, what are you about to do with that dress #VMAs

— Glamour (@glamourmag) August 25, 2014
Peek-a-Boo, Nicki. #VMAs

— Jackée Harry (@JackeeHarry) August 25, 2014
Nicki didn't have time to zip that dress up #vmas

— Dia (@DiaRayelle) August 25, 2014

wow that was a killer performance…. too bad nicki had a wardrobe malfunction lol #vmas

— kelsey (@ilovethelights) August 25, 2014

This person had no idea what was even going on:

i need a pop up video version of the #vmas i have no clue who anyone is

— Franchesca Ramsey (@chescaleigh) August 25, 2014

THIS MESSAGE WAS PERFECT:

Girl power #VMAs

— a kars (@tbhhmari) August 25, 2014
Did you LOVE IT or HATE IT? Tweet us your thoughts on the #VMAs! Follow @hollywood_com 
Follow @analuisasrz