Reality Steve Responds to Second 'Bachelor' Spoilers Lawsuit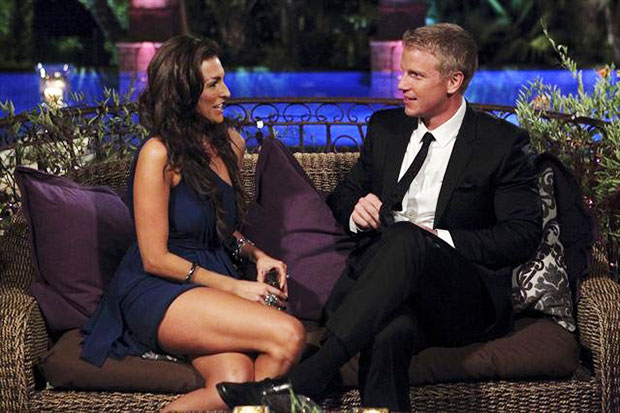 Wondering who the upcoming Bachelor star, Sean Lowe, is engaged to? Well, if you take a look at RealitySteve.com, the website predicts which women will make it to Lowe's final four and whom Lowe selects to become his fiancée. It's because of spoilers like this and other episode giveaways that Bachelor producers sued the site's runner, Steve Carbone, for the second time in two years, E! reports. But, Carbone has taken to his website to state that he won't be stopped from revealing his spoilers.
The court papers that were filed on Dec. 21 (and obtained by E!) reportedly imply that Carbone has gone against the settlement of the first lawsuit and gotten information about the upcoming Season 17. In the suit, NZK Productions and Horizon Alternative Television Carbone imply that Carbone uses Bachelor confidential information on his site to make money, and that Carbone must have gotten "at least some of the confidential information" from soliciting cast and crew who are under contract not to relay any information to others.
"For those that haven't heard the wonderful news of the day, yes, I was sued back on Dec. 21st by the production company of the 'Bachelor" series for ummmmm, well, I'm still trying to figure out what," Carbone posted on his site Friday. "I continue to spoil their show every season, they're pissed about it, so this is how they respond. What's funny in all this is, by suing me, they're admitting that my spoilers are correct."
The new suit claims that Carbone violated the agreement they reached on May 31, 2012 by posting new spoilers for the upcoming season, which include descriptions of each scene for episodes one through five. And producers are seeking $75,000 from Carbone for interfering with contractual relations — and $10,000 for each of his alleged violations.
Carbone claims that he is looking into his "legal options at this point" and may counterclaim. "They are the big guys and I'm the little one and they are trying to squash me," he wrote. "I don't see that happening since I did not violate our Agreement, nor did I intentionally interfere with any contracts, which is what their latest complaint is stating.
"The point of the Agreement, or so I thought, was to prevent this exact thing from happening," he added. "I didn't want to have to respond to a lawsuit every single time I posted a spoiler on my site because NZK Productions THINKS I got my information illegally. But that's exactly what they went ahead and did since they have shown me no proof that I violated the Agreement, because they have none… Everything remains the same on the site."
The network, ABC, is not part of this lawsuit and has no comment on the situation.
Follow Lindsey on Twitter @LDiMat.
[Photo Credit: Rick Rowell/ABC]
More:
Love By Numbers: The Big 'Bachelor' Breakup Barometer
'Bachelor' Ben Flajnik and Courtney Robertson Split: What Happens to the Engagement Ring?
'Bachelor' Star Jason Mesnick and Molly Malaney Are Expecting a Baby
---
From Our Partners:

40 Hottest Celeb Twitpics of the Month (Vh1)

'Sports Illustrated' Swimsuit Issue: A Visual History (Celebuzz)