Remote Control: What to Watch on Nov. 15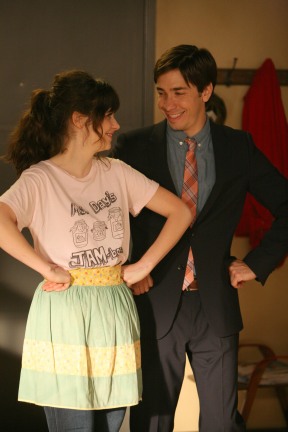 Tuesday, Nov. 15
Top Tier
8 p.m. on Fox
"Mash-Off"
Young Sue Sylvester, Adele and more mash-ups than you can shake a stick at? Plus, last week's episode was actually kind of…good. Yeah, we'll tune in.
I wouldn't normally endorse a DWTS results show as Top Tier, but tonight, The Muppets are slated to perform before one couple gets the axe and that is something worth DVR-ing Raising Hope for. Just hope the fuzzy performance is during the second half of the show so you can also watch our half-hour-long second Tuesday night suggestion.
"Thanksgiving"
Here it is, the moment some of you have been waiting for: Justin Long finally shows up on New Girl, which means that little romance is about to get a jumpstart. Take a gander at these two lovebirds and enjoy the (sigh) adorkableness of it all. I really wish some marketing wiz kid hadn't thought of that damn word.
"Call of Duty"
As we get closer to the season finale, the drama continues to escalate. Jax confronts Clay about hitting Gemma, Drea de Matteo returns as Wendy and she wants to be back in young Abel's life, plus big secrets finally come out. It should be an adrenaline-pumping hour of television.
Alternates
9 p.m. on CW
"Shut Up and Eat Your Bologna"
Is Bridget actually falling for Andrew?
Millionaire Matchmaker
9 p.m. on Bravo
"The Player and The Piano Player"
Patti Stanger may not be able to make her mouth shut, but that's why she's a hilarious reality show star. It's stupid, but damn if it isn't completely diverting.
"Burt's Parents"
It's the Thanksgiving episode! Plus, we're really starting to come around on this show. It's actually pretty charming.