'Revenge' Recap: Daniel Is Totally Screwed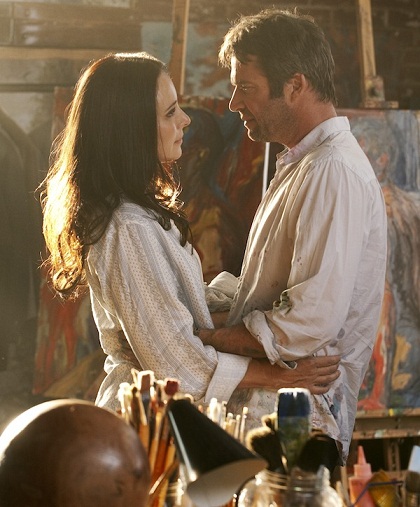 Excuse me while I allow my brain to recover. Revenge is back, and with it comes the emotional and mental somersaults with the veracity of a sugar-high five-year-old in an open field of daisies. And after those seemingly endless weeks between the episode that landed dear Daniel in Rikers Island Prison and this week's "Doubt" I doubt — yuck, yuck — I was the only one whose brain was a little rusty. Either that, or this episode delivered beyond what we expected: Twist after turn after twist. Whether it's my own incompetence or a heightened level of intrigue, we can be certain of one thing: The Revenge we love for its relentless series of surprises, betrayals, and sexual intrigues is back on that track, going full steam ahead (we're getting all new episodes from here until the finale) to one hell of an emotional, messy wreck by season's end.
We begin with Daniel in clink, Declan waffling about whether or not to protect his "hooded man on the beach" brother from suspicion, Charlotte's got a raging Oxycotin addiction (though when is Jack's bottomless prescription bottle going to run out?), and the Graysons are desperate to find any way to wrest a theory from the evidence (existing and imagined) that can get Daniel acquitted. And with Emily's Sensei long-gone, she's left to clean up this mess, and just as he warned her: She can't save Jack and Daniel.
But there's the issue of free will and extraneous factors. Emily can do as much damage control as possible, but with this slate of characters, everyone is clawing their way to their own better solution. Victoria tries to get Charlotte to describe the hooded man on the beach, hoping it can get Daniel acquitted. But she's not looking for just any description; she's trying to get Charlotte to say it could be a woman – more specifically Amanda Clarke. When that doesn't pan out, Victoria takes matters into her own hands and has the sketch artist make the hooded man look like Jack Porter.
To weave this story into real life, they need a wordsmith, so Emily has Nolan find Mason Treadwell, who's sipping wine coolers and spinning poetry about his molten heap of a typewriter in his burned down house. Translation: he's desperate. Nolan feeds him the idea that Amanda set up Daniel for murder: hook, line and sinker. He's sitting pretty in the Grayson den writing his new blog, The Treadwell Report. (Alright, could we have done a little better on this one guys? It evokes the knee-jerk journalism of the Drudge Report, but that's what we expected. You didn't have to get so literal on us.)
But, let's be honest. Mason is slippery. He may be suffering a whatever-kind-of-life-crisis that comes after losing all of one's earth possessions in a fire, but he's still after the big scoop. First stop: the Stowaway. Mason says Jack will take the fall for the murder unless he goes on record saying Amanda put him up to it, and Jack being the big manly protector throws Mason out for talking that way about his missing girlfriend. Declan finally sees that he needs to protect his brother and chases Mason down to tell him that Charlotte was on painkillers and drinking champagne, removing all credibility from her story and the sketch of Jack. With a quick check through Charlotte's drawers, Mason find the Oxy and publishes his story.
Next: Victoria goes nude with an old flame.
But that's only one piece of the puzzle. Victoria also wants her wittle baby man back home with her, so she pays Lee (the same thug she sent to Jack's to retrieve the stolen tapes) to "send a message" to her son in prison. And that message is three broken ribs and a head injury. Boom: Daniel is downgraded to house arrest. (And by "boom" we mean: After some negotiations and a measly $10 million bail.)
And right as Emily watches Victoria pay off her "messenger" we're whisked off to a momentary vacation from scandal and murder as Victoria encounters her old flame, Dominik Wright. The deliciously dashing artist picks her up at the bar calling her Vicky Harper (hello, pre-Hamptons Victoria!) and after all their artsy loft love-making, he shows her a painting he did of her and tells her how much he loves her and how much it hurt him when she went off and "married that bloke." (Boring old moneybags Conrad.) It's a little out of place in this whole mess of intrigue but I could be up for a little salacious romance outside of the cutesy Emily-Jack-Daniel love triangle.
And this is delicious point when everything starts unraveling. Charlotte reads Treadwell's first post about Declan's confession and breaks up with him before turning to the bottomless Oxycotin bottle. With Charlotte's credibility goes the hooded man theory and Daniel's entire defense. Emily leads Mason to the hidden tapes, leading him to think that the Graysons burned down his house and that poor Amanda is mistakenly wrapped up in it all. Victoria is so desperate for some way to save her son that she throws all logic out the window and suggests that Emily was the one who finished killing Tyler and knocked Daniel out. It doesn't really make sense because Emily was listening to one of Victoria's many empty speeches when the violence went down, but it doesn't matter because Daniel says if Victoria brings Emily into this he'll confess to the whole thing. Emily really did dig herself into a whole on this one. The poor boy loves her more than he loves frolicking free with his daddy's millions.
And in one last amazing, ass-kicking scene we find Emily conning Victoria's thug, Lee, in one of her copious stripper wigs (which she apparently keeps in a high security safe). She finally lures him outside and beats the crap out of him (seriously, it felt like watching a Quentin Tarrantino movie for a minute there) for beating up Jack when the tapes were hidden under his bed and for taking Victoria's money and having Daniel beat to a pulp on the prison bathroom floor. We need more of this Emily. All that time she spends trying to keep her composure in her J. Crew get-ups, she's really festering, ready to haul some ne'er-do-well into the alley and beat him within an inch of his life. I say let that Emily out. Also, let that Emily kiss Jack already, but that's a whole other can of worms.
Was Revenge's return everything you hoped for and more? Or were you left wondering when stripperella barbie would make her return? (We want some more Amanda too.) Sound off in the comments!
Follow Kelsea on Twitter @KelseaStahler.
More:
Revenge, There You Are! Daniel's Day in Court, Victoria Gets it On and More! – PICS
All the Mysteries Revenge Needs to Solve