'Revenge': Where Did We Leave Off?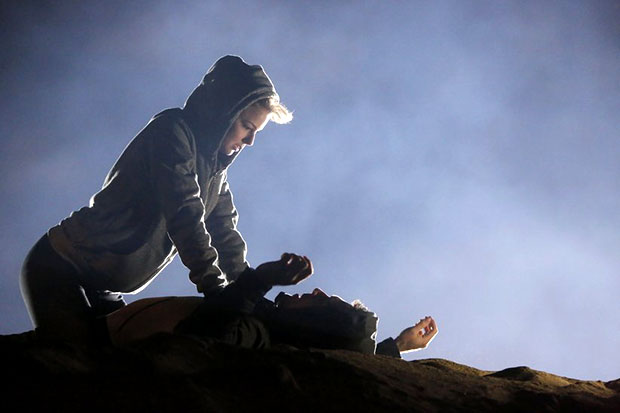 "Revenge is a stony path," Hattori Hanso says in Kill Bill. Emily Thorne (Emily VanCamp) knows that all too well on Revenge. In the first half of the ABC sudser's second season, Emily lost sight of her main objective—to clear the name of her father, David Clarke (James Tupper), by bringing to justice the Graysons, the tony Hamptonites who framed him for their own crimes. Instead, she went on a search to find her mother, Kara (Jennifer Jason Leigh), which became something of dead end when Emily found out mommy is a crazy person who tried to kill her when she was a kid. And she got entangled with old flame Aidan (Barry Sloane), who, like Emily herself, is a pupil of revenge maestro Satoshi Takeda (Cary Hiroyuki Tanada).
So, yeah, Revenge kind of lost its way in the first part of season two. Don't even get us started on the addition of Nolan's love interest Padma (Dishad Vadseria) and a totally vestigial subplot about mobsters taking over Jack and Declan's bar. But it looks like the second half of season two is going to hit the ground running as it careens toward the mystery that we first glimpsed in September: Jack's yacht, the Amanda, sitting on the ocean floor. Here's a guide to catch you up.
Where We Left Off: Daniel launched a takeover of Grayson Global after discovering that the company secretly held a controlling share in Nolan Ross' (Gabriel Mann) tech firm, NolCorp. That meant he unseated his father, Conrad (Henry Czerny), as chairman of the board. Unfortunately, Daniel was unaware of daddy's little business arrangement with the Americon Initiative: Connie had continued to launder money for the terrorists who downed that airplane in the '90s for which Emily's father took the blame. That means the Initiative now sees Conrad, and possibly Daniel, as expendable if the Grayson scion won't continue to do their bidding. In worse news for Daniel, he discovered that his girlfriend Ashley (Ashley Madekwe) had hot, fully-clothed sex with his father and one of his father's business partners (Joaquin de Almeida). Actually, that may have been good news for him, because he promptly ended the creepiest relationship Revenge has ever given us. Also, in the dock-bar politics of Montauk, Jack (Nick Wechsler) discovered that the Ryan brothers, the guys who've quickly taken over his bar, are two shady dudes.
Biggest Jaw-Dropper of the Fall: Victoria (Madeleine Stowe) accidentally pushed a pregnant "Amanda" (Margarita Levieva) over a balcony railing.
Biggest Let-Down of the Fall: The search for Emily's mother was a total non-starter. Ms. Thorne discovered that her mother wasn't really worth finding in the first place.
Most Improved Character: Conrad Grayson has gone from being the starch-shirted weaker half of his marriage to Victoria to Revenge's MVP. Henry Czerny seems to relish delivering each of his soapy lines more than anyone else on the show. Conrad may now be a more accomplished practitioner of bitchery than his wife.
Least Improved Character: Daniel Grayson (Josh Bowman) went from clueless playboy to clueless tycoon…and remains the dumbest man in the room.
5 Reasons You Should Keep Watching: 1) Revenge's rut in the fall may have just been the usual second season slump for writers who aren't certain how many seasons they'll be given to tell their story. It's very likely they've heard viewer complaints and will tighten the focus of the show. 2) Victoria now needs Emily's help. Some sort of alliance between these two could be epic. 3) With Daniel in charge of Grayson Global, the Americon Initiative, so far only seen watching Daniel's moves in a darkened conference room, may be forced out of the shadows. More action, less lurking. 4) Nolan's lame romance with Padma seems headed for the back-burner now that he's conjured a plan to take down Grayson Global from the inside. 5) From balcony throws to passive-aggressive trap-shooting contests, Revenge is still the greatest custodian of TV camp since Dynasty.
What We Ultimately Want to See: Not only does Revenge need bigger stakes, it needs stakes period. Right now, it's not entirely clear what Emily wants to accomplish or who her real enemies even are. She needs to figure that out quick, or viewers will lose interest.
What Would Make Us Turn Our Backs: If any more subplots are added like Nolan's romance with Padma or Jack's mob drama at his bar, it could water down the focus of the show to the point of it becoming completely incoherent. As it is, let's hope those two unfortunate narrative threads are tied up sooner rather than later.
Follow Christian Blauvelt on Twitter @Ctblauvelt
[Photo Credit: Vivian Zink/ABC]
More:
'Revenge' Star Barry Sloane on Em's 'Love Square,' The Initiative, & the Ashley Issue
'Revenge' and the Ridiculous 'Legion of Doom' Moment
'Revenge' Recap: Heavy is the Head That Wears The Crown

'Buckwild' Stars Talk 'Jersey Shore' Comparisons: 'I Ain't Paying For No Tan' (EXCLUSIVE VIDEO) (Celebuzz)

Oscars 2013: Best Picture Race Is Down to 'Lincoln' Versus 'Zero Dark Thirty' (Moviefone)