'Saturday Night Live' Recap: A Comedic Affair with General Petraeus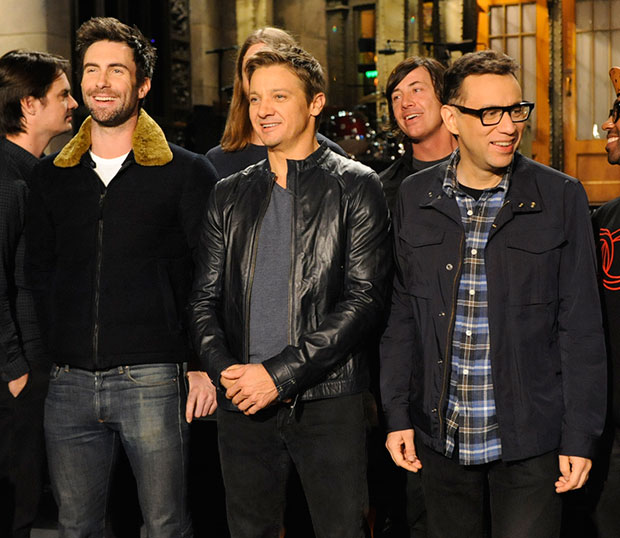 It was a good week for comedy, and the writers of Saturday Night Live knew it. During its new episode Saturday — hosted by Jeremy Renner — the series drew inspiration from the week's most salacious headline: General David Petraeus' affair with biographer Paula Broadwell. The scandal made for such good fodder, the series spun it off into two sketches, the second featuring Tampa socialite Jill Kelley… in drag.
Kicking right into action, fake Paula Broadwell (played by newbie Cecily Strong) took the stage in a C-SPAN Booknotes parody in which the biographer read excerpts of her now-famous book, All In: The Education of General David Petraeus. But SNL's writers tapped into E.L. James for inspiration, transforming Broadwell's words into dirty erotica. Sixty-year-old Petraeus is not quite Christian Grey, but that didn't stop Broadwell from pitting Petraeus in a Fifty Shades world. 
Next up, first-time host and brooding actor Jeremy Renner began his debut monologue, eager to "show another side of" himself — and he did. After a technical mishap — the piano initially didn't work when Renner sat down and started hitting the keys — Renner was able to whip out a mini comedic musical number about The Avengers, inspired by Adele's Skyfall anthem. For a man mostly known to be skilled at working multiple types of weapons, Renner managed to work the room with his surprising musical talent. Perhaps the Kings of Leon should hire Renner as an opening act just for the actor's "Shoot Somebody" parody of "Use Somebody." Those high notes!
Since Black Friday is steadily approaching, why not incorporate some advertising? Right in time for the holidays, SNL mocked everyone's mixed feelings about returning to their parents' homes for the holiday with a faux travel ad for "Your Home Town." The pre-taped bit was one of the better skits of the night. We all know that we will be driving by our high schools and taking home the food from mom next week — even if those "souvenirs" end up with airport security instead of in our refrigerators.
But "The Californians: Thanksgiving"? Between the actors' overly exaggerated West Coast accents and the repetition of the soap opera meme, it seems like the writers gave in a bit too easily. (Especially since this was the second time in a few short weeks the series revived the recurring sketch.) The only thing to take away from "The Californians" is that Jeremy Renner should never — and I repeat, never — wear a George Clooney in The Descendants-esque floral shirt again. It just doesn't work for him.
"The Situation Room with Wolf Blitzer" gave us more General Petraeus humor, spotlighting socialite Jill Kelley (again played by Strong) in a news clip that played over… and over… and over again. SNL even riffed on the circulating pic of Kelley supposedly wearing Mardi Gras beads and featured a special drag dramatization of Kelley's walk via newbie Tim Robinson. 
And since we all can't imagine a Renner without weaponry, SNL gave us an action film-inspired parody, "The Stand Off." The sketch gave Renner plenty of ammo (comedic and otherwise), spotlighting a two-day stand-off that continues as Renner, Taran Killam, and Bobby Moynihan shower, sleep, and even use the bathroom. Bonus points for musical guest Adam Levine's funny cameo in the sketch.
When we got to "Weekend Update," Seth Meyers jumped on the Petraeus wagon too, making it the third time that the scandal appeared during the episode. (Worth it, for his joke about the scandal making Homeland look like a documentary.) Meyers riffed on the digital age as well — telling the audience they'll never get away with infidelity since the "head of the CIA couldn't get away with it" — and poor Florida, which of course was involved in the Petraeus scandal: "Sex scandals are like Jewish New Yorkers — eventually they always make their way to Florida." He then rattled off a few more jokes about the election, Channing Tatum becoming the People magazine's 2012 Sexiest Man Alive, an even chatted with Jay Pharoah's troubled Katt Williams.
But New Jersey Governor Chris Christie stole the spotlight on "Update," making a surprise visit to comment about the aftermath of Hurricane Sandy. It's hard to imagine the moment was scripted too far in advance, and Christie did a respectable job reading his lines. Besides spending a little too much time looking at cue cards, the governor was able to animate the punchlines, especially when mocking angry New Jersey residents and taking a swing at the reporters who attempted to go out in the storm. 
Finally, The Avengers (composed of SNL cast members — including Avengers star Cobie Smulders' husband Killam as Captain America — and Jeremy Renner) made their SNL debut. It only took them six months to get this bit in — the movie dropped in theaters back in May — but with Renner hosting, the time was finally right. The costumes left a bit to be desired (only Bill Hader as Thor really looked the part) but the bit managed to amuse, poking fun at Hawkeye's arrow-less uselessness. ("I'm all out of arrows. I don't have anymore. So I guess I'm done, right? I'll be in the car. Stay safe!") 
The night wrapped up with a sketch mocking Department of Defense propaganda. The "Cool Drones" cartoon definitely would have sold any stoner who is an avid fan of Aqua Teen Hunger Force on the idea of supporting the CIA's drone attacks on Pakistan. Especially if they love boy bands. 
The only thing missing from the night? TWINKIES. They really are gone for good now, aren't they?
Follow Lindsey on Twitter @LDiMat.
[Photo Credit: NBC]
More:
'Saturday Night Live' and Jeremy Renner: A Reason To Give Thanks?
SNL: Jeremy Renner's Promo Lacks Chems, But Has Plenty Of Charms
'Saturday Night Live' Recap: Anne Hathaway's Third Time Continues to Charm

'Breaking Dawn — Part 2' Star Peter Facinelli Moves On In New York; 'Twilight' Actor Grabs a Bite With Actress Jaimie Alexander (EXCLUSIVE PHOTOS & DETAILS)
(Celebuzz)

'Glee' Star Dianna Agron Talks Quinn's Thanksgiving Return, Kitty and Catfights With Santana (Q&A)
(Celebuzz)