Seth MacFarlane on The 200th Episode of 'Family Guy' and a 'Ted' Sequel—EXCLUSIVE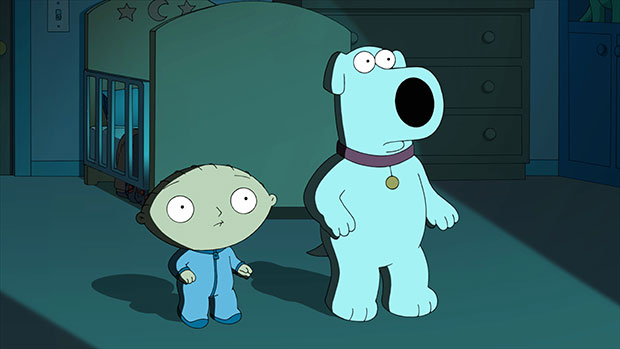 This Sunday marks the 200th episode of FOX's outrageously hilarious—and at times controversial—animated series Family Guy. After 11 seasons, two cancellations and countless "giggities" later, Family Guy has perfected the art of mixing pop culture cut-aways with boundary pushing plotlines, making it a one-of-a-kind series. (Well, if you don't include The Cleveland Show and American Dad, that is.)
At the show's 200th episode celebration last Friday, guests were treated to a phenomenal three-song serenade from the show's creator and executive producer Seth MacFarlane. And to answer your question: Yes, it was even more as amazing as it sounds. Not only did Hollywood.com get to listen MacFarlane's Michael Buble-esque ballads, we also had an exclusive chat with the multi-talented Family Guy boss.
MacFarlane says that although he is proud to reach this TV milestone, he also admits that he is a bit baffled that the show is only at the 200 mark. MacFarlane explains, "It actually feels like there should be a lot more. The show has been on for like 14 years. There was the cancellation but still we started in like '99 and now it's 2012? It feels like we should have a lot more episodes than 200."
Executive Producer/Showrunner Steve Callaghan on the other hand boasts, "It feels absolutely amazing to hit 200 episodes. And having personally lived through all the various cancellations and resurrections of the show, it feels especially satisfying." Callaghan is the epitome of what our teachers taught us in grade school: If you work extremely hard, good things will come to you. The showrunner originally started on the groundbreaking series as an assistant writer and has since worked his way up to be the head honcho of hilarity. Callaghan says that he is extremely proud of all that the FOX comedy has accomplished in the past 200 episodes. He explains, "I wouldn't go back and change anything. Certainly there are some episodes that turned out better than others, but they all contributed in some way to making the show's legacy what it has become to this point."
MacFarlane revealed that there are many storylines that the powers-that-be at Family Guy had to fight to get on the air, but he is extremely proud of one in particular. "You know that Bin Laden, rubber chicken gag was something we feel pretty good about," he says with a laugh. For those of you who clearly aren't quite up to date on the Family Guy shenanigans, feel free to refresh your memory here.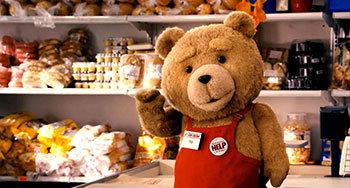 We also made sure to talk with MacFarlane about his wildly successful venture into feature films. His summer hit Ted exceeded everyone's expectations and now looking forward, the actor/producer/director is hopeful at the thought of a second Ted-inspired big screen story. "A Ted sequel would be a lot of fun. We had a great time doing the first one and it was one of those situations where the results were successful, and the production itself was smooth and stress-free. It was a great team so yeah we'd all like to do another one." Now how about bringing back the dynamic duo of Mila Kunis and Mark Wahlberg? MacFarlane had a simple, one-word answer: "Absolutely!"
Looking ahead to Sunday night's 200th episode extravaganza, fans should get excited for a backwards trip down memory lane. When Brian accidently breaks Stewie's infamous time machine, he causes time to run in reverse. Now he and our favorite British baby must figure out at way to battle through a plethora of Family Guy memories—including an equally unsettling reverse ipecac scene—in order to save Stewie from being unborn.
You can catch Family Guy's 200th episode "Yug Ylimaf," November 11 at 9 PM on FOX
Follow Leanne on Twitter @LeanneAguilera
[Photo Credit: FOX, Universal Pictures]
MORE:
'Family Guy' 200th Episode: What We Want To See
Seth MacFarlane brings Family Guy characters to life on SNL season premiere
'Family Guy' Scoop: Expect Hookers, Meth, and Jon Hamm

Ariel Winter's Mom Claims She Found Daughter in Bed With 18-Year-Old Boyfriend, Police Report Reveals (EXCLUSIVE)
(Celebuzz)