'Smash' Superlatives: The Most Outrageous Moments From 'The Dramaturg'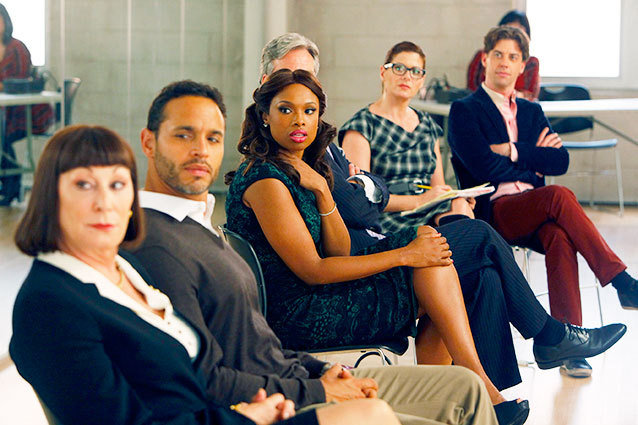 Smash sparks a mix of emotions in anyone who watches it: people either love it, hate it, or love to hate it. So to help celebrate all the outrageous, over-the-top, and fantastically far-fetched moments, we'll bring you a weekly recap filled with the best Smash superlatives! What was the best cover song of the night? Who had the best verbal bitch-slap? What was the biggest Season 1 jab? Read on for all the awards and take to the comments with your favorite moments from "The Dramaturg."
RELATED: 'Smash' Scoop: New Showrunner Talks Season 2 Changes
Karen (Katharine McPhee) spent the majority of this episode trying to convince Derek (Jack Davenport) to meet with Jimmy and Kyle about their cutting-edge new musical Hit List, but the world's most attractive director had other things on his mind. Determined to get his job back on the revival of "The Wiz," Derek arranged for Ronnie and a producer to come see a reworked number from Bombshell — which Julia (Debra Messing) then hijacked and debuted a brand new scene between Marilyn and JFK.
Why is Julia adding new scenes you ask? Well, Eileen (Anjelica Houston) decided it was time to take control and hired an uber sexy "dramaturg" to come in and completely overhaul Bombshell. Julia was absolutely appalled that this stranger dared to changed anything in her precious book — but it's clear to everyone except her that the play is in need of a serious redesign.
After whining and doubting herself for half the episode, Ivy auditioned for the lead in a brand new musical and surprise, surprise: she got it! And in the end, Derek and Karen showed up at Jimmy and Kyle's apartment to learn all about the premise of "Hit List." Basically all you need to know is it's about a down-on-his-luck guy who falls in love with a girl. That girl then steals his songs, and becomes famous, but rather than calling her out, the guy is so in love that he continues to give her all of his work.
RELATED: 'Smash' Catch Up: Everything You Need to Know Before Season 2 Premieres
Best Original Song: The episode kicked off with a fun and catchy new number from "Hit List" called, "Good For You." Karen daydreamed a very elaborate production for this number in which she was seductively singing while crowd surfing. Nice to know she can multi-task.
Best Cover Song: It seems like our character's daydreams brought out the best songs of this episode. Ivy's hallucination in the Bombshell rehearsal brought forth a gorgeous, slow-down version of Robyn's "Dancing on My Own." 
Best Insult: When Tom is trying to help Ivy understand a new character, he describes the girl as a innocent, nice and full of yearning. To which Ivy quipped with a snarky face, "She sounds like Karen Cartwright."
Best-Backhanded Compliment: When Julia asked the dramaturg if there is absolutely anything that he likes about her book, he replied, "I think Marilyn Monroe is an interesting subject for a musical." Burn!
Dumbest Line: "Let's bounce!" — Jimmy when he gets news that Karen and Derek have cancelled on their dinner meeting.
RELATED: Leanne's Spoiler List: Season 2 Secrets from 'Smash,' 'Vampire Diaries' Boss Talks Delena
Biggest WTF Moment: Eileen's eyebrows. They look like they're trying to crawl off her face!
Best Bitchslap: Not only did Eileen hire the dramaturg without even consulting Julia, she also was fully away that he wanted to rip her book to shreds. But when Julia confronted her producer, Eileen calmly informed her that she is one hundred percent replaceable.
Most Awkward Moment: When Karen when to grab beers for the three guys, she brushed right past Derek's outstretched hands and gave the first beer to Jimmy. Not only was it rude, it was awkward as hell.
Best Jab at Season 1: The fact that there is a character that is completely rewriting the musical is a huge knock to last season. However, the lowest blow definitely came from when the dramaturg scoffed at the idea of the Marilyn "shadow-selves." Agreed!
What did you think of "The Dramaturg"? Which superlatives would you like to add to the list. Sing your heart out in the comments section below!
Follow Leanne on Twitter @LeanneAguilera
[Photo Credit: NBC]
---
From Our Partners:


Bradley Cooper Dancing Is Surprisingly Awkward, Sweaty (Vh1)


Kate Upton Bares All in Nothing But Body Paint: Video (Celebuzz)