'SNL' Monologues, What's With All The Songs?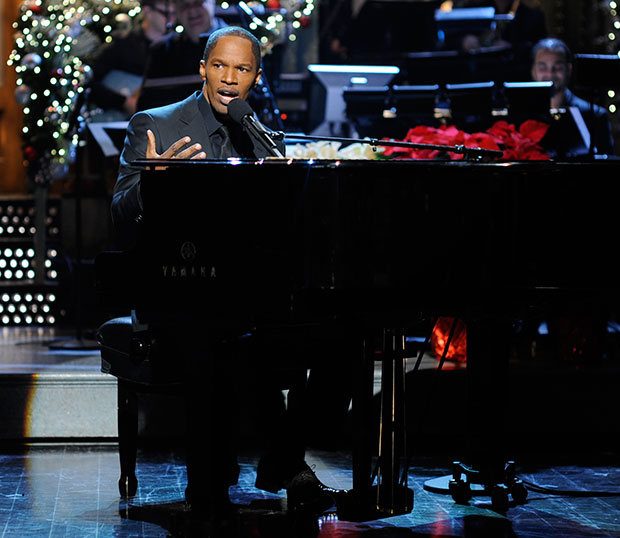 UPDATE: And Martin Short's musical monologue marks seven this season!
EARLIER
: I've become rather skilled at figuring out the exact point at which someone giving a speech will break out into song. They'll turn to a piano that appears out of thin air, sit down gingerly, and sing a song about being scared to do what they're about to do/ being excited about what they're about to do/ something sexual and mostly irrelevant. Fortunately, I have not learned this from living in the fictionalized permutation of Lima, Ohio as seen on
Glee
. I've just been watching a lot of
SNL
. There have been six (and-a-half, if you count
Joseph Gordon-Levitt's
striptease) musical monologues in Season 38 out of nine total opportunities.
SNL
, I love you, but it's getting a little overwhelming. I don't feel like my boss is done giving a series of directions unless she ends it with a song set to the tune of "Hey Soul Sister." I expect my waiter to tell me the specials via a snazzy R&B tune complete with leather-clad back-up dancers. I almost broke out in song when I was pitching a story to my editor last week. It's gotten bad.
GALLERY: 18 Stars Who Out-Famed Their TV Shows
Musical monologues are an
SNL
tradition. They'll always be an option in the Stand-up routine/Audience questions/Studio 8H tour and confrontation with
Lorne Michaels
/Silly song roulette that applies to every opening monologue. And of course, for a guest giving the
SNL
stage his or her first shot, the song can be like a rite of passage. But using it week after week after week makes what should be a gleeful surprise seem a little like an expected hurdle before we get to the skits. The best musical monologues happen when the guest is someone who's actually pretty good at musical comedy.
Justin Timberlake's
"I'm Not Singing Tonight,"
Jimmy Fallon's
Christmas tune about coming home to the show, and
Steve Martin's
"I'm Not Gonna Phone It In This Time" come to mind. Each musical moment has a point of view – and a funny one at that – that is specific to the performer. It's a stark contrast from this year's monologues, which included
Christina Applegate
singing a song about how it wasn't quite Halloween or the holidays just yet, and isn't that just as wonderful as a giant Snickers bar in your trick-or-treat bucket? Nope. We also saw
Jeremy Renner
sit down to a piano and sing half-baked Weird Al-esque songs about his movies,
The Avengers
and
The Bourne Legacy
.
Bruno Mars
just sang about hosting the show. And we gobbled it up happily to the tune of
SNL's
best ratings this season. None of these folks is a terrible singer (Applegate's been on Broadway, Renner was surprisingly agreeable, and Bruno Mars is Bruno Mars), but it's more about the fact that these monologues simply take otherwise boring observations and put them to tunes in hopes that we'll laugh on account of the jaunty music. But the
SNL
tradition of musical monologues shouldn't be used as an escape route. It should make something
funnier.
Granted, not every host who's taken to the piano this season has done so without hilarity.
Jamie Foxx
certainly brought something different to the table when he turned 2 Chainz "The Birthday Song" ("All I want for my birthday is a big booty ho") into a gentle, jazzy melody. It's not out of the realm of possibility that 
Martin Short
will sing in his monologue when he returns to the Rock this Saturday, and, if he does, it will surely be great — he's a Tony-award-winning performer and a beloved member of the
SNL
core alumni. But singing makes sense for both Short and Foxx. It's what they do. 
GALLERY: TV's 17 Most Disgusting Moments
But there are other options,
SNL
hosts of the future. Just this year, we saw
Daniel Craig
honor all the men his characters have killed in movies (and it was far funnier than the self-in-Memoriam
Jimmy Kimmel
attempted at the Emmys). Last May,
Will Ferrell
performed his monologue while holding his mother in his freakishly long arms. Even
Steve Buscemi's
round of audience questions from
SNL
cast members dressed up like stereotypical movie characters, including
Kristen Wiig's
manic "Girl Who Can't Find Her Friends in a Horror Movie," was a hilarious way to start an episode. Not everyone needs to sing to keep us entertained!  Yes, it's tough to turn those jokey ideas into gold without the glorious awkwardness of Wiig and fellow Season 37 vet
Andy Samberg
, but you've got new cast members,
SNL
! Give 'em whirl. Otherwise, it starts to feel as thought the series lacks confidence in its new class. Sketch comedy is no easy task, especially when critics (including myself) are quick to take a swipe at any skit that fails to elicit a giggle. But that's why
SNL
has been around for 38 seasons. It's the place we go to for top-notch sketch comedy. Sometimes it's a swing and a miss, but
SNL
, you've got to at least swing.
Follow Kelsea on Twitter @KelseaStahler
[Photo Credit: NBC]
More:
'Saturday Night Live': Should Series Address Sandy Hook Tragedy?
'SNL' Recap: Christina Applegate Gave Her All
'SNL' With Daniel Craig: Brought To You By The Letter B. For Big Bird.

Bar Refaeli Strips Down for New Underwear Campaign (PHOTOS, VIDEOS)

Kim Kardashians Best Bikini Moments (PHOTOS)