'So You Think You Can Dance' Recap: Finally, The Contestants Dance to Win!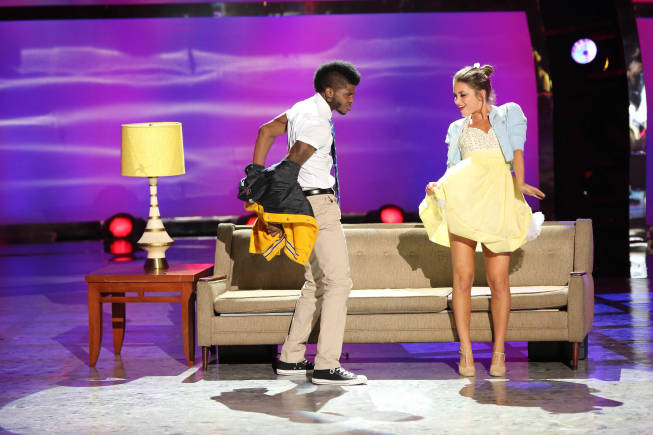 It's hard to believe this is it: the episode of So You Think You Can Dance that will determine the four dancers who make it into the finale.
And perhaps for the first time all season, each and every one of these finalists danced like they wanted it.
Fortunately, the voting decision is no longer in the judges' (and by that, I mean Nigel's) hands. Now, America's votes finally serve some purpose. Now, the two dancers America liked least last week would go home on Wednesday.
Still not the greatest system, but hey. It's still better than the dictator telling us who our final four options are.
So there we were: Witney, Eliana, and Tiffany. Cyrus, Cole, and Chehon. By the end of the night, two of them would be going home and four of them would have a 50-50 chance of becoming America's next favorite dancer. (See? I was careful not to say "America's Best Dancer," since Nigel made it so exceedingly clear during last week's episode that finding the best dancers is not what this show is all about.)
The producers invited Christina Applegate back as the guest judge, and rightfully so. As one of the only celebrity judges who has actually offered pertinent commentary this season, her help would be desperately needed to combat Nigel's delusional obsession with Witney.
For the semifinal show, each dancer would perform three times: alone, with a partner and with an all-star.
Once again, Tiffany kicked off the show (the death slot again! Not fair), pairing up with Benji to perform a Grease-inspired swing routine about a guy and a gal who fall in love in a diner. This was an interesting pairing: Benji is such a crazy, energetic, Matthew Lillard-in-She's All That type of partner, rather than the classical, graceful partners we're used to seeing Tiffany with.
But this pairing was good for her. It forced her to show a bit more personality than usual, and she genuinely looked like she was having a good time, which isn't always the case with her. Sometimes, Tiffany can come off as bland and boring, but this routine—for once—allowed her to really thrive. It was also probably the most challenging choreography she's had to deal with all season, and she killed it. This, officially, would be the beginning of the best night Tiffany has had all season.
The judges all gave the performance a standing O (the first of many), and Nigel said the energy lifted the entire audience. Mary said both Benji and Tiffany were "kicking their patooties off." Christina said she thought it would've been hard for any contemporary dancer to shine next to Benji, but Tiffany somehow accomplished it.
Next up was Witney's solo. She wore red and spent the first 15 seconds doing nothing except swinging her skirt and sashaying. Actually, that's pretty much all she did for the entirety of this number. To me, it's kind of a joke. I don't see much of a difference between Witney and that girl from the Vegas round who got cut for imitating Tom Cruise in Risky Business.
Cole took the bad taste out of our mouths, pairing up with Season 8 champ Melanie and finally taking on a character that wasn't "creepy and dark." He certainly had the right partner for it—Melanie is so happy and bubbly—and I have to say, as much as I love Cole's dark and ominous characters, it was nice to see him get away from that for a week.
I think that sometimes, the personality Cole infuses in his routines can overshadow his actual talent, and the truth is, he has to be considered the most talented male remaining. Cole is also one of the very few males who consistently manages to draw eyes away from his female partners. So much of this choreography caters to the ladies, but Cole just makes every routine his own.
Mary liked that this performance was different for Cole, who commanded the attention away from Melanie. Christina called Cole "masterful," "powerful," and "androgynous." She could even ignore the fact that his footwork was off during his pirouette, she said. Nigel liked the way Sonya's choreography bent the gender norms and showed off Cole's vulnerability.
Chehon's solo was up next. I love him. He's so cute and so good. At this point, I appreciate any dancer who doesn't rely on tired gimmicks to sail through this competition (ehem), and in that way, guys like Chehon deserve credit. He's a contemporary specialist, clearly, but he's been able to adapt to so many styles during his run on this show, and I feel like he's never really gotten his due.
And then—finally! Eliana got Twitch as her all-star partner! I couldn't even handle this. I've been asking for it for weeks. For real, I have it in writing. Eliana and Twitch performed another excerpt from Save the Last Dance, based on a stunning ballerina who falls in love with a hot dancer.
The question was: Could Eliana hold her own against Twitch? This answer has two parts. The first part is yes. She definitely made Twitch look good, and vice versa. They had chemistry! They had fun! They were believable! The only problem with this routine was it wasn't really traditional hip hop.
It was kind of… almost Broadway masquerading as hip hop. I would've loved to see Eliana and Twitch do something like what Witney and Twitch did last week, but hey. This was a start, and Eliana killed it — though it was a little bit heavy on the theatrics, rather than the choreography. When you have a dancer as strong as Eliana, you don't need to rely on the theatrics.
Christina said Eliana could dance the YMCA for hours and she'd be entertained (the dance equivalent of being able to sing the phone book). Nigel said that Eliana was still his favorite, but the routine relied too much on the character and the comedy. Mary thought it was a fun, entertaining number, and she loves Eliana's ability to be a chameleon.
Tiffany's solo was so much better than Witney's that it was almost hilarious. First of all, her mechanics are always so perfect, but lately, her personality has been coming out in droves, too, which has made her all the more lovable. And her choreography boasts more complexity than a few sashays and sexy-faces.
Chehon and all-star Kathryn danced a Tyce-choreographed routine about how people cope with loss. This one seemed like it was going to be right in Chehon's wheelhouse; he generally thrives in these sad, gutting routines, but strangely, he did express some concern about being able to convey genuine emotion.
Honestly, he had nothing to worry about. This was one of the more moving routines of the season. Props to Tyce, because it was exceptionally masterminded, but these two did it justice, and neither of them seemed to upstage the other. Chehon and Kathryn seemed to have forged a true partnership, and Chehon especially seemed to have really tapped into his emotional core, despite his hesitation.
This one, too, got a standing O from the judging panel. Nigel said the technical and emotional sides of the routine were equally terrific. Mary said that Tyce must have been thrilled to get the pair he got (true story), and she said this was one of the best routines she's seen all season. Christina went a little overboard sucking up to Tyce, then moved on to Chehon, whom she commended for finally being able to tap in to such genuine emotion. Everyone wept. Seriously.
Next up, Cole's solo was excellent, as expected. The great thing about Cole is that, like Chehon, he's so technically impressive, but he's also so unique with his martial arts-inspired specialty. But would it be enough to get him into the finale?
Witney, joined by all-star Marco, got to take on lyrical jazz next. What a stretch for her! The routine was about a lady who gets second thoughts at the altar and attempts to dump her soon-to-be husband.
This routine wasn't a bad one for Witney, and it shouldn't have been, because it was right in her wheelhouse, and she had an energetic, personable partner. This was probably one of her strongest performances of the season, all things considered. But at this stage of the competition, when there are only three female dancers remaining, the other two ladies are so many leaps and bounds beyond her that if this show was fair, we know who would be in the top two.
But I digress.
Mary said that Marco partnered Witney up a storm, and that the two of them looked like they'd been dancing together for months. Christina (finally!!!) said that she gets distracted by Witney's hairography! I love this woman, officially. She read my mind, and then Witney pretended not to stank-face her. Nigel then ignored the routine Witney had just performed and instead attempted to justify his ridiculous obsession with her by saying he's been forced to save her all season because the choreographers think she's a star. Just own up to it, dude.
Eliana performed a darling solo to "I Will Follow You Into the Dark," and she showed us all why she's still here: In terms of talent, she is by far the strongest female. She can adapt to so many different styles—and she performs them so competently—but when it comes to her classical specialty, she is just stunning. And most importantly, she's still the most likable female.
So, guess what style Cyrus got for his duet? Dubstep. I'm sure there was no producer manipulation going on here. This was the equivalent of Phillip Phillips being gifted with the three-note masterpiece "Stand By Me" in the Idol finale. Totally catering to Cyrus' weakness, which is that he can't do anything except hip hop.
I realize that the way I talk about Cyrus makes it seem like I hate him, and I actually quite enjoy him. I really loved this routine. And he's so good at dubstep! He was made to do animation, and not much else — and that's fine. The dubstep breakdown in the middle of this routine was one of the most stunning 30 seconds of dancing I've seen all season, because I can't even fathom how hard it is to be that in sync with your partner and with the rhythm of the music.
And it got another standing O from the judges! Christina said she thinks Cyrus is fantastic and wants to play a game where she throws pens through his massive ear piercings. Nigel once again ignored the routine he had just seen and instead chose to justify Cyrus' continued presence on this show: He insisted that Cyrus has never been in danger of elimination, and that's not the judging panel's fault. It's so annoying how sensitive Nigel is fans' criticisms of this show. Could you ever imagine Simon Cowell attempting to justify his own critiques? No, no you couldn't.
Next up, Witney rejoined forces with Chehon — perhaps the worst partnering of this season — for a cha-cha. During the intro package, the choreographer insisted that the routine required a strong connection between the two of them, which is hilarious because they've never had any connection whatsoever. Chehon also complained during the intro package that this routine totally catered to Witney instead of him, and that his partner is an attention-stealer. I love him so much more now.
I have to admit, I've never seen anyone cha-cha to "Where Have You Been" by Rihanna, and it was an interesting experience. It was pretty cool, actually. Like Cyrus, Witney is much better when the producers just let her stick with what she's good at, but that's not incredibly impressive. What is impressive is someone like Chehon, who can adapt to anything. Or at least he tries.
Mary said that Chehon's discomfort with Latin dancing was excruciatingly obvious, and that Witney's lifts were bad. Christina said she remembered nothing after the deep plie at the beginning of the routine, which essentially absolved her from having to criticize this mess. Nigel agreed with Mary that the lift fell apart and that this routine didn't particularly play to either of their strengths, then ended by calling the routine "disappointing."
Next up was Cyrus' solo. (Why is it that all three of Cyrus' performances on this episode would come in the final 35 minutes of the broadcast? All three? Come on, producers. At least be discreet.) As usual, Cyrus was great. He does the same thing in each of his solos, and he's always perfect. Same old, same old animator.
Cole and Eliana paired up with Mia Michaels for a contemporary routine that was absolutely perfect for the two of them. The concept was a little kooky — it was inspired by the way that rams fight, according to Mia — but this partnering was genius. These were the two most talented and versatile individuals remaining, and this routine had the potential to be something really special.
And even in spite of the incredibly strange concept, Cole and Eliana lived up to that potential. There were interludes in which Eliana literally head-butted Cole in the side in order to roll him across the floor, and there were some fake-fighting sequences, but in terms of originality and execution, this had to be one of the more stirring routines of the season. And I'll say once again: This partnering was genius. Talk about two contestants who brought out the best in each other.
Another standing O! But this one was well-deserved. Nigel said this routine must have been based on his relationship with Mia (har, har), then called both dancers "fantastic" and "brilliant." Christina said Eliana is the perfect dancer and there is light coming out of her feet, then sadly ignored Cole.
For our final performance of the night, we got a new pairing: Tiffany and Cyrus, doing a Broadway routine described as "your favorite '50s TV show that never aired." This would be interesting. Tiffany expressed concern that there was a lot of partnering, a lot of touching and "a lot of sexiness." Cyrus suggested that parents cover their children's eyes.
As far as Broadway routines go — which have never been my favorite — this was one of the better ones this season. It even made Cyrus look good, though granted, there was so little dancing involved for him that he was probably thrilled. Tiffany was a great partner for him; she really gave all of herself to this routine, and her energy brought out the best in both her and Cyrus.
God, she really came to play on Wednesday. Every single one of her performances was flawless, and you couldn't say that about either of the other females.
Christina said the choreography was sassy and splendid, and then Nigel said that if he ever had a daughter, he never would let her come on this show. (After witnessing his behavior toward Witney over the last three months … nor would I, Nigel. Nor would I.) Mary said it was the cutest number ever zomg.
And then … this was it. Results. Results, and no opportunity to be saved by the judges! Ah, the suspense.
Your First Girl In: Tiffany
Yay! I was pumped about this. Tiffany deserved this after Wednesday's show. She was honestly spectacular, and every time she dances, she seems to improve. Those are the types of contestants you love to reward.
Your Second Girl In: Eliana
DOUBLE-YAY! Finally, America gets the power and America gets it right. I love this country. Witney was way out of her element this week; both Tiffany and Eliana made her look like an amateur.
Your First Guy In: Chehon
I'm such a loser, but I got chills when Cat ripped open the envelope and announced his name. He looked so shocked and humbled, and he really has grown so much during this competition. He earned this.
Your Second Guy In: Cyrus
Shocker. As soon as Cat read Chehon's name, Cole had a look of resignation on his face. He just knew there was no way he was coming out on top of Cyrus, who has never been in the bottom two.
I think Cole is great — and so, so versatile — but that being said, it would've been disappointing to be deprived of another chance to see Cyrus, limited as he is.
What did you think? Are these the dancers you wanted to see in the finale? Did America make the right choices? And don't forget, next week's performance finale is on Tuesday, not Wednesday.
[Image Credit: FOX]More:
So You Think You Can Dance Recap: Judges' Pet Lives to See Another Day
So You Think You Can Dance Recap: America Is Silenced Once Again
So You Think You Can Dance Recap: A Striptease, A Proposal, and Four Goodbyes