'SOA' Showrunner Kurt Sutter Wanted Fallen MC Member to 'Go Out Like a Warrior'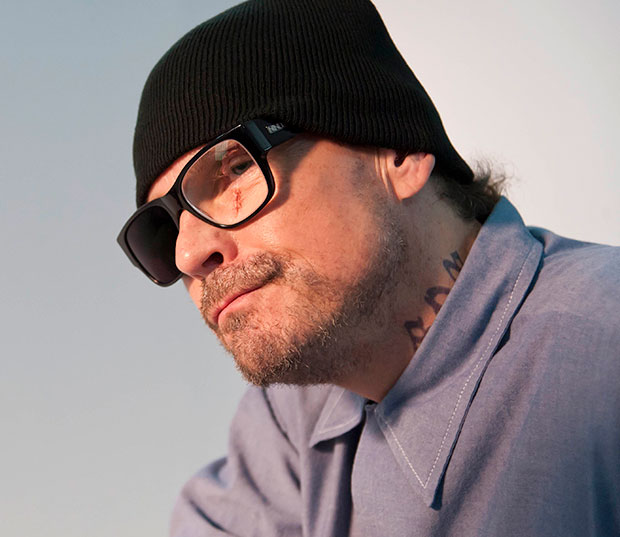 Be aware that this post contains major spoilers from Episode 3 of Sons of Anarchy's fifth season.
Before most of us could recover from Tuesday's brutal Sons of Anarchy episode, showrunner Kurt Sutter hopped on a call with journalists to help us work through all of our complicated emotions. (Leave it to a bunch of TV journalists to turn to one of the most outspoken men in television for a little comfort.) Sutter had a lot to say about the sudden death of fan favorite Opie (Ryan Hurst), namely that his death "will not be in vain."
But like our favorite biker series, we're not ones to doddle, so let's just get to the goods, crow-eaters. 
Why, Why, Why?
"[Fans] know I don't do things arbitrarily or do things for shock value. They know how committed I am to the show," says Sutter. And it's true. There's not been a single death or horrific event on the show that didn't severely affect the characters. There may be a lot of violence, but it's almost never senseless on SOA. "Yes, it's incredibly sad, but the death of Opie will color the rest of the episodes for the rest of the series … there will be a sense of vengeance and something that drives our guys to retaliate," he says. But it's not just about action, it's about "the emotional impact that his death will have on the rest of the series and the rest of the characters."
But How's It Going to Affect Jax, Specifically?
Clearly, losing his best friend at this point in their relationship is something that will deeply affect the very troubled Jax Teller (Charlie Hunnam). "There was a sense of Opie coming to his friend's aid and reuiniting and [them] becoming brothers again … there was a sense of Jax being honest with him and really telling him everything and really bonding with him again," says Sutter. And it's that emotional connection just before the staggering loss that will change the way Jax operates forever. "There's a part of me, too, that really wanted this [to be] the season where Jax, my sense of it is, Jax really figures out the man he's going to become and what kind of leader he's going to be … laying these circumstances out early in the season really colors Jax and the choices he's going to make," adds the showrunner. And it makes sense, because even the circumstances which led Opie to his death were an example of Jax's struggle to run the club and make the calls he needs to make — the ones that tend to tear a man up inside. He needs this hole in his heart to really become the leader he thinks he's meant to be.
But Wait, Would Opie Really Have Sacrificed Himself? Where Did That Come From?
First, the decision is born out of Jax's inability to decide, says Sutter. "My intention in that scene was that Jax wasn't going to let anyone force him to make that choice, even if that forced him to make that choice himself … I felt like that Opie saw that in Jax and had to step in and make that choice," he says. And that's exactly how it happens: the warden demands an answer. Who's going to die? Jax hesitates, and Opie takes the opportunity to seal his fate. But it wasn't just a matter of making a call.
Opie has been dealt a raw deal over and over again. His wife was murdered when Clay made a rash decision, Piney met an untimely death with he stood up to Clay, and now he can't even understand or connect with his kids. He was ready to be done with it all, but Sutter just didn't want Hurst's character to volunteer to show an "easy" or "selfish" exit. "I wanted Opie to go out a warrior, I wanted him to go out with nobility. 'I may not have a lot to live for, but I'm going to go out nobly and protecting the peple I love,'" says Sutter.
Alright, But That Beat-down Wouldn't Really Be Allowed in a Prison, Would It?
Actually, according to Sutter, it definitely could. When Opie is sent into his final death match, an unfair fight sanctioned by the prison guards that ends with a lead pipe to the skull, it seemed a little impossible. But it isn't. "I knew that's what we were going to do and as dramatic and absurd as that dynamic was, it's not uncommon. Sh*t like that goes down in prisons. Just last week there were tapes coming out of an Alabama prison about what guards were doing there," he says. It's a brutal world out there and this show is trying to capture that, apparently.
If This is Part of the "Endgame," When Might That End Come?
Well, Sutter has said the show would run for seven seasons, and we're in Season 5. You do the math. And while Sutter says he's sure FX would give him a few extra episodes if he really needed it (they've given him extra time before), "As of today, I can still see that happening in seven seasons."
Hopefully, this little chat brought you some emotional closure, but if not, feel free to air your woes in the comments.
Follow Kelsea on Twitter @KelseaStahler
[Photo Credit: Prashant Gupta/FX]
More: