'Sons of Anarchy' Gives Us a What-The-Walton-Goggins?! Moment: What'd Ya Think?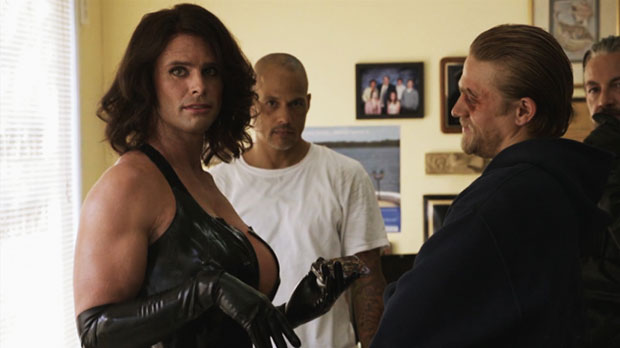 Sons of Anarchy never, ever promises business as usual. And as usual, the FX series has shocked us thoroughly. This time, it's with a surprise guest appearance from Justified's Walton Goggins (who once starred on The Shield, on which SoA creator Kurt Sutter served as a producer and writer). 
Of course, when Goggins waltzed on-screen, it wasn't as some two-bit thug, as we might have expected. It was as a tall drink of prostitute (which sounds pretty gross, now that I've said it). Sutter wrote in the part of Venus, the transsexual prostitute the Sons hire to blackmail a city council member. Cue Goggins, clad in revealing patent leather, straddling a large, drugged-up councilman with a ball-gag and humping him while the Sons make sure to capture it all in stunning high-def photography. That'll keep his mouth shut… well, almost. He still manages to wake up from his stupor and take a literal bite out of Tig's rear end. 
Of course, the real gems of this mind-blowing interaction was Goggins' unscripted kiss with Charlie Hunnam's Jax and his one-liner to the councilman's son, who got a hummer from Venus (and a photo shoot to keep him quiet too). Goggins says, with a surprising amount of Southern charm: "Have you ever had your d*** sucked by a Southern girl with a huge c***?"
Naturally, all that's left to do now is talk about it.
<a href="http://polldaddy.com/poll/6598393/">What did you think of Walton Goggins' cameo?</a>
[Photo Credit: FX]