'Sons of Anarchy' Recap: Brick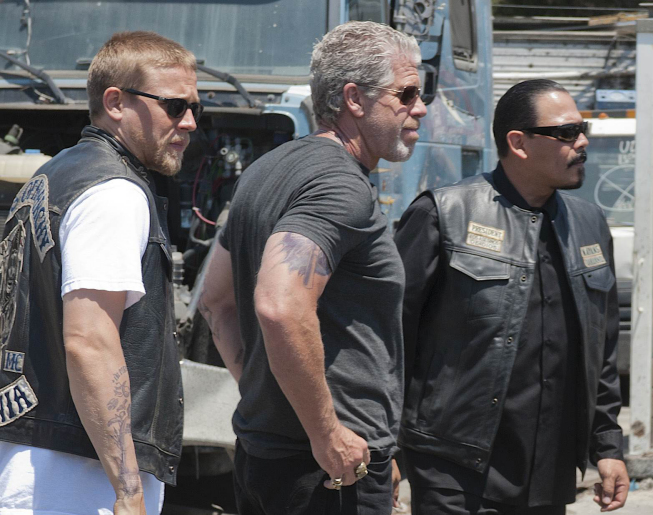 S4E5: Our episode opens with real life husband and wife, Sons of Anarchy creator, Kurt Sutter and Katey Sagal, as Otto and Gemma respectively. Gemma visits Otto in prison, and he pleads with the queen of the Sons to convince Clay to find out who killed his beloved Lou-Anne. Jefferson meets up with Juice, and the sheriff keeps the pressure on Juice to give him info on the club, since he "heard a rumor" that the Sons added drugs to their gun-running operation. Jax comes home from the run with two large handfuls of cash as payment, which he gives to Tara to put away in a safety deposit box. It's time for your weekly hour–long trek through bad road.
"If you don't want that, I'm sure I can find someone to spend it for you."–Clay
The guys begin their weekly meeting talking about who killed Lou-Anne. Clay hands all the boys their cut of the drug run money. Piney protests and gives his portion back. Piney begins to show his hand to the president; explaining that he has letters that reveal the truth that Clay killed John Teller. Despite Clay's denial, Piney plays his hand fully; Clay is to cut the deal off with the Galindo cartel by the end of the week or Piney will show the club the letters. After realizing that it's been Tara who's been feeding Piney the untold history of the Sons, Clay confers with Gemma and demands that they need to stop the co-founder of the club and the mother of their grandson from conspiring together. Gemma demands that Clay not do anything to either party until she can find the letters because without the letters, Piney's got nothing. It looks like the crotchety old man is willing to go down to avenge his friend and possibly save the club he helped found.
"I'm between a big rock and a very hard place here."–Unser
With the paranoia mounting, Clay goes to see Unser and asks the former sheriff to find the letters and deliver them to him. As he leaves, Gemma comes for her weekly bud delivery, and to know what Clay wanted. After some beating around the bush, Gemma finds out the truth and asks Unser to do the same thing, except to deliver the letters to her. Instead of handing them over, Unser is sickened by the truth – that Teller wanted to take the club legit and Clay killed him for it. Unser tries to burn the letters but before he can, Clay comes back to read them. Once again, shortly after Clay leaves, Gemma comes back and is convinced by Unser that he only burned the letters. Gemma knows better as evidenced the next morning, when she presents the ashen letters to Clay as proof that "Nobody can hurt us." It's how these stories have been presented over the years that have kept the show running strong. Just when you think every angle is covered, several more crop up.
"Call Georgie and tell him that Sorority Girl #1 had a change of heart."–Dondo
Bobby, Tig, Juice, Chibs, and Jax visit local porn producer Dondo, and end up hassling the 'Hoff in the process. David Hasselhoff's cameo on the show is understated but still memorable as he asks the club to murder Georgie (Tom Arnold) for his involvement in Lou-Anne's death (didn't he know that's what they were going to do anyway?). Georgie arrives and is instantly tied up for the club to interrogate him about what happened to Lou-Anne. Instead of obliterating their old enemy, Jax and Clay think that using Georgie to aid the club and Gemma's quest to stop the construction of Charming Heights greatly outweighs revenge at the moment. Georgie can offer up investors to push Hale into a wall.
Bobby is elected to tell Otto about everything. Bobby apologizes to Otto for sleeping Lou-Anne and lets him know that Georgie is the one who killed Lou-Anne, but Bobby can't bring himself to tell Otto they're keeping Georgie alive for now and instead tell the one-eyed Son that they have avenged his wife. Meanwhile Opie finds out about Lyla's birth control pills and decides to take his frustrations out by bedding Georgie's whore. After a heart-to-heart with Jax, the harsh truth is that Opie still misses Donna.
"We need to insert the hook deeper into his mouth, before stepping out from behind the magic curtain"–Potter
Potter's case is mounting and he asks his new friend, Sheriff Jefferson, to make sure Juan Carlos (Juice) will help them by bringing Jefferson a sample of their shipment. Jefferson knows the implications if someone were to get hurt due to him playing the race card. Potter assures him that his name will be stricken from the record, which we quickly learn can't be done. With few options left, Juice reluctantly decides to grab the sample for Jefferson and his "string puller." Unfortunately for Juice, Chibbs realizes that one key of coke is missing. Unbeknownst to and unfortunately for Jefferson, Potter doesn't seem to care at all for his new Sheriff friend.
The title of this episode is "Brick," and there are all kinds of literal and figurative bricks being hurled through just about every plot strand of the season so far, like Juice's literal brick of coke, and the letters being a brick that is seemingly bound to shatter the club to its very core. The missing brick is not going to sit well with the Galindo cartel. Potter is most certainly going to have either Juice or Jefferson's blood on his hands by season's end, if not his own. Missing bricks are not good for any foundation, and Sons of Anarchy is being dismantled from all angles. The show is about the Sons so, of course, the club will survive, but which members will still be around by the end of the season? They're being flung everywhere and as this show has proven in the past, people are bound to get dead real fast when trying to play their hands ever faster.