'Sons of Anarchy"s Theo Rossi on Life With Jax and Clay: 'He Has an Excuse to Kill Me'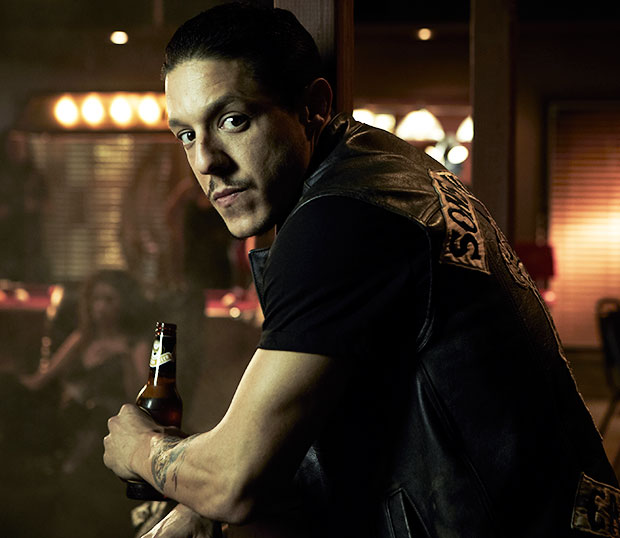 Those who have been through a Sons of Anarchy finale before know the rules: If possible, bring a sedative. Expect the unexpected. Know that 90-minutes will go by in what seems like 15, and that more than one life will be irreversibly changed. Tonight's finale, "J'ai Obtenu Cette," will begin with several lives already in the balance — you have the murder investigation closing in on innocent Tara (Maggie Siff), Nero (Jimmy Smits) feeling the heat from his old crew, Otto (creator Kurt Sutter) and that RICO case, Damon Pope (Harold Perrineau) and — well, the list goes on and on. But most importantly, there's one particular battle that we've never seen before — the battle for Jax's soul. And at the end of last week, when he injected his ex Wendy (Drea de Matteo) with heroin, things seemed pretty bleak. Has our antihero lost his way?
Other than Clay (Ron Perlman), no one is feeling the weight of Jax's fury harder than Juice (Theo Rossi) — who is stuck in the middle of an emotionally vicious battle between the two men, which will play itself out in the finale. "Not too long ago, Clay told [Juice] he's the only brother he's ever had," Rossi says. "He's the reason why he became a brother. He looks at Juice, and lays that on him. Then on the other side, Jax just gave him an ultimatum. 'Do this, or you die.' Juice is unbelievably broken."
By "do this" Rossi means "betray Clay" — the only man who accepted (and loved) Juice after he made the mistake of talking to the feds when they had information on him. In fact, last week he was forced to vote to kill the man. "If [Juice] votes against Jax, he dies," Rossi says. "If he says no [to Jax], he will be brought somewhere later that night, and he will die. Then Jax will tell the rest of the club why. He has a legitimate excuse to kill me."
Since one member of the club voted against killing Clay, Jax will enter the finale still hell-bent on destroying Clay's life. Which, of course, puts Juice in an awful situation. "Jax's blind rage is Clay," Rossi says. "You have all of these people around him saying, 'Let it go,' but all he can see is getting Clay. He doesn't care what comes in the way of that. Would Jax gave done what he did to Wendy if he didn't have this inside of him? I don't know… It's funny how in the same episode you see Clay emotional, and showing his humanity — then you see Jax going the other way."
Regardless of how the battle between Jax and Clay plays out — and where Juice will find himself at the end of it — Rossi promises that fans will see resolution tonight, and that they'll enjoy it. "We're in the middle of Jackson Teller's journey here," he says. "This finale is like — you've been seeing the things leading up to it, particularly the end of the last episode [with the heroin scene] — I think it's extremely satisfying for the fans. Me reading it, I was the most satisfied I've ever been. I finished the last page, and wanted to hug Kurt. I know the fans are going to feel the exact same way."
Err… we'll feel the same way if our Juicey comes out in one piece — which Rossi couldn't promise, of course. "Somewhere in this chaos, whether is be through Jax or Clay — Juice is trying to find meaning again," he says. "He's searching for an answer, and a lot of that comes to fruition in the finale. Look at Juice's journey — [from] a guy who was just so happy to be a part of this, to trying to hang himself, to all of this stuff… this guy is an emotional disaster. It's surprising that he's able to walk and talk at the same time. Is his time expired in this world?"
… Dun dun dun. Sons of Anarchy airs tonight at 10 p.m. ET/PT on FX.
Follow Shaunna on Twitter @HWShaunna
[PHOTO CREDIT: FX]
MORE:
'Sons of Anarchy': When Clay Falls, A New King Rises
'Sons of Anarchy': Kim Coates and Theo Rossi on How To Not Die — VIDEO
CBS Bested By Basic Cable? 'Sons of Anarchy' Comes Out On Top

Inside 'Bachelorette' Stars Ashley Hebert and J.P. Rosenbaum's Wedding — EXCLUSIVE DETAILS

Mario Lopez, Courtney Mazza's Wedding Pictures Revealed!