Stabbed: How Ruthless is Your Favorite Cooking Show?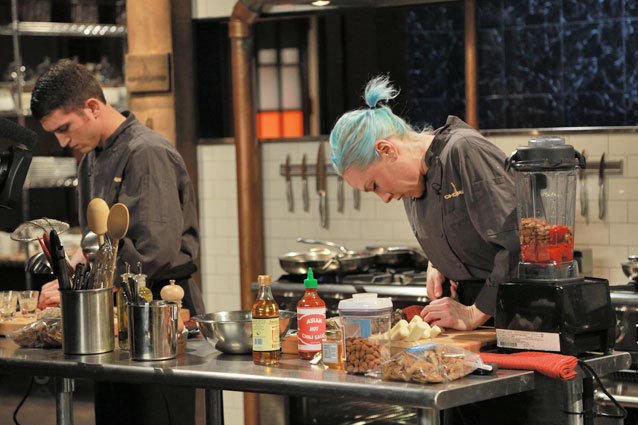 There are tons of cooking shows on television, because it's inevitable that reality TV schadenfreude would flourish in a hot, tense, high-pressure environment. It seems like cooking competitions are getting more grueling, dramatic and difficult, so we've rated popular cooking shows on the ruthlessness shown by the producers, challenges or competitors. 
Chopped
Chefs must cook a cohesive meal using four mystery ingredients. They are judged on their creativity, plating and incorporation of the ingredients. 
Ruthless Rating: Medium Contestants may have to cook in a rush but there aren't any added challenges or sabotages. The mystery basket can be a little shady at times. Chefs have had to use obscure fruits like durian (an Asian fruit that has an aroma similar to a dozen used diapers left in the back seat of a 1978 Pinto), processed ingredients like gummi worms, or unappetizing items like chicken-in-a-can or organ meat.
Top Chef
Chefs must live together and compete in challenges judged by some of the best chefs in the world. Each episode, they must compete in a quick-fire challenge and then a full-day challenge.
Ruthless Rating: Medium Living together is an instant source of tension and stress. Recently, some competitions have required contestants to stay up all night. The producers have also upped the ante and began having elimination mini-challenges and double eliminations.
Cutthroat Kitchen
Contestants are given $25,000 at the start of each episode. Each round, contestants must make a simple dish. However, they only get a minute to shop and they can use their money to bid on sabotages for their competitors.
Ruthless Rating: Hard Sabotages range from having no hand tools to using no salt. They have even had contestants sub out fresh ingredients with processed ones and use tools from a toolbox.
Food Network Star
Cooks compete to win their own show on The Food Network. Challenges include on-camera demos, competing in challenges based on Food Network shows like Iron Chef and developing their own show.
Ruthless Rating: Easy Food Network execs Bob Tuschman and Susie Fogelson may be a little catty in their critiques but the show really is about developing a camera presence and a marketable cooking show. They don't want to see these players' ugly sides. Which is why this is the show that gave us Guy Fieri, and look how that's turned out.
Next Iron Chef
Celebrity chefs compete for the title Iron Chef. Chefs must compete in challenges that test their culinary ability, improvisation, and time management skills. 
Ruthless Rating: Hard One season allowed contestants to judge each other and nominate eliminated contestants. After a long elimination challenge, the two losing contestants must cook head-to-head to decide who goes home. Plus, judge Simon Majumdar can be very persnickety.
Hell's Kitchen
Gordon Ramsay trains two teams of chefs on cooking for his restaurant, Hell's Kitchen. (Which isn't even a real restaurant, but a studio on the Fox TV lot.) They face challenges, lessons and catfighting.
Ruthless Rating: Extreme Forcing contestants to listen to Ramsey's shrill yelling voice for days on end borders on abuse. The contestants are not trained chefs, yet often get held to a chef's standard.