'Star Trek' Convention Unites the Five Captains: What We'd Like to See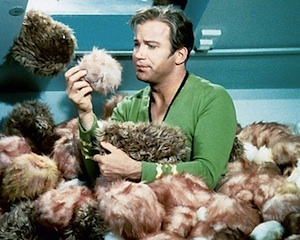 Last year William Shatner produced the documentary The Captains in which he interviewed every captain from the Star Trek franchise, but the only way fans could actually see the crew together was to line up their action figures. However, that's about to change. On Monday the organizers of "Destination Star Trek London" announced that in October, William Shatner, Sir Patrick Stewart, Avery Brooks, Kate Mulgrew, and Scott Bakula, will appear on stage together.
10,000 to 15,000 are people expected to attend, and organizers promise a variety of other Enterprise-themed activities, including stunt displays and set recreations. In other words, this will be the Star Trek convention to end all Star Trek conventions. Yet, it could all wind up being more disastrous than asking a Ferengi to watch your purse if the meeting of the captains fails to deliver. Sure, fans would be excited about even a photo op with Starfleet's best, but this event is too special for just a boring Q & A session. Here are some suggestions for how to make this an event that really goes where no one has gone before:
Star Trek fanfic roulette: Select random fan stories from the Internet and have the captains act it out, no matter how terribly written or sexually disturbing. Invite every living actor who's played Doctor Who to join the captains on stage, and see what happens when 10,000 plus geeks have a heart attack. As a finale, squeeze all 13 actors into the TARDIS (it shouldn't be too hard, since it's bigger inside than it is outside).Have the captains form an Avengers-like crew to solve all of the world's problems. Sir Patrick Stewart can make inspiring speeches about the importance of respecting other cultures, and William Shatner can be in charge of creating distractions by making out with every buxom local he encounters. Captains answer every question with a Shatner impression and do a group reenactment of his druggy "Rocket Man" performance. Settle the age-old question of who's the best captain with a UFC-style cage match.
More:
Peter Weller aka RoboCop Cast in 'Star Trek 2'
Chris Pine Lawsuit Reveals 'Star Trek,' 'This Means War' Earnings
Benedict Cumberbatch Becomes 'Star Trek 2' Villain