Hey 'Suburgatory' Fans: Let's Talk About The Perfect Season Finale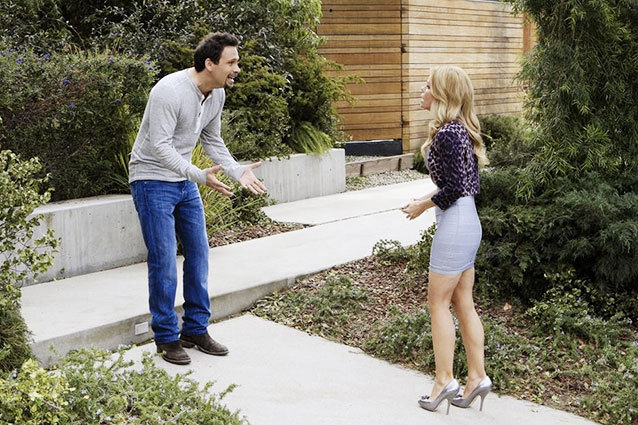 Wow. The Season 2 finale of Suburgatory was exactly like the title of their theme song — it was a very much a "Pleasant Nightmare." Yes we laughed and smiled at the jokes that only those in Chatswin call pull off, but in the end the show ended on a much darker note than you would expect from a 30-minute comedy.
We're about to discuss and gush about all the Suburgatory shockers from the finale, so if you have not seen it, please leave now because Spoiler Alert: THERE ARE SPOILERS AHEAD.
After a season of watching their love blossom into the real deal, it was particularly heartbreaking to watch George and Dallas end their relationship with tears and harsh words inside of Dallas' leather dream house (Barbie pun, fully intended). Both of the characters made valid points but I think we as an audience could completely understand where Dallas was coming from. No one wants to be with a person who has to learn to love you — you're not a Brussels sprout. Although we absolutely adore these two together, it was nice to see Dallas stand up for herself and realize that she deserves the best kind of love, even if that means pushing the man of her dreams out of her life.
And speaking of hunky men, how insanely hot was the scene between Ryan and Tessa in the bathroom?! When he slowly walked up to her and backed her against the wall without saying anything — we pretty much passed out from chemistry overload. Like Dallas and George, Tessa and Ryan are is officially over, but at least they ended their relationship with some sweet and intimate love-making — Bonus Points for the fact that it all went down while the Purity Ball was taking place!
It was heartbreaking to see Tessa trying so hard to find absolutely anyone to crash with, and kudos to the Suburgatory Gods for her minor stint in the handicapped bathroom. Thankfully, Tessa's mom — played by lovely Malin Ackerman — was ready to be there when her daughter needed her the most. Tessa's relationship with Alex has always been an strained and almost forced fit, but this was one of the best mother/daughter moments we've seen in quite some time. We mean this in the nicest way, but we kind of hope Ackerman's pilot doesn't get picked up in the fall, because we'd absolutely love to see more of their relationship next season.
There's not much to say about the intense girl fight between Dalia and Tessa other than the fact that it was the best five minutes of our entire lives. This scene transformed a regular catfight into a full-fledged movie-worthy battle that left your jaw on the floor and fear in your hearts. Note-to-Self: Never ever ever piss off Dalia Royce or Tessa Altman — just become besties with Lisa Shay and you can meow your problems away.
Although Dalia can be a cold-hearted, life-ruining, bleached-blonde brat, we do feel that her connection to George is sweet and understandable — who wouldn't want to be close to that face? When she said that she needed a song to go to sleep, we'll totally admit that we rolled our eyes at the spoiled princess. But when we realized that George was strumming one of our all time favorite tunes, suddenly everything was right in the world.
The final moments of the Suburgatory finale can be perfectly described as bittersweet. While George is softly singing "Pleasant Nightmare," we see a montage of scenes of Tessa embracing a new life with Alex. They picked out a place together, laughed while eating Chinese food on the living room floor, and enjoyed quiet yet content moments on the couch together. Tessa is seen finally getting time to bond with her mother and George is left alone in a rustic leather-living roomed house with a dog and his guitar. Fingers crossed we'll get to see the chaos of Chatswin return next year for Season 3 — but until then please excuse us while we rewatch Wednesday's finale because it was truly a perfect hour of television.
What did you think of Suburgatory's season finale? Do you think Dallas was right to break up with George? Are you happy to see Tessa start a new chapter in Chatswin with Alex? Share your thoughts in the comments below!
Follow Leanne on Twitter @LeanneAguilera
MORE:
'Suburgatory': Alan Tudyk Teases Noah's Breakdown, Revenge, And Living The Suite Life
Trouble's Coming To 'Suburgatory': Jeremy Sisto Warns 'everyone Is A Mess'
'Suburgatory': Is Yoni Gone For Good? Wilmer Valderrama Answers
---
From Our Partners


Stars Pose Naked for 'Allure' (Celebuzz)


Which Game of Thrones Actor Looks Least Like His Character? (Vulture)