'Suits' Season 2 Premiere: You Dropped a Bomb on Me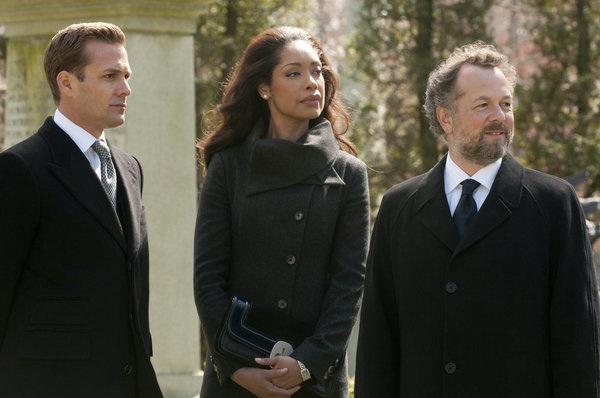 Let us consider a smart, handsome man in a well-made suit who seems to have it all working at a powerful New York City firm, but is actually living under a guise that could ruin him personally and professionally. Sure, Mad Men may be on summer hiatus, but thankfully there's Suits to fill that particular void. 
Now let's be honest,
Suits
is no
Mad Men
 (nothing is) and Mike Ross is no Don Draper, but that's not to say the popular USA dramedy doesn't provide some breezy, fun summer entertainment. That was none more evident than during last night's Season 2 premiere, the aptly titled "She Knows." When we last left, a betrayed Trevor whispered something into the ear of Mike's boss Jessica. Was it that their law wunderkind Mike never actually went to Harvard and is actually a fraud? If the title of the episode didn't give it away, the first few lines of the opening song
Gotye's "Smoke and Mirrors"
ought to give it away. ("You're a fraud and you know it/But it's too good to throw it all away.")
Of course, since Mike held his cards close to the chest this long, Jessica had no intention of showing hers to him immediately either. Jessica, of course, knew the truth about his career-killing (both his, hers, and Harvey's) secret, but still wanted to do some recon work and throw him off the scent by taking Mike to a fancy restaurant, typically reserved for when she tells someone they're being promoted. But when Jessica returns to the sleek, empty halls of Pearson Hardman later that night there's no mixed messages when she confronts Mike's mentor Harvey: She knows the truth. Jessica tells Harvey he has to fire Mike, setting off the first bombshell of many from last night's premiere. 
Harvey needs to find a way to get Mike to stay, or at least find someone else to do what he can't, which is to fire his Daniel-san. (Between Harvey quoting
Goodfellas
and
Highlander
in last night's ep, I probably should have thought of something more badass than
Karate Kid
to reference there, but it felt applicable.) He does, of course, find a way for Mike to stay (at least for now) but not without a dangerous cost. After the passing of his wife, the unscrupulous Daniel Hardman has returned, swearing that he is a reformed man. But Harvey is wary, and so is Jessica. Harvey threatens that if she lets Mike go, he'll walk as well, leaving Jessica, whose career would already be on the line if Mike's secret were to get out any more, to the mercy of Daniel. Damn, Harvey is good. Of course, that's what makes us the viewer and him the
law talking guy!
Still, if Mike is staying on at the firm, he has a lot to deal with. While Will Hunting, Esq. is still kicking ass and taking names on the job (he spent the a good part of the episode coming to a settlement in a intellectual property case) he has to maintain something of a low profile while still being an effective lawyer. (Showboating with a target on your back is never a good idea.) Not to mention his personal life being in a tricky place as well. His friendship with Trevor is effectively over (especially after Trevor, who put his career in jeopardy, was threatened by Mike) and his relationship with Jenny seemingly that way as well. Now that he heard Rachel's voicemail confession, he could pursue that, but would an office romance be another way he draws attention to himself? (Of course, being that handsome and in those suits, Mike is great at a lot of things, but flying under the radar is not one of them.)
Speaking of personal life, we learned an awful lot about our favorite sharp-dressed men, didn't we? There was Mike's tragic past (his parents died in a car accident when he was just six-years-old) and that Harvey has a complicated family dynamic of his own we may get to know more about soon (he has a little brother and a mother he doesn't speak to very often.) It's good that the show is finally setting up more complex, layered story lines like this for Mike and Harvey, because as good as
Patrick J. Adams and Gabriel Macht
look in suits (and, boy, do they ever) and are a blast to watch in their fast-talking, buddy comedy dynamic, there needs to be more than meets the eye for
Suits
to have substance. With last night's Season 2 premiere taking off like a rocket, it looks like they're well on their way to that. 
What did you think of the Season 2 premiere of Suits? Is Mike doomed or will his secret be safe for good? Is Harvey going to be, as Donna suggested, a little more emotionally open from here on out? Will Mike and Rachel get together? Or is the timing too crappy right now? Share your thoughts in the comments section below. 
[Photo credit: USA] 
More: