'Survivor' Winner Kim Spradlin: 'People Were Afraid' of Colton Cumbie — EXCLUSIVE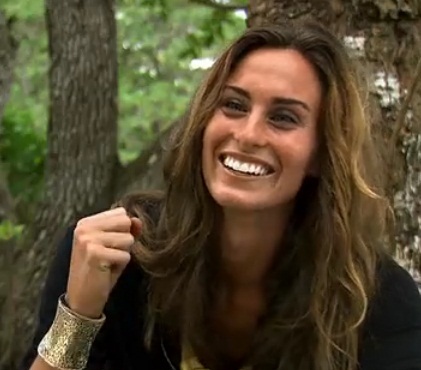 Survivor — the most dangerous game ever played (next to Wii Golf, of course). Naturally, in an environment like that depicted on CBS' long-running reality competition show, you're bound to form some pretty strong relationships. Some will be good: lifelong friendships that can stand the test of the arctic tundra. And some land on the other end of the spectrum. Most, in fact — that's the law of good TV. Hollywood.com got a chance to speak with Survivor: One World champion Kim Spradlin, getting some info about all the love (and hate) that she experienced in accordance with the rest of the cast, not excluding contestant Colton Cumbie, who apparently wasn't a very friendly presence around the camp.
Spradlin says, "I think Colton did the game really well. He's definitely really emotional and outspoken about what was going on in his mind and so I think that was probably to his detriment. I think you have to be a little bit sneakier sometimes about what you're doing, but Colton definitely was a player for sure. And people were afraid of him and I think that was a little bit of what was going on, you know? Like nobody wanted Colton targeting them."
Rumor has it that Cumbie — who was controversial after making some potentially racist comments, for calling a little person contestant a "munchkin," and for bullying another contestant and telling her to "jump in the fire" — will be returning to Survivor on a future season. Next season the show will have three contestants who were evacuated for medical reasons return to the show which is a great excuse to bring back Colton, who was taken from the game due to appendicitis. Spradlin is optimistic for her fellow contestant's future on the program, but would advise him to be a little less rough around the edges. She deliberates exactly how she'd guide him to a Survivor success: "[G]reat for Colton. That's exciting. I don't know, I'm not sure what I would tell Colton. I think, you know, 'Don't be mean. Don't say hateful things.' I think Colton will be much better a second time around."
Of course, Spradlin did experience some warmer relationships on Survivor, most notably with host Jeff Probst, and with contestants Chelsea Meissner and Sabrina Thompson. Spradlin says, "I adore Jeff. I think Jeff is awesome. I think he's one of the sharpest people I've ever been around," and, "I was going to lose I would rather lose to Chelsea or Sabrina. But I thought it would be Chelsea … Chelsea and I are great. I think Chelsea will be a dear friend of mine for a really long time."
As far as her own reality show fandom, Spradlin is apparently looking forward to getting to watch shows like The Bachelorette… and she might even make an appearance on Dancing with the Stars. "I am definitely tuning in for The Bachelorette. I'm a huge Bachelorette fan and adore Emily, I couldn't like her anymore, so I can't tell you how excited I was when I heard it was going to be her … I would never do The Bachelorette. That would be horrible. During Survivor, it's one thing to be talking about strategy and surviving. I can imagine doing that. But talking about your love life, that's my worst nightmare … Dancing With the Stars, yes, even though I'm a sucky dancer."
A suck dancer, perhaps. But an adept survivor, no doubt.
[Reporting Credit: Hollywood.com News Editor Lindsey DiMattina]
More:
The Winner of Survivor: One World' Is…