TCA 2012: 'The New Normal' Gang Addresses Boycotts and NeNe Leakes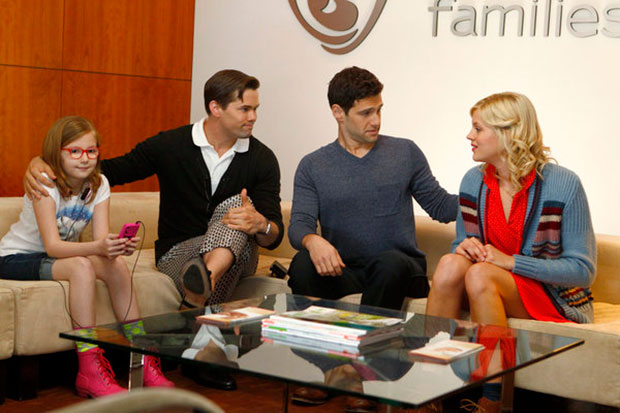 Tuesday at the Television Critics Association press tour, producers Ryan Murphy, Dante Di Loreto and Ali Adler gathered with stars Andrew Rannells, NeNe Leakes, Justin Bartha, Georgia King, and Bebe Wood to discuss Murphy's latest project, The New Normal. The show, which focuses on a gay couple (Rannells and Bartha) as they start a family via surrogate (King), has the honor of being the first show this fall to be boycotted.
"I was very excited that I was mentioned by first and last name," Rannells joked when asked about the One Million Moms boycott. "It's my first boycott."
"I've obviously been through this before," Murphy added. "I wasn't surprised when I read [the news]. Every person and group has a right to protest something." He did say, however, that it's interesting that the Moms protested the show before seeing it — and even more interesting that Ellen Barkin's character is actually a member, who will protest people and events on the show. "I actually think that the show is about tolerance, and it's about a discussion of tolerance. [One Million Moms-esque] points of view are delivered with sensitivity [on the show] by Ms. Barkin. I think if they watched it, they would like it."
King, who plays Barkin's daughter on the show, agrees. "When I read the script, I was excited by such a broad spectrum of characters," she said. "The gay couple is very prominent, but it really mixes groups of people in detail, and asks questions."
"There isn't any political incorrectness in the show," Bartha added. "When I read the show… it presented a family that was this modern sort of family. It is the new normal."
This is especially true on the current landscape of television. Murphy noted that without the pioneering efforts of certain gay-friendly shows, The New Normal may not be here. "I'm so appreciative to Modern Family and also to Will & Grace," he said. "Those shows change views. I think that they are wonderful programs, and we stand on their shoulders. I'm full of deep admiration for those actors, and those characters."
Despite Murphy's kind words, Modern Family actors Jesse Tyler Ferguson and Eric Stonestreet probably wouldn't be too happy if they heard another comment made about their characters — a reporter called Rannells and Bartha the first "conventionally good looking" gay couple on TV. "Ouch, and thank you," Rannells said. But he was quick to defend his predecessors' sexual appeal. "As my mother said, there's a pot for every lid. Attractiveness — whatever. That's all very objective." Murphy was rendered speechless, but did note that since he was essentially casting Rannells as himself, he wanted to cast someone good-looking. "I like somebody with this hair playing me," he joked.
When another reporter asked, based on a scene in the pilot, if Rannells' character only wanted a baby because it was a hip accessory, Murphy was adamant about the fact that this is not the case, and Rannells' and Bartha's journey on the show is very personal to him. "The show is loosely based on my life," Murphy said. "The show came about because my partner and I have been having conversations about surrogacy. If you saw that scene [in the pilot] one would think that [Rannells wants a baby as an accessory], but if you watch the show, we're writing great depths to this couple. For me, as someone who does have that dream, I don't feel that way."
Producer Adler added that funny scenes like Rannells discussing babies as accessories will be countered with scenes that tackle some serious issues. "I think it's an exceptional privilege in a half hour comedy to make people experience things other than laughter," Adler said. "It's a show about family — the family you're born with, and the family you find," Di Loreto added.
Reporters were very interested in the family Murphy found for his show — as it includes Real Housewives of Atlanta reality star Leakes. It's a controversial casting choice, but one that Murphy adamantly defends. "We were in the writers room of Glee, and we were writing a nemesis for Jane [Lynch]," Murphy explained. "I had seen NeNe on Housewives, and I had also seen her take down Star Jones on Celebrity Apprentice. I said 'Wow, I don't know if NeNe wants to act, but we should talk to her and offer her this part.' She was really good. When Ali and I were coming up with this show, we talked about wanting to include NeNe, because she's hilarious."
And according to Bartha, we should all just trust the master: "Ryan is brilliant. The way he has dictated popular culture, he can be compared to a modern day Oscar Wilde."
Follow Shaunna on Twitter @HWShaunna
[PHOTO CREDIT: NBC]
MORE:
TCA 2012: NBC Boss Defends 'Community' Move, Insists Firing Wasn't Personal
Ryan Murphy's 'The New Normal' Protested by One Million Moms
'Glee' Creator's New Leading Man: 'Hangover' Star Justin Bartha!